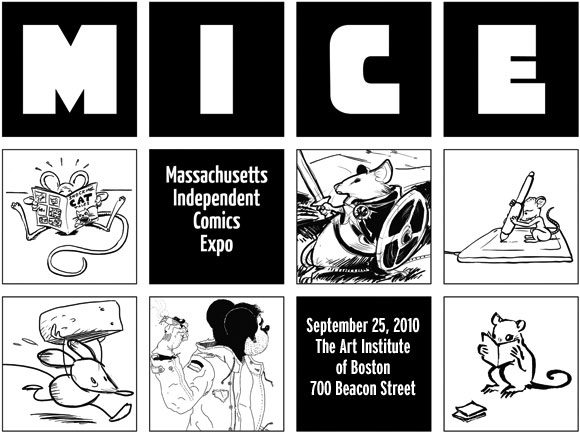 Press release:
First-ever Massachusetts Independent Comics Expo will be held at Art Institute of Boston on September 25, 2010
The Boston area's independent and alternative comics scene has grown by leaps and bounds during the past few years, and it takes another step with MICE, the first-ever Massachusetts Independent Comics Expo. Presented by the Boston Comics Roundtable and the Art Institute of Boston (who also teamed up for the 2008 Boston 'Zine Fair), MICE will be held at AIB's 700 Beacon Street campus on Saturday, September 25th, from 10 am – 6 pm.
With over 50 comics artists and writers offering their work, as well as comics-themed panels and workshops, MICE will be a treat for local comics readers or anyone interested in the unusual, the creative, the entertaining and the outrageous. While most of the exhibitors will be from the Boston area, comics creators from all over New England and New York will be represented, including a contingent from the Center for Cartoon Studies in Vermont.
Visitors to MICE will find comics of all subjects and for all ages: serious graphic novels, exquisite hand-made artists' books and photo-copied mini-comics and 'zines, as well as traditionally-formatted comic books of all genres from outside the mainstream publishing world.
"The subject matter and art styles of these comics are as varied as the packaging," says Dan Mazur, a member of the Boston Comics Roundtable and one of the show's organizers. "The only limit to what indy cartoonists can create is their own imagination."
Susan LeVan, Illustration Department Chair at the Art Institute of Boston, says that hosting an indy comics show complements the school's comics-friendly curriculum. "MICE is the perfect event for AIB ," says LeVan. "Many of our students, alumni, faculty, and staff are involved in the production or study of independent comics, graphic novels, webcomics, 'zines, artists' books, and related genres – all of which are part of the AIB curriculum. A number will participate as exhibitors, and the whole AIB community is eager to see what's new on the Boston scene."
MICE will also feature the debut of the latest anthology from the Boston Comics Roundtable: "Inbound 5: Comics About Food." Featuring over 40 stories by Boston and New England cartoonists centered around the wide-ranging theme of "food," this is the follow-up to 2009's successful "Inbound #4: A Comic Book History of Boston," which will also be available at the show.
MICE will also interactive workshops to learn techniques from comics artists, and panel discussions on the world of independent comics.
Besides the new "Inbound 5: Comics About Food," several notable local comics creators will be presenting new books at MICE:
KARL STEVENS, (whose weekly strip "Whatever" ran for three years in the Boston Phoenix), will debut his autobiographical graphic novel, "The Lodger."
Dorchester cartoonist PATT KELLEY (whose work graced the Weekly Dig's cover earlier this year) will unveil the 2nd issue of his comic, "Parasitic Twins," about the lives of circus freaks and the many hilarious tragedies that befall them, as well as a short-story collection, "All of Them Witches."
LIZ PRINCE (whose "Will You Still Love Me if I Wet the Bed?" went from locally printed mini-comics to being published by indy heavyweight Top Shelf Productions), will be presenting the 2nd issue of her ongoing series, "I Swallowed the Key to My Heart."
Brooklyn-based artist/writer PAT BARRETT will unveil issue #3 of his anthology comic, "Oak & Linden," featuring the on-going story, "Petrified Girlfriend."
Other Boston-area comics artist exhibiting at MICE will include:
Maris Wicks ("Romantic," "Project Superior")
Joe Quinones ("Wednesday Comics," "Teen Titans Go!")
Jesse Lonergan ("Joe and Azat," "Flower & Fade")
Cathy Leamy ("Geraniums and Bacon," "Greenblooded")
Dirk Tiede ("Paradigm Shift")
Tim Fish ("Cavalcade of Boys," "Trust/Truth")
Zack Giallongo ("The Tenth Life of Pishio the Cat")
Shelli Paroline ("Muppet Snow White," "Harvest is When I Need You Most")
Craig Bostick ("Go-Go Girl," "Boy Trouble")
Adam Miller ("ZombieBomb!")
About the Boston Comics Roundtable
Formed in 2006, the Boston Comics Roundtable brings local cartoonists and writers together to collaborate, workshop and socialize. Among BCR's publications are "Inbound," an anthology of Boston-area independent comics, "Outbound," a science-fiction comics anthology, and the up-coming collection of New England-based horror comics, "Hellbound." If you're in the Boston metro area, join us for our next meeting. Visit www.bostoncomicsroundtable.com for more information.
About AIB
The Art Institute of Boston at Lesley University is a college of visual arts, located in the student-friendly Kenmore/Fenway area of Boston. We offer the Bachelor of Fine Arts degree, the two-year Advanced Professional Certificate, the low residency Master of Fine Arts degree, as well as continuing and professional education, intensive workshops, and pre-college courses.