Press Release:
Artist Glenn Whitmore has just been added to the guest list for the September 26th East Hanover, NJ Comic Book Expo.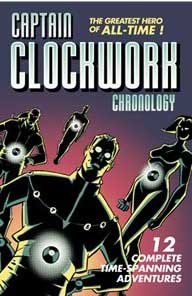 GLENN WHITMORE's comic book ambitions began at age ten when he first attended the Joe Kubert School of Cartoon and Graphic Art. Glenn graduated in 1987. A year later he began an eleven-year-run as colorist on the Superman titles for DC Comics, which included landmark storylines of the hero's engagement, death, return, and marriage to Lois Lane. For over twenty years Glenn has also provided color to popular comic book titles such as The Power of Shazam, Justice Society, Nexus, and most recently, Archie.
Glenn also self-publishes the retro sci-fi comic, Captain Clockwork, in which four heroes can manipulate time and are sworn to protect the course of history from the evil that threatens to change it. Copies of Captain Clockwork will be available at the show.
For more show info, check out www.njcomicbookshows.com