Via Image Comics:
EVERYTHING COMES UP EMERALDS FOR IMAGE IN SEATTLE
Image Comics announces its lineup for Emerald City ComiCon 2010
You can join Image Comics at Emerald City ComiCon, March 13-14, 2010! We'll have creators galore, convention exclusives and more at booth #306!
In addition to the abundance of artists and writers appearing at booth #306, Image is offering a convention exclusive version of the currently sold out CHOKER #1 by superstar Ben Templesmith and writer Ben McCool. On Saturday, Image will be making some big announcements during our ever-popular panel, THE IMAGE COMICS SHOW.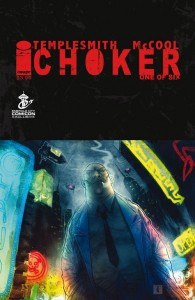 The following talented folks will be appearing at the Image Booth throughout the weekend: Nathan Edmondson (Olympus, The Light), Rob Liefeld (Image United, Youngblood), Jay Faerber (Dynamo 5), Kieron Gillen (Phonogram), Brandon Graham (King City), John Layman (Chew), Ben McCool (Choker), Jamie McKelvie (Phonogram), B. Clay Moore (Hawaiian Dick), Ryan Ottley (Invincible), Nick Spencer (Forgetless,Shuddertown), Brett Weldele (The Light).
Other Image creators exhibiting at ECCC include: Mike & Laura Allred (Madman, Red Rocket 7), Eric Basaldua (The Darkness, Witchblade), Michael Broussard (The Darkness), Joe Casey (Godland), Joe Kelly (I Kill Giants), Scott Kurtz (PVP), Moritat (Elephantmen), Ron Marz (Angelus, Magdalena, Witchblade), Mike Oeming (Mice Templar, God Complex), Whilce Portacio (Image United, Spawn), Duncan Rouleau (Great Unknown), Jim Rugg (One Model Nation), Steven T. Seagle (Soul Kiss), Tim Seeley (Loaded Bible), Richard Starkings (Elephantmen), Jim Valentino (ShadowHawk).
Saturday, at 2:00 PM in the Arcane Comics Panel Room (4C3-4):
THE IMAGE COMICS SHOW: The world's greatest creator-owned comics publisher returns to Seattle with a flurry of announcements and a discussion on creating creator owned comics with panelists Ben Templesmith (Choker, Fell), John Layman (Chew), Jim Valentino (Shadowhawk) and Brandon Graham (King City). PLUS: You cannot miss the huge announcement coming from Loaded Bible's Tim Seeley! Will this be your chance to win some free exclusive comics? Oh, yes; it will!
Don't miss Image Comics at Emerald City ComiCon, booth #306!