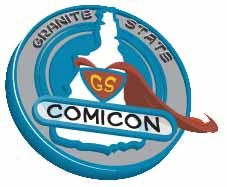 So what's up with Granitecon in 2010?  Quite a bit actually!  On Sunday March 14th we launch our NEW Nashua show at the Radission with featured guest Walter Flanagan of View Askew fame!  Walter is the artist of Kevin Smith's Batman series Cacophony and Widening Gyre! Plus we're bringing together the Atomic Robo team of Scott Wegener and Brian Clevinger together for the first time at Granitecon!
Then on Sunday May 23rd we've got our annual Manchester show!  We're moving the show into the Armory room at the Center of NH which will allow more room for dealers, artists, and special events!  Our special guests in Manchester include artists Craig Rousseau (Perhapanauts, Iron Man: Armor Wars), Tim Seeley (Hack/Slash), returning guest Khoi Pham (Mighty Avengers), and the recently added Charles Paul Wilson III (Stuff of Legend) with additional guest announcements coming soon!
Look for a newly revamped granitecon.com coming soon with all the latest info!  And check out our Facebook Fan Page and become a fan!