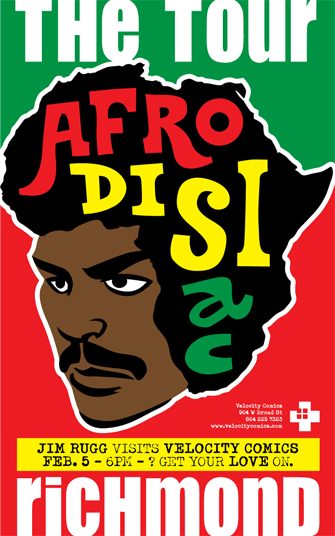 Jim Rugg and Chris Pitzer hit the road to talk about their latest creation: AFRODISIAC. Each stop will include a signing, talking and LOVE! Plan your Valentine gift giving and pick up an autographed copy of the book!
Jim Rugg, with Brian Maruca, is the artist and co-creator of Afrodisiac. They also worked together on Street Angel, the saga of a thirteen year-old skateboarding homeless ninja girl.  He also provided the art for PLAIN Janes and Janes in Love, which were written by YA Novelist Cecil Castellucci, as well as the brand new One Model Nation, which was written by Dandy Warhols frontman Courtney Taylor.
Chris Pitzer is the man in charge at Adhouse Books.  He's responsible for putting out a wide range of accessible yet unique books, many of which have been best sellers here.  Some of the finest Adhouse books include: Pulphope by Paul Pope, Process Recess I, II, and III by James Jean, Mesmo Delivery by Raphael Grampa, and many more.
Feb. 5th
6pm – 9pm
Velocity Comics, 904 West Broad Street, Richmond, VA 23220-3809
www.velocitycomics.com
Feb. 6th
6pm – 9pm
Chapel Hill Comics, 316 W Franklin St, Chapel Hill, NC 27516
www.chapelhillcomics.com
Feb. 7th
3pm – 6pm
Heroes Aren't Hard To Find, 1957 East 7th Street, Charlotte, NC
www.heroesonline.com