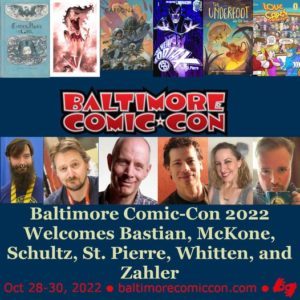 Join the Baltimore Comic-Con in the Inner Harbor's Baltimore Convention Center from October 28-30, 2022. The Baltimore Comic-Con is pleased to announce the addition of comics creators Jeremy Bastian, Mike McKone, Mark Schultz (courtesy of Flesk Publications), Joe St. Pierre, Emily Whitten, and Thom Zahler. Tickets are available online now so fans can avoid ticket counter lines at the show!
Jeremy Bastian is the creator and illustrator of Cursed Pirate Girl from BOOM! Studios and Archaia Comics. He is renowned for his delicate detail, whimsical characters, and strange creatures, all drawn at the actual print size with a very small brush! Cursed Pirate Girl beckons to the 19th century in both subject and style. He has also contributed to Guild: Tink from Dark Horse Comics, Mouse Guard: Legends of the Guard from BOOM! Studios/Archaia Comics, Little Nemo: Dream Another Dream from Locust Moon Press, and Under the Moons of Mars: New Adventures on Barsoom from Simon and Schuster. His Cursed Pirate Girl Annual was released by BOOM! Studios.
Hailing from England, Mike McKone's first published work was for DC Comics' Justice League of America and Marvel Comics' Punisher series. In the years since, he has illustrated almost every major character from the big two publishers, including lengthy runs on Teen Titans, Amazing Spider-Man, and Fantastic Four. Recent projects were the Avengers graphic novel, Endless Wartime and Justice League United. Now residing in the US, McKone is working on a creator-owned project while providing covers and merchandising illustrations for clients such as Marvel, DC, Dynamite, Valiant, Dorling Kindersley, and Converse.
Since entering the world of cartooning in the mid-1980s with the science-fiction adventure series Xenozoic Tales, Mark Schultz has slowly but consistently produced a very diversified body of work. He has created illustrations for Robert E. Howard's Conan stories, scripted four years of Superman, composed a science guide to genetics and DNA, created the Stormforce 10 adventure SubHuman with paleontologist Michael J. Ryan, and written the novella Storms at Sea, which he also illustrated. Currently, he scripts the comic strip Prince Valiant and, in his free moments, continues to work on a new Xenozoic graphic novel as well as a sequel to Storms at Sea. Flesk Publications, sponsoring his appearance at this year's event, has been Mark's proud publisher since 2005 and continues to regularly release collections of his sketches, commissions, and personal works.
Joe St. Pierre began his comic book career at Valiant Comics, as penciler of Rai, and co-creator of Secret Weapons. He has sold over 2 million comic books as a writer and artist for Marvel, DC (Aquaman, Green Lantern), Image (Megahurtz), IDW (Transformers), BOOM! Studios (Power Rangers), and Dynamite Entertainment.
Joe has the distinction of penciling the most #1 issues featuring Spider-Man and/or the Spider-Man family.
Joe also works in the fields of intellectual property design, commercial illustration, and storyboards for animation and video games. Clients have included MTV, Capstone, Discovery Channel, Nickelodeon, Warner Bros. Animation, Cartoon Network, the New York Times, the Wall Street Journal, Sony, PBS, The Amazing Kreskin, and Activision.
Joe's publishing company, Astronaut Ink, highlights his creator-owned properties Bold Blood, Megahurtz, and the sold out New Zodiax.
He is also the co-creator of the Fabien Cousteau Expeditions Series published by Simon & Schuster. The fourth volume, Hawai'i Sea Turtle Rescue, was released in March.
"Pop Culture Maven" Emily S. Whitten writes and speaks about everything genre and pop culture. She is a fiction writer; a genre entertainment journalist; a media personality; a program moderator and panelist; and a convention organizer. Her graphic novel series, The Underfoot, debuted from Lion Forge Comics in April of 2019, and volume 2, Underfoot: Into The Sun, was released in April 2021. Her columns, interviews, and webcomics have appeared on ComicMix, Movers & Shakers Unlimited, Reelz.com, MTV.com, and more. She is also known to some as her alter-ego, Ask Deadpool. When Emily is not writing, she's sharing geeky thoughts via radio shows and podcasts such as Fantastic Forum, The CCC Podcast, and Made of Fail, as well as via TV and video. She is a regular moderator and panelist at several genre conventions. In her copious spare time, Emily enjoys exploring, reading, crafting, cosplay, and looking after her tiny hamster. Oh, and when she's not doing all that, Emily holds down a regular 9-to-5 job – although that may just be her super-heroine cover identity.
Thom Zahler is a comic book creator and animation writer. He created the Line Webtoons hit series Cupid's Arrows and Warning Label as well as the Harvey-nominated Love and Capes (recently with new volumes "The Family Way" and the Ringo-nominated "In the Time of Covid"), Long Distance, and the time-traveling wine comic Time and Vine. He also writes and draws for IDW's successful My Little Pony series, and has written for Disney Tsum Tsum Kingdom, Star Trek Waypoint, and more. He has written for Disney XD's Ultimate Spider-Man and Knights of the Zodiac.
"These folks are doing amazing work," said Marc Nathan, show promoter for the Baltimore Comic-Con. "These are creators who have significant bodies of work, industry award nods, responsibility for storied characters, and more. If you are new to their work, this will be a great opportunity to find a new favorite. If you're a long-standing fan, you won't want to miss their appearance in October!"
Visit baltimorecomiccon.com/tickets for more information and to purchase your advanced tickets!
In the coming weeks, look for more announcements from the Baltimore Comic-Con. We are looking forward to highlighting our guests, the Ringo Awards, industry exclusives, and programming. The latest developments can always be found on our website, Twitter, Instagram, and Facebook pages.