BALTIMORE, MARYLAND – April 13, 2022 – This fall marks the return of the Baltimore Comic-Con to the Inner Harbor, October 28-30, 2022 at the Baltimore Convention Center. The Baltimore Comic-Con is happy to announce Marty Baumann, Brian Michael Bendis, Jerry Ordway, and Rachel Ordway as guests of the 2022 show. You can get your tickets now online.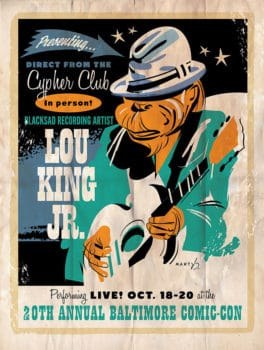 Marty Baumann is an illustrator, graphic artist, and production designer. He has contributed to some of the most popular, Oscar-winning animated films of all time. Marty has worked as an artist at Walt Disney Pictures and Pixar Animation Studios as an illustrator, graphic artist, and production designer on such films as Toy Story 3, Big Hero 6, Zootopia, Cars 2, Planes, Wreck-It Ralph 2, and many others. He also helped develop theme park installations, toy packaging, and Pixar corporate branding. Marty has rendered illustrations and developed characters for toy manufacturers, magazines, and newspapers, and illustrated children's books, created logos, info-graphics, broadcast promotions, and presentation art for Hasbro, Universal Studios, National Geographic, Scholastic Books, Nickelodeon, and many others. Recent projects include his role as concept artist for the new Mystery Science Theater 3000 and the visual development of Sir Paul McCartney's feature film, High in the Clouds.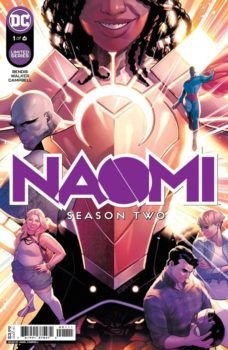 Brian Michael Bendis is a Peabody Award-winning comics creator, Amazon and New York Times bestseller, and one of the most successful writers working in mainstream comics. The announcement of Brian's multi-faceted move to DC Entertainment after a near twenty year run at Marvel made international headlines and trended worldwide. Brian made his DC debut in the landmark Action Comics1000, and has written Superman, Action Comics, Batman: Universe, Legion of Superheroes, and curated Wonder Comics, featuring the return of Young Justice, Dial H for Hero, Wonder Twins, and the breakout original new character… Naomi. The new deal brought the Jinxworld line of creator-owned comics to the DC fold. These new titles included the Yakuza epic Pearl with Jessica Jones co-creator Michael Gaydos, the comic book industry spy thriller Cover with award-winning multimedia sensation David Mack, Scarlet with co-creator Alex Maleev, and the alternate history mob story United States of Murder Inc. with Powers co-creator Mike Avon Oeming. Brian is Executive Producer and consultant of the Academy Award-winning hit Sony feature Spider-Man: Into the Spider-Verse (and its coming sequel in 2022). Miles Morales was co-created by Brian and Sara Pichelli.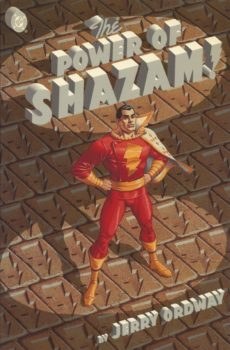 Jerry Ordway got his first professional comics work in the summer of 1980. In the years since, he has written and drawn the adventures of countless iconic characters such as Superman, Captain Marvel, The Justice Society, All Star Squadron, the Avengers, and the Fantastic Four. As an inker, he worked on Crisis on Infinite Earths and Zero Hour for DC Comics. In the 1990's, Jerry co-created and drew WildStar for Image Comics, and wrote and drew his own creation The Messenger. Also in the 1990's, his award-winning hardcover graphic novel, The Power of Shazam, retold the origin of Captain Marvel, which spun into a long-running monthly series, featuring painted covers and writing by Jerry, with art by penciller Peter Krause and inker Mike Manley. In recent years, he has started self-publishing his comic property Proton, and recently reunited with his All Star Squadron collaborator Roy Thomas for an 80th anniversary Captain America story for Marvel Comics.
Rachel Ordway is a freelance cartoonist and alum of the Savannah College Of Art & Design's Sequential Art program (Atlanta campus). She enjoys drawing more than eating, which is sometimes a problem. In addition to various self-published comics, her work appears in the acclaimed anthologies Chainmail Bikini, Sweaty Palms (volume 1), and Dirty Diamonds (#8), as well as in the archives of Comic Book Resources' sketch group "The Line It Is Drawn".
"It's so great to have these creators back with us," said Marc Nathan, show promoter for the Baltimore Comic-Con. "It's been a few years since their fans have been able to see them at the show, and this year, they'll get that chance again!"

For those fans in the Baltimore and surrounding areas, our show sponsor, Cards Comics & Collectibles of Reisterstown, MD is featuring their annual Easter Sale this weekend, April 15th-17th.
Friday, from 11am-7:30pm, Saturday, from 11am-7pm, and Sunday from noon-5pm, take advantage of these amazing deals:
70% off Modern Comic Back Issues
50% off Paperbacks & Hardcovers, Action Figures, POP! Figures, Statues, Toon Tumblers, and more
30% off Golden, Silver Age, Bronze Age, and Premium Back Issues
25% off Card Singles
40% off Games, RPGs, Gaming Supplies, and HeroClix
20% off Recent New Comics, "New This Week" Paperbacks and Hardcovers, CGC & Graded Comics, Card Backs, and Boxes (Sports, Non-Sports, an CCGs!)
On Sunday Only:
60% off Paperbacks, Hardcovers, Manga, and Artist Editions!
Don't miss it!
Tickets that are now on sale include:
Weekend
Friday only
Saturday only
Sunday only
VIP
As always, children 10 and under are free with a paid adult admission!
Buy tickets here!
2022 GUESTSConfirmed guests for this year's show include: Marty Baumann (Pixar artist), John Beatty (Marvel Super Heroes: Secret Wars), Brian Michael Bendis (Action Comics), Brett Breeding (Superman), Mark Buckingham (Fables), Jim Calafiore (NED, Lord of the Pit), Richard Case (Edgar Allan Poe's Snifter of Terror), Howard Chaykin (Time Squared), Steve Conley (The Middle Age), Katie Cook (Nothing Special), Kevin Cuffe (Metalshark Bro), Kristina Deak-Linsner (Roses for the Dead), Todd Dezago (The Perhapanauts), Garth Ennis (The Boys, Friday and Saturday only), Bob Frantz (Metalshark Bro), Gene Ha (Mae, courtesy of Hero Initiative), Bob Hall (West Coast Avengers), Dean Haspiel (The Fox), Mike Hawthorne (Happiness Will Follow), Greg Hildebrandt (Star Wars), Jamal Igle (Molly Danger), Klaus Janson (Daredevil, Friday and Saturday only), Chris Kemple (Artist Alley Comics), Phillip Kennedy Johnson (Alien), Barry Kitson (Amazing Spider-Man), Joseph Michael Linsner (Red Sonja), Howard Mackie (Ghost Rider), Bob McLeod (New Mutants), Shawn McManus (Sandman, courtesy of Hero Initiative), Carla Speed McNeil (Finder), Pop Mhan (Gears of War 3), Frank Miller (Sin City, Friday and Saturday only), Mark Morales (Thor), Bill Morrison (The Simpsons), Trevor Mueller (Albert the Alien), Jerry Ordway (Superman), Rachel Ordway (Chainmail Bikini), Richard Pace (Second Coming, courtesy of Hero Initiative), Andrew Pepoy (Simone & Ajax), Khoi Pham (Teen Titans), Ed Piskor (Red Room: Trigger Warnings), Afua Richardson (Omni), John Romita, Jr. (Amazing Spider-Man), Don Rosa (Uncle Scrooge), Craig Rousseau (The Perhapanauts), Jim Rugg (Hulk Grand Design), Stuart Sayger (The Joker), Pat Shand (Destiny, NY), Louise Simonson (X-Men Legends), Walter Simonson (Ragnarok), Don Simpson (Megaton Man), Billy Tucci (Shi), Mark Waid (Superman: Red and Blue), Emily S. Whitten (The Underfoot), Matt Wieringo (Stargate Atlantis: Gateways), Keith Williams (Thor the Worthy), and Thom Zahler (Love and Capes).
In the coming weeks, look for more announcements from the Baltimore Comic-Con. We are looking forward to highlighting our guests, the Ringo Awards, programming, and more. The latest developments can always be found on our website, Twitter, Instagram, and Facebook pages, and follow us on YouTube, TikTok, and Snapchat.
About The Baltimore Comic-ConThe Baltimore Comic-Con is celebrating its 23rd year of bringing the comic book industry to the mid-Atlantic area. For more information, please visit www.baltimorecomiccon.com.