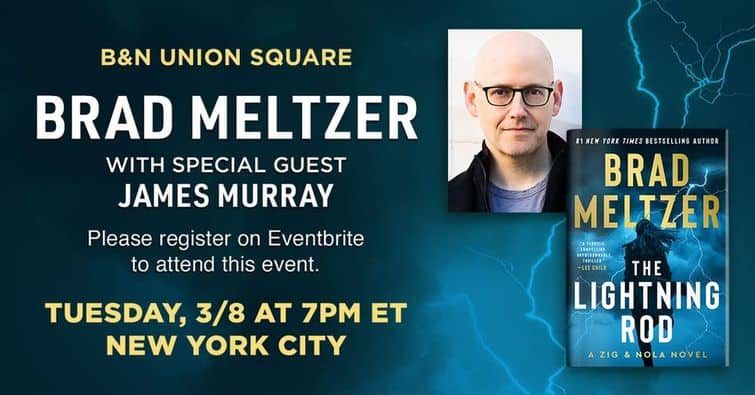 Please join us on Tuesday, March 8th at 7pm as we welcome New York Times bestselling author, Brad Meltzer, for a discussion and book signing to celebrate the release of THE LIGHTNING ROD, the highly-anticipated follow-up to his #1 bestselling thriller, THE ESCAPE ARTIST, featuring Nola and Zig!
Brad will be joined by special guest, James Murray, writer, executive producer, and actor, best known as "Murr" on the hit television show Impractical Jokers on truTV and author of the upcoming AREA 51 INTERNS: ALIEN SUMMER.
Registration on Eventbrite is required to join this event. In order to secure your seat, please arrive by event time. Late arrivals may only have access to standing room.
As mandated for NYC, all ticket holders will be required to wear a mask and show proof of vaccination. Access to the event will be denied without those two items. To learn more, please see our Eventbrite page. In addition, children under 5 must provide proof of a negative PCR test taken within 72 hours or a negative antigen test within 6 hours of the event start time.
**A ticket PER PERSON includes free entry and seating in the event space for the book discussion with Brad Meltzer and James Murray. (LIMITED QUANTITY AVAILABLE)**
Copies of THE LIGHTNING ROD will be available for purchase at the event.
Socially distanced selfies with Brad will be allowed at the event.
Due to health and safety and space limitations, those without a ticket may not be permitted into the event space.
**Event Guidelines are subject to change.**
If you have any additional questions, please can call the store directly at: 212-253-0810.
Tickets are free, but you must register on Eventbrite. More info can be found in the ticket link on our event page.
Barnes & Noble | Union Square
33 East 17th Street, New York, NY 10003
212-253-0810