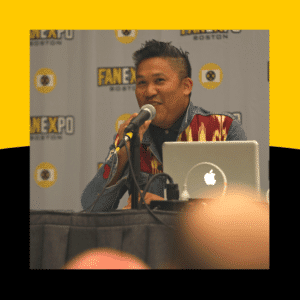 This year's Fan Expo Boston felt a bit smaller and scaled back which was to be expected due to the past year we've all had. While some fans and vendors were wary to venture out into the world and be surrounded by people again, those who did attend were diligent about adhering to safety protocols. For the most part every face was covered with a mask and there were hand sanitizer stations at every entrance and several spots around the floor.
The big draw for me this year were some of the voice actors, specifically Dante Basco from Avatar: The Last Airbender (ATLA), Janet Varney from Legend of Korra, and the legendary Kevin Conroy of Batman: The Animated Series (and its many spinoffs) fame.
Basco's Saturday morning panel played to a packed room eagerly awaiting the prince of the Fire Nation who apologized for being late since he was still jet lagged from a recent trip to Hawaii. Most of the questions from the audience were Avatar-specific and Basco spoke at length about how while they were creating the show in a pre-social media they had no idea of how much it was connecting with the audience. To the point that when he ran into actor Jason Isaacs, voice of Admiral Zhao, at the Sundance Film Festival a year later they were flabbergasted at how big the quirky cartoon they'd done had become.
"Zuko is a flawed character, he messes up over and over again." Basco said, "We all want to be redeemed so that story is something we can all root for. It always resonates with an audience. We get to see ourselves in those characters."
Janet Varney in her own panel on Sunday said that it was intimidating stepping into the Avatar world as Legend of Korra had to live up to the standard set by the original series. Many fans who loved the adventures of Aang and his friends were expecting more of the same and rejecting the slightly darker, more mature tone of the sequel. Now that several years have passed Varney said she loves that they live side by side now and new fans can discover them at their own speed. She also told stories about the guest stars who appeared on the show and having to maintain her cool to work with such luminaries as JK Simmons, Lisa Edelstein, and Henry Rollins.
Kevin Conroy's panel felt like a conversation with an old friend as he has done many of these over the past 20 years and most of the stories fans know but love to hear again. He talked about being reluctant to audition for the role of Batman, he actually thought Det. Harvey Bullock would be more fun to play. But director Andrea Romano and showrunner Bruce Timm were so impressed by his correlation of Bruce Wayne being like Hamlet, both playing a false role to avenge their dead parent(s), they offered him the job on the spot.
"The challenge is to keep Batman consistent and real." said Conroy likening it to being in a Broadway play. "While it might be my 1000th performance, for someone in the audience it's their first time seeing it."
Fan Expo has promised that next year's convention, scheduled for August 12-14, 2022, will feature more programming, more attractions and more after-hours events for fans to enjoy. "The energy at FAN EXPO Boston 2021 was incredible as we brought together our awesome community to celebrate all things pop culture. The show demonstrated that the fandoms are uniting once again," said Andrew Moyes, Vice President of FAN EXPO HQ. "We're working on plans for next year and looking forward to a supercharged experience for FAN EXPO Boston 2022."