Jim Shooter, Matthew Wood, Jodi Benson, David Acord, Stephen Costantino, Douglas Paszkiewicz, Chris Campana, Alejandro Rosado, Jeff Shultz, Johnny Desjardins, Uko Smith, Enrique Lopez, and more have been announced as guests for Cincinnati Comic Expo 2021!
Tickets for the 2021 Cincinnati Comic Expo are on sale now. Get the best deal when you buy your Early Bird VIP Package today! Get tickets at the link…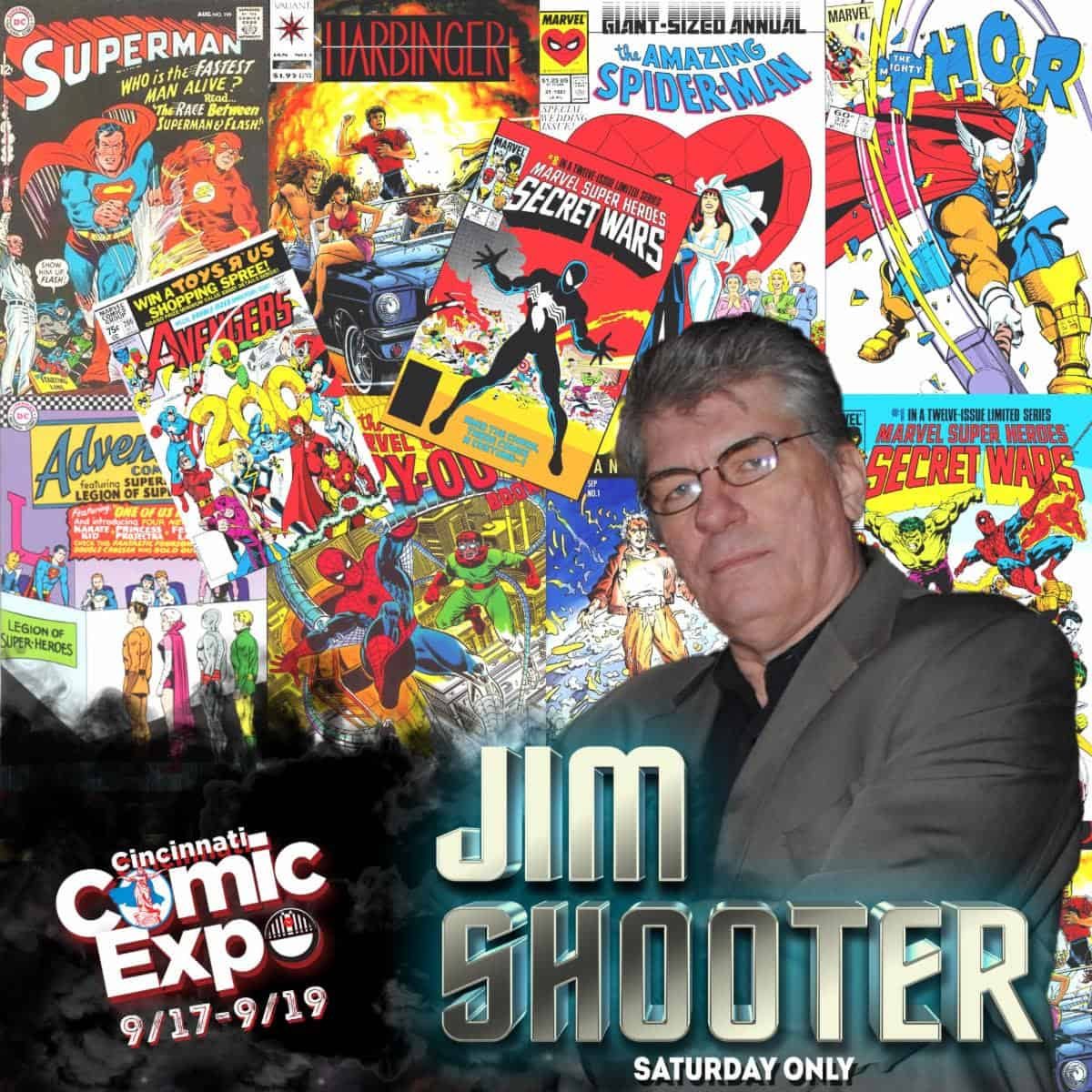 Legendary writer and editor Jim Shooter will be attending the 2021 Cincinnati Comic Expo on Saturday only!
As a teen, Shooter started writing for numerous DC properties such as Superman, Supergirl, Action Comics, and Legion of Super-Heroes. As editor-in-chief at Marvel, Shooter oversaw well-known runs of Thor, Avengers, Uncanny X-Men, Fantastic Four, and others. He introduced Marvel Super Hero Contest of Champions and Secret Wars. Then he was the founder of Valiant Comics, Defiant Comics, and Broadway Comics. He wrote for Dark Horse. He currently serves as creative director and editor-in-chief of Illustrated Media.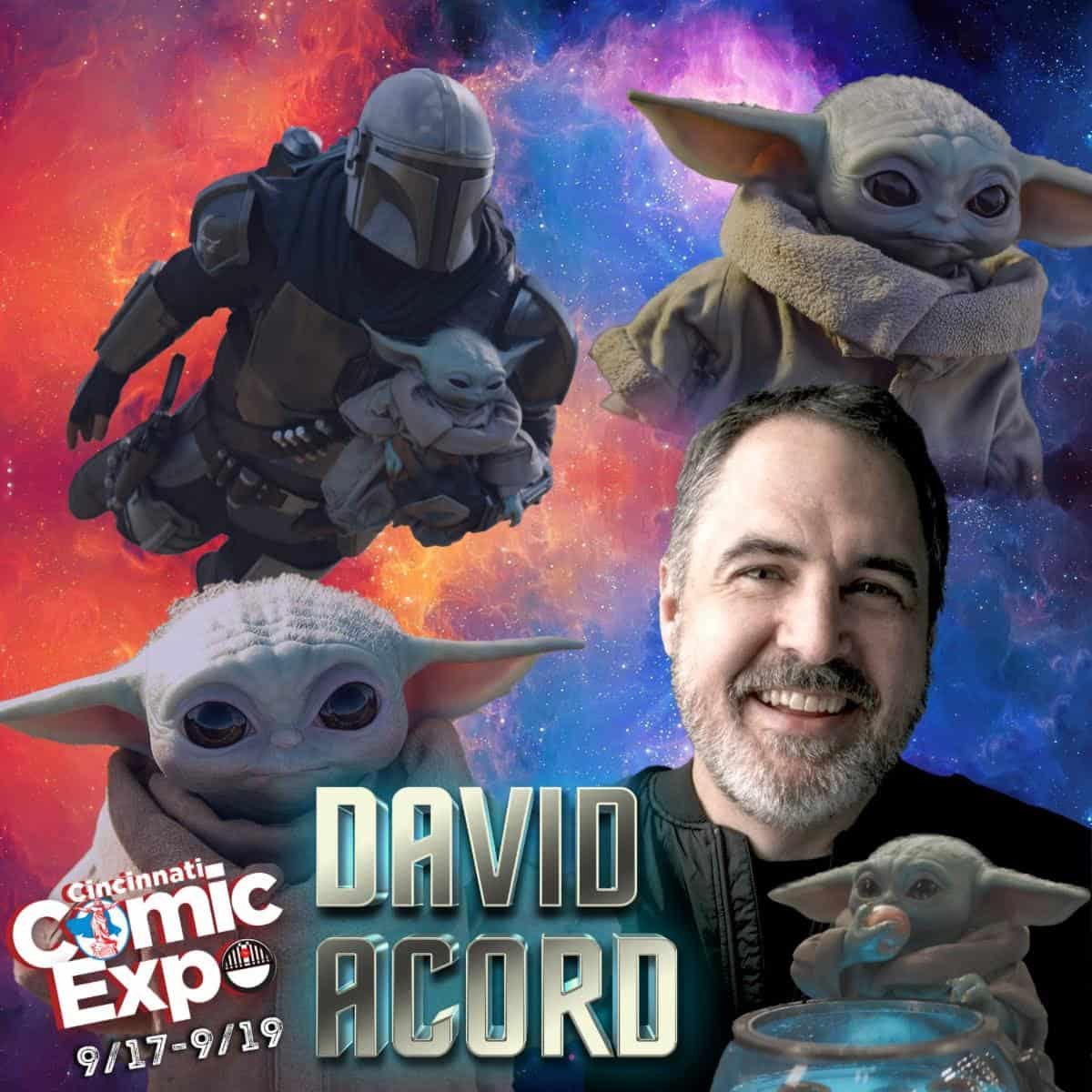 David Acord continues the guest announcements for the 2021 Cincinnati Comic Expo!
David Acord is an Oscar nominated sound editor for Skywalker Sound. He is currently voicing Baby Yoda on the Disney+ sensation The Mandalorian. He has also provided the voice for GH-7 medical droid in Revenge of the Sith, Rotta the Huttlet in Star Wars: The Clone Wars and fan favorite riot control stormtrooper FN-2199 in Star Wars: The Force Awakens.
At Skywalker Sound Acord served as Apprentice Sound Editor on Attack of the Clones, Assistant Sound Editor on Revenge of the Sith, Supervising Assistant [Sound Editor] on the DVD release of the original trilogy, and sound designer (and later re-recording mixer; sound designer/sound editor on film) on Star Wars: The Clone Wars, sound designer/re-recording mixer on LEGO Star Wars: The Empire Strikes Out, and sound designer/supervising sound editor on Star Wars Rebels. His Oscar nomination was for sound editing on Star Wars: The Force Awakens.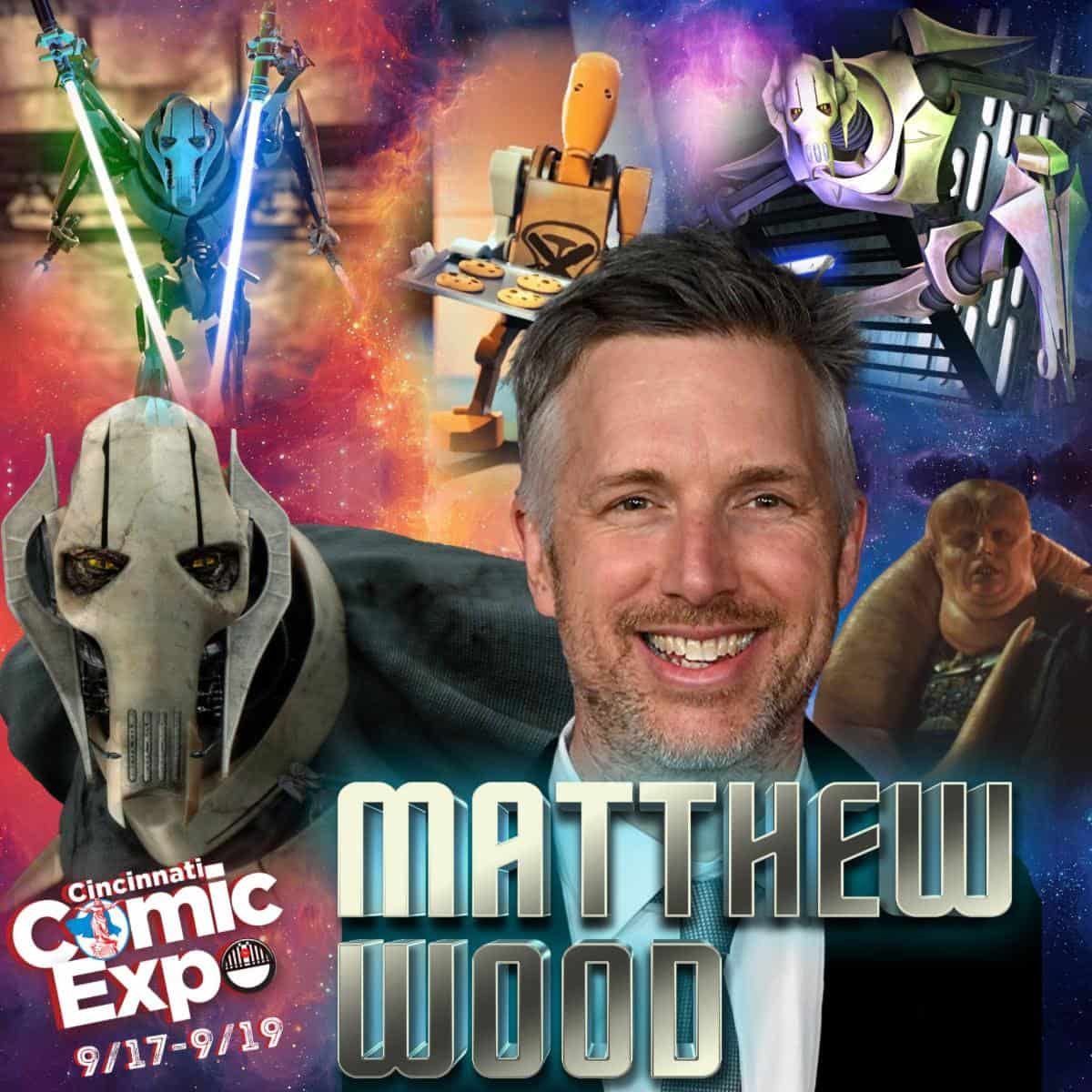 Matthew Wood is the latest to join us for the 2021 Cincinnati Comic Expo!
Matthew is an actor as well as a sound engineer and editor. He has worked over 100 projects in the sound department from numerous Star Wars enterprises to other features such as Loki, WandaVision, Star Trek Into Darkness, Knives Out, and more.
On the acting side of the industry, fans recognize him as the voice of General Greivous in the Star Wars franchise. He is also credited as the voice of various droids and battle droids through the various series', as well as Bib Fortuna in The Phantom Menace and The Mandalorian. He has recently been heard on Disney+'s Star Wars: The Bad Batch and What If…?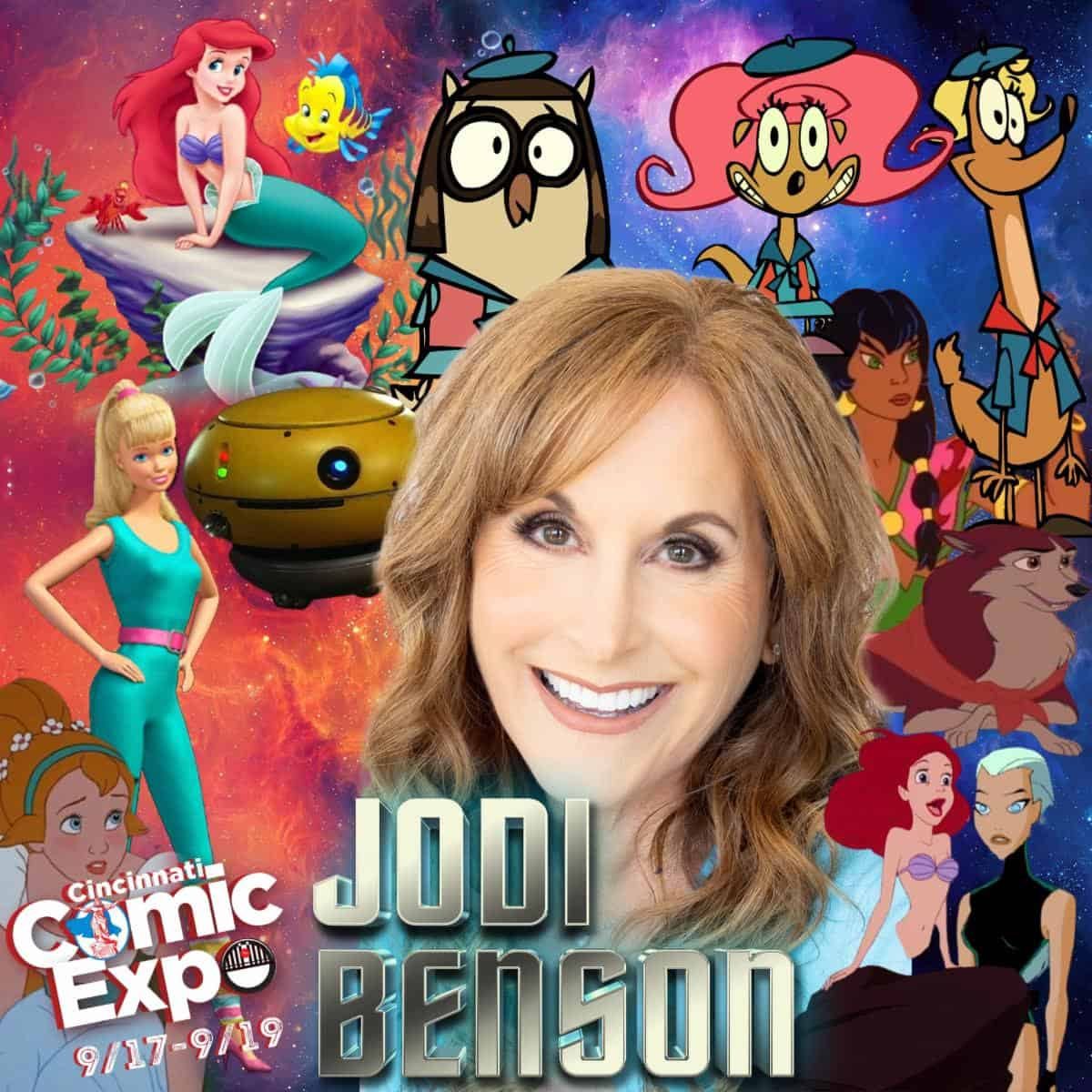 Actress and singer Jodi Benson is returning for the 2021 Cincinnati Comic Expo!
Jodi is best known as the voice of Ariel in The Little Mermaid animated film and continues to voice the character through the TV series, movie sequel, games, and other Disney properties. Jodi is also the voice of Barbie in the Toy Story franchise as well as Thumbelina in Thumbelina. Her other projects include the video game based on A Bug's Life, Helen of Troy in the Hercules TV series and video game, and numerous other roles and credits.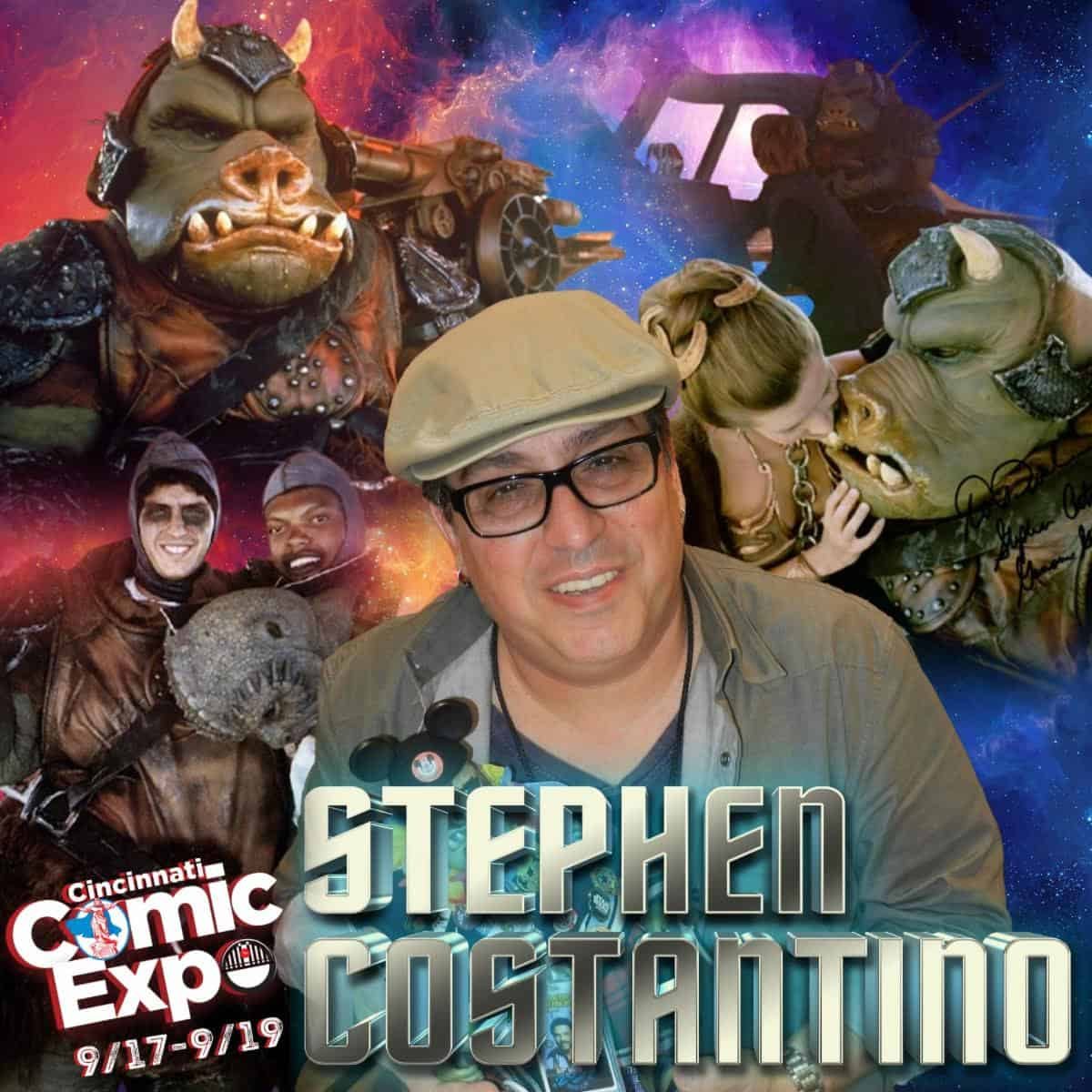 Actor, producer, and musician Stephen Costantino is the latest addition to be attending the 2021 Cincinnati Comic Expo!
Stephen is best known for his portrayal of one of Jabba's Gamorrean Guards. Stephen has also appeared in Zomb-G: Get Bit or Get Ate and My Saga. He has producing credits on projects such as Starlight and Walking After Midnight. Stephen performs guitar and vocals for the group, Gamorrean Sound.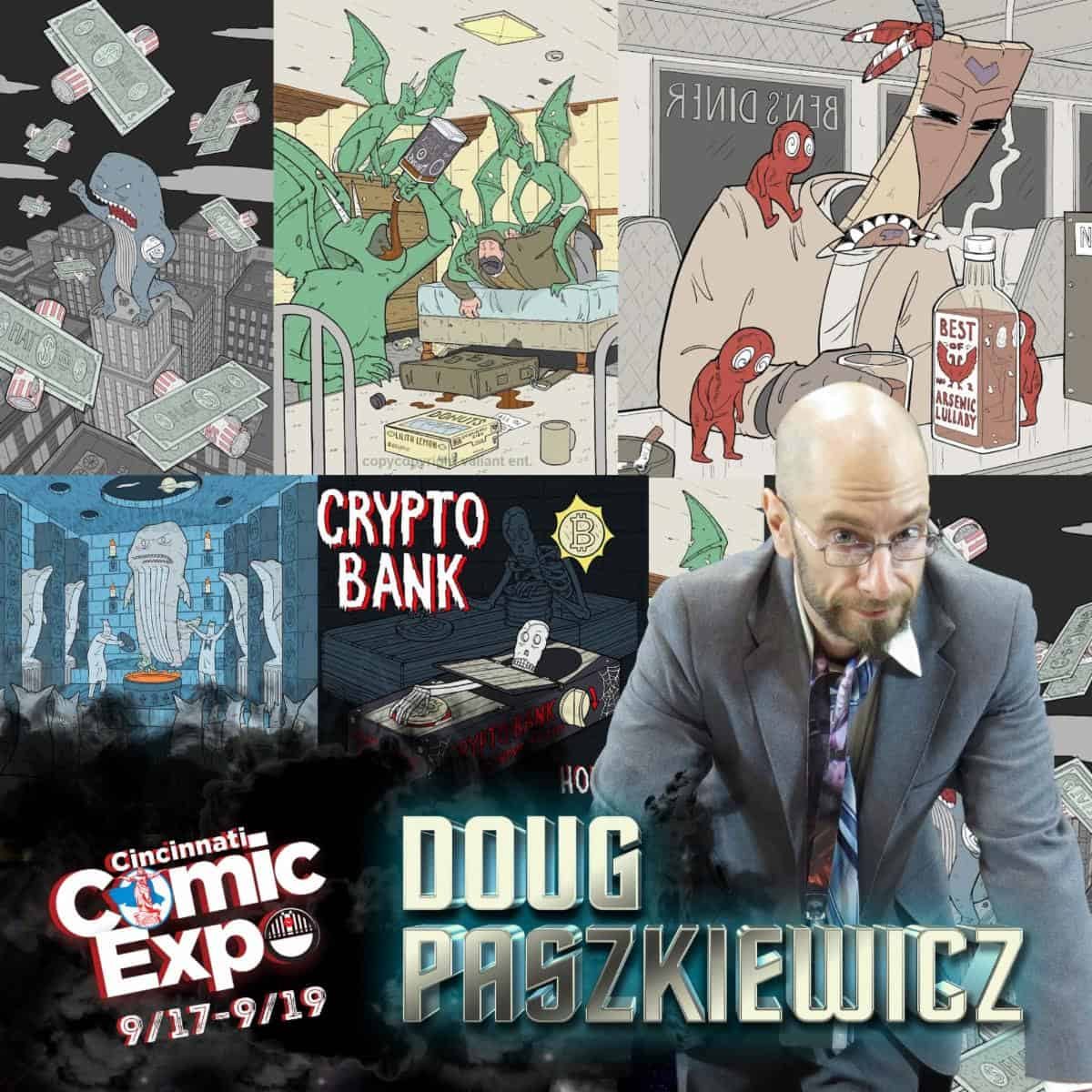 Artist and writer Douglas Paszkiewicz will be joining us for the 2021 Cincinnati Comic Expo!
Douglas is best known for his Arsenic Lullaby series. His other projects has included work for Valiant, Image, DC, Mad Magazine, and more.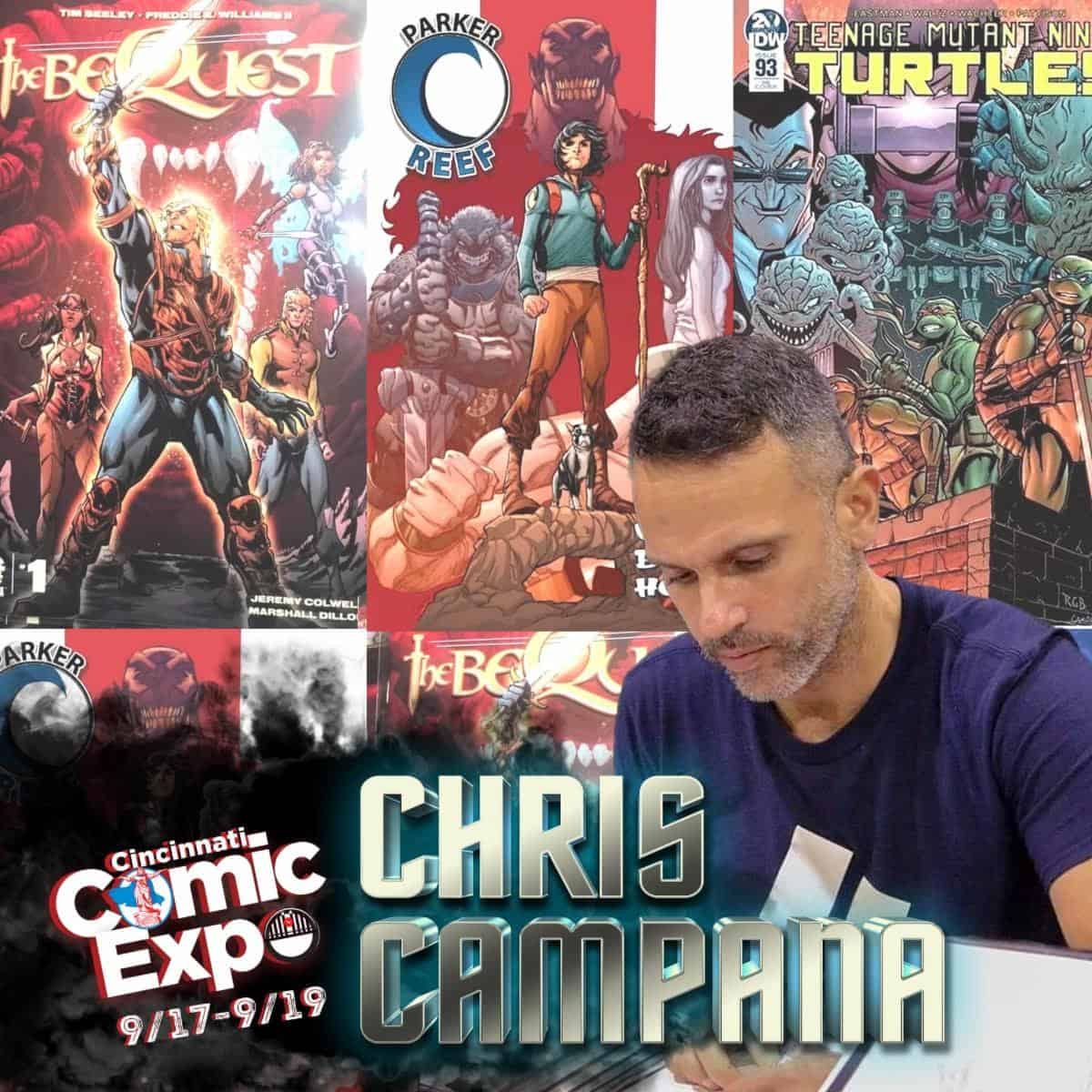 Artist and writer Chris Campana will be a guest at the 2021 Cincinnati Comic Expo!
Chris got his start way back in 1997 with a short story in Negative Burn for Caliber comics and the self published/creator owned "Jaiden". After a break from the industry, he returned and has done work for such companies as IDW, Dynamite, Aftershock and Cold War. Chris is also a multi nominated Writer / Artist for his creator owned title The Adventures of Parker Reef. Other creator owned titles include "First World" and "Chosen".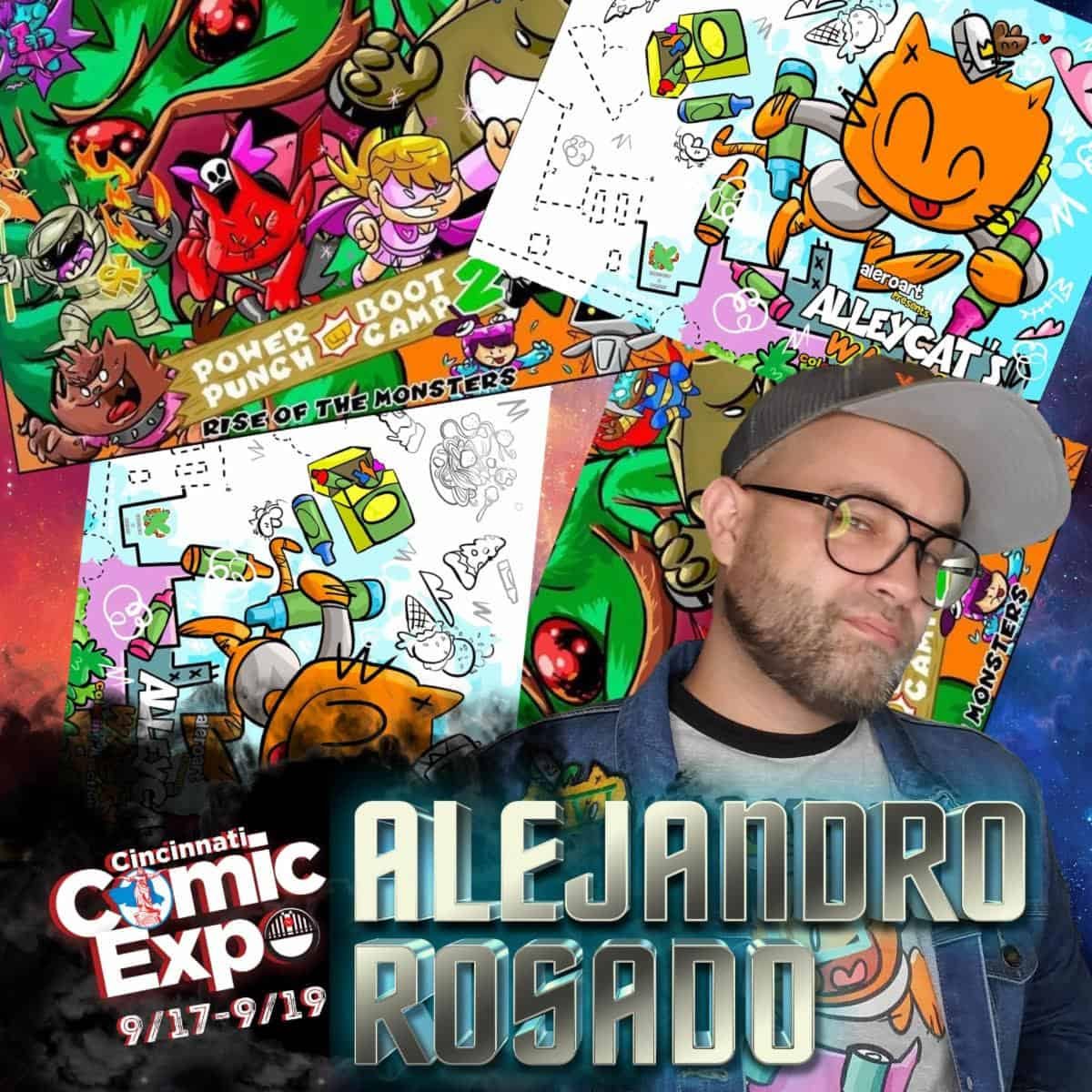 Graphic illustrator and publisher Alejandro Rosado will be appearing at the 2021 Cincinnati Comic Expo as part of the Aw Yeah Comics team! Alejandro publishes his own comic, The Element Factor, as well as a contributing artist for Aw Yeah. Besides being an art instructor, Alejandro is a freelance artist and graphic illustrator on logos, storyboards, and more.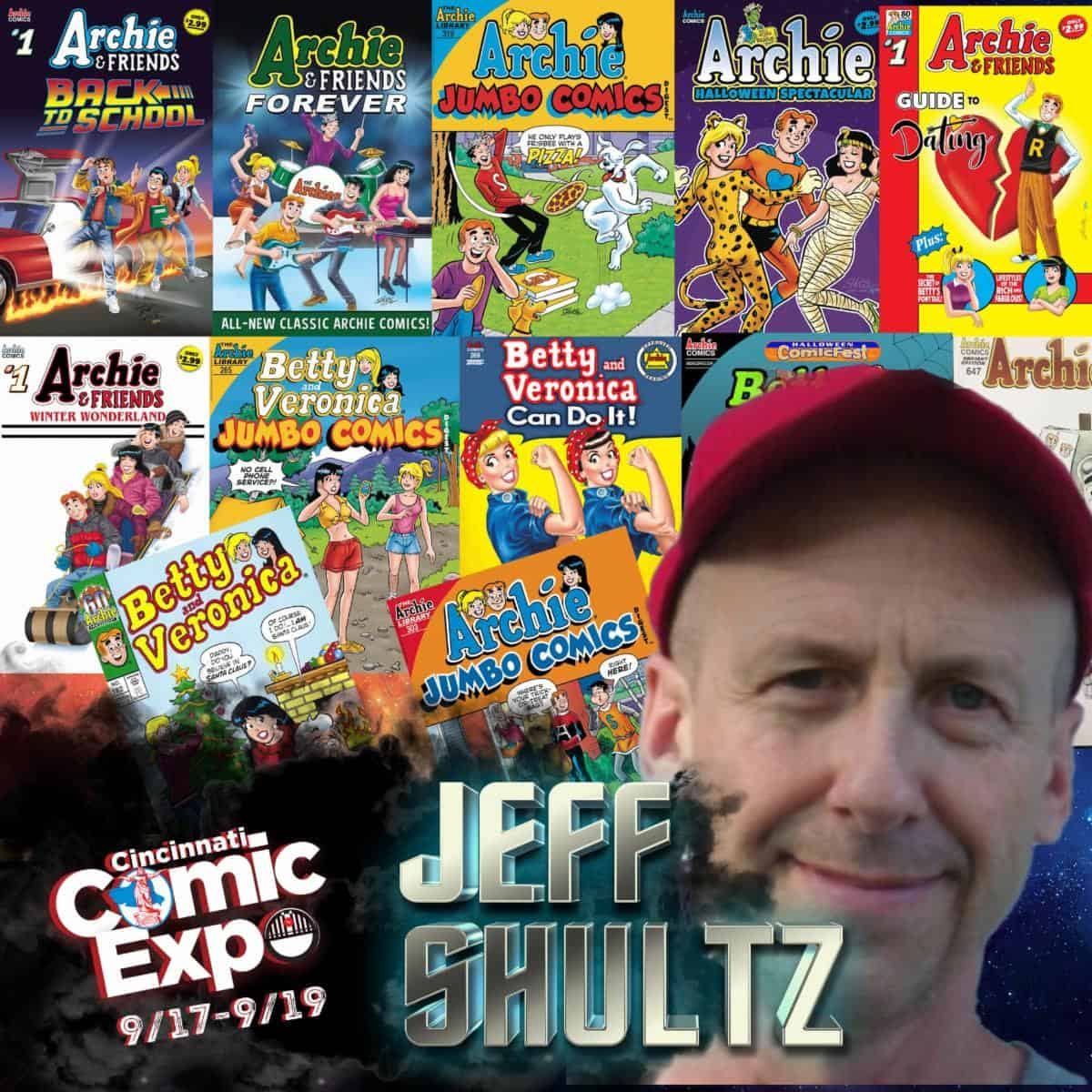 Artist Jeff Shultz will be setup at the 2021 Cincinnati Comic Expo! Jeff has over 30 years of experience as a Comic Artist and Inker. Jeff's credits include: Tom and Jerry, Peanuts, Looney Tunes, Super Suckers, Archie's Betty and Veronica. He also works on Jetta Raye Adventures and he created his own characters 'Hugo and the Bug'.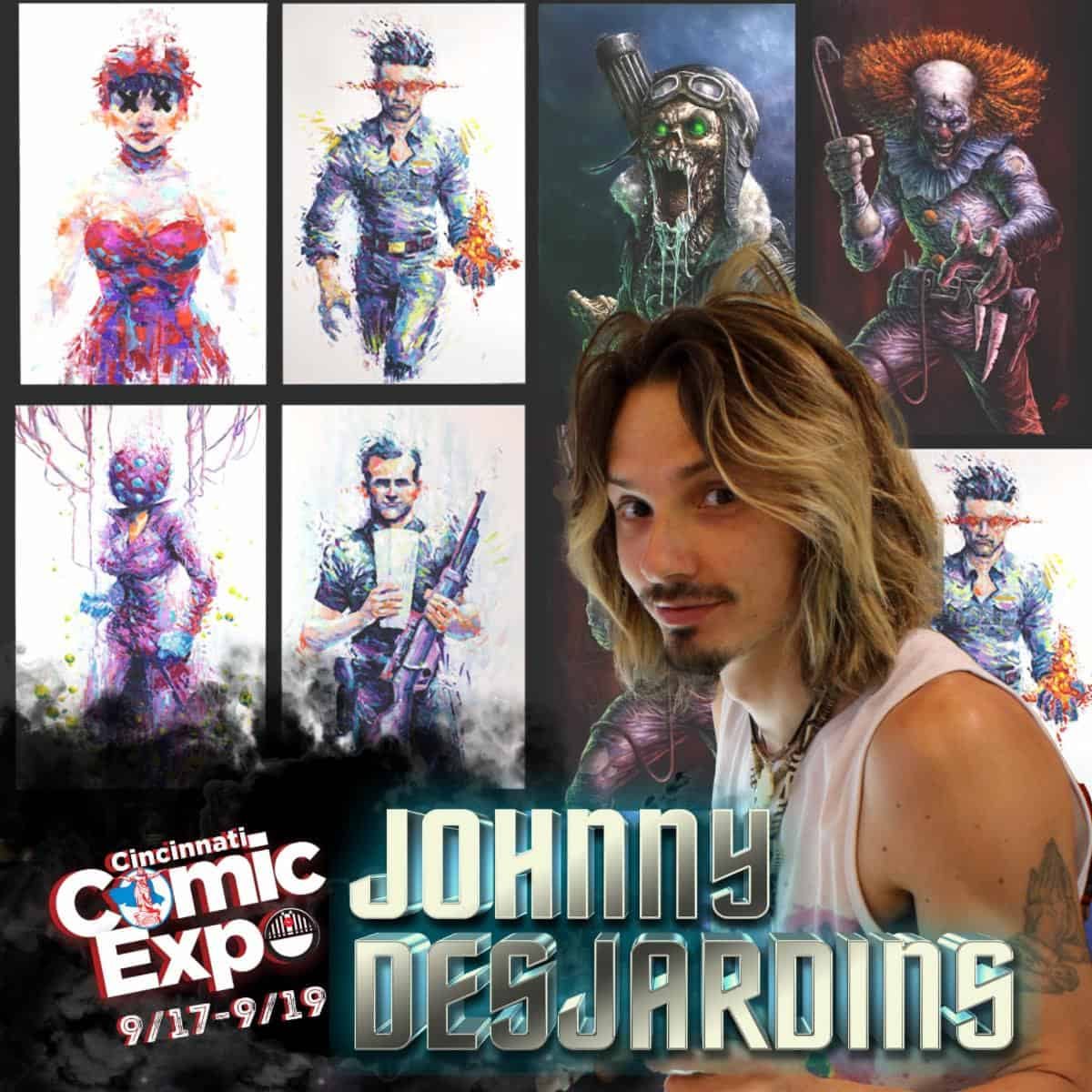 Artist Johnny Desjardins will be in the Duke Energy Convention Center as a guest of the 2021 Cincinnati Comic Expo!
Johnny Desjardins (Johnny D) is a book artist for Dynamite Entertainment. He started by working for David Finch doing backgrounds on Marvel Comic's: Ultimatum series. From there he started working exclusively for Dynamite with his first book Red Sonja #50. Several covers later for books such as Robocop, Kato and The Green Hornet: Blood Ties series premiered which really gave him a chance to evolve as an artist and begin to build his career. Johnny started honing his drawing technique throughout high school and once he met local artist David Finch, he was able to further his drawing experience by working with him.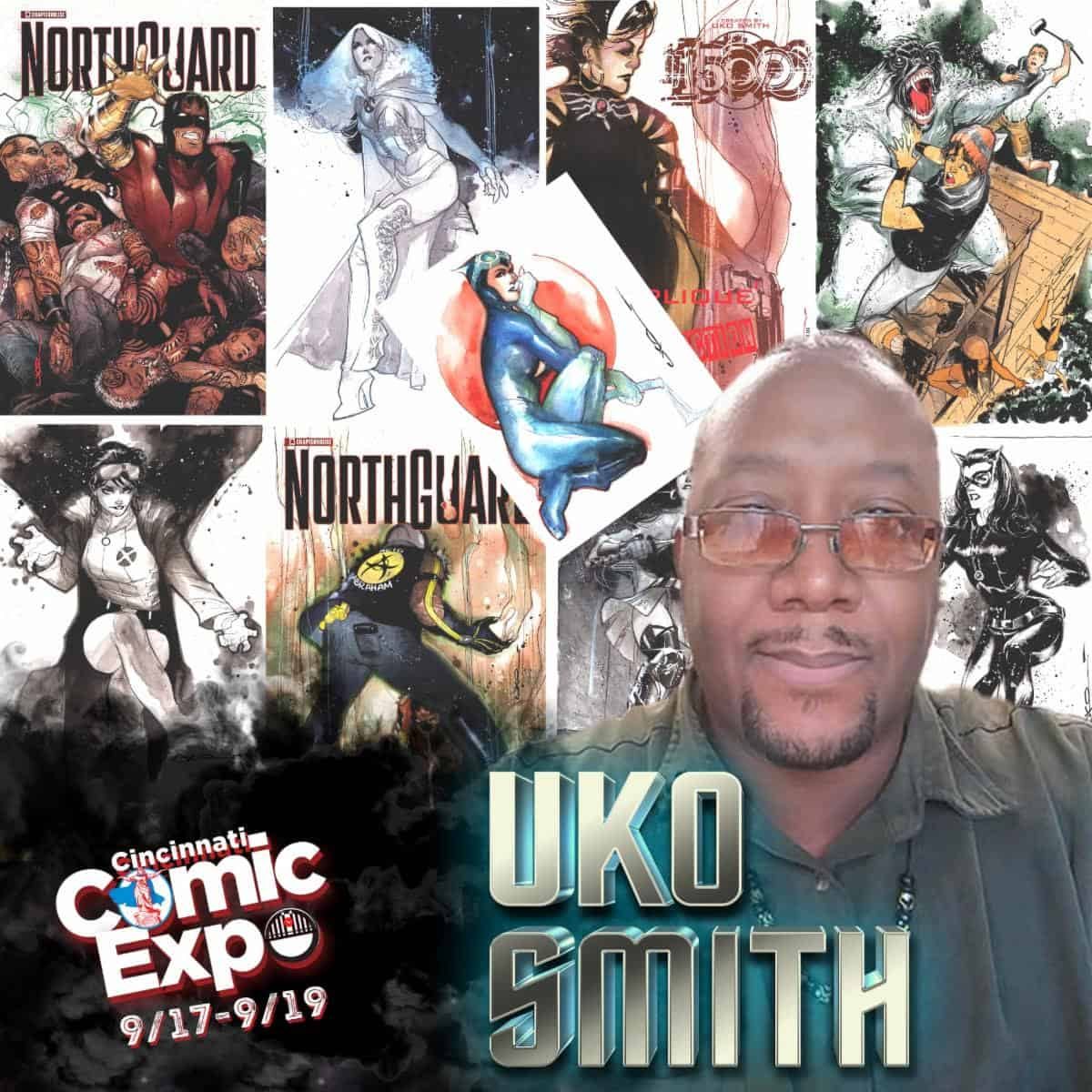 Artist Uko Smith returns for the 2021 Cincinnati Comic Expo!
Uko Smith, a Washington, D.C. native now living in Columbus, Oh graduated from the Columbus College of Art and Design with a degree in illustration/design and a minor in fashion. Uko is becoming known for his unique style for the erotic pinup and his sensual style of work. Collectors and admirers of his work have come to notice his distinctive use of linework and stylized realization. Always looking to make his work distinguished from others in the field, he blends his style of design and illustration into a very unique package that definitely separates it from others.
As always admiring the female form, Uko gives great attention to the emotion and alluring look of his females whether it be the eyes, hair or clothing designs he decides to adorn them with( if any at all). His attraction to the female form "goes way back as a young child to looking through lots of Frazetta books and Playboy magazines. Inspirational artists that Uko has admired throughout the years are aformentioned Frazetta, Michelangelo, Robert McGinnis, John Byrne, Kevin Nowlan, Serpieri, Bridgman, Vargas, Petty, Larry Stroman are just a few on the list.
Buyers of his work have included Julie Strain, Veronika of Echo Gallery and other noted models in the industry and followers of pinup art. Uko has published four portfolios titled "Visions of Erotica", illustrating themes of fetish, fashion and nude modeling. There is one common theme throughout his work and that is the women that he portrays always have a strong femininity to them.
Not only is he a successful artist in the erotic art market, Uko has also been published in the field of comic books and the RPG industry. After being featured in the Nov.2005 issue of Heavy Metal, Uko's popularity is steadily growing into one of consistency in the field. Uko has recently finished a comic featuring Bodybuilding Professional Colette Nelson. Along with the success of his work, an online comic featuring one of his creations will be available on his site titled Salem Erotica.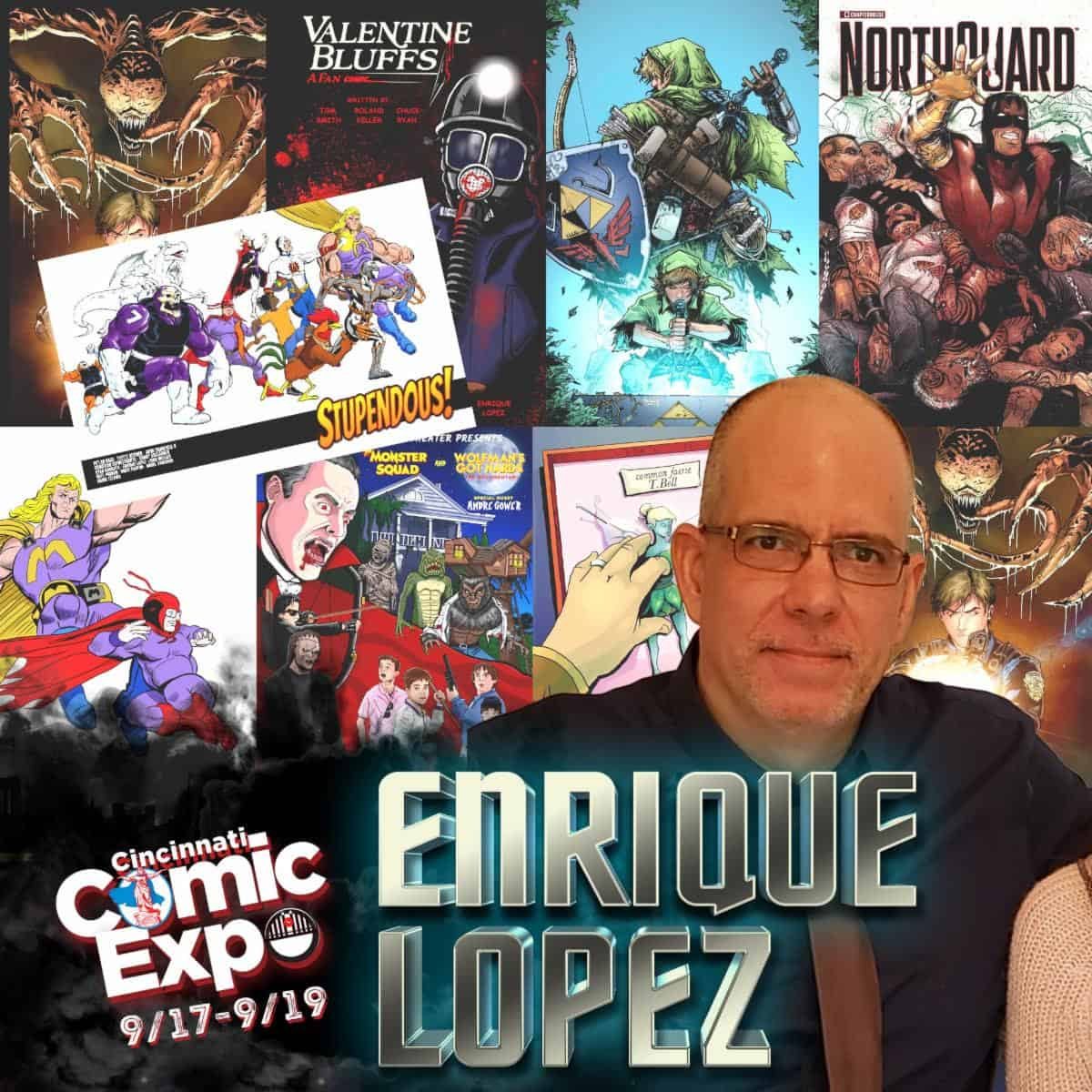 Writer and artist Enrique Lopez is joining us at the 2021 Cincinnati Comic Expo! Writing from early age, he discovered comics and the love affair never waned. He tried to break into the industry during the 4 color days of the 80s with not much success so he dedicated himself to working in the advertising as creative and account director for a number of prestigious agencies where some of his campaigns won awards and honors. He recently returned to his art roots and has begun inking again with the assistance of a number of local and international artists including Billy Tucci, Zack Dolan, Keith Williams. He has comic stories published in Stupendous Magazine #1 and Horrendous Halloween Special 2020. He is currently involved in a number of projects as well as a collection of stories.