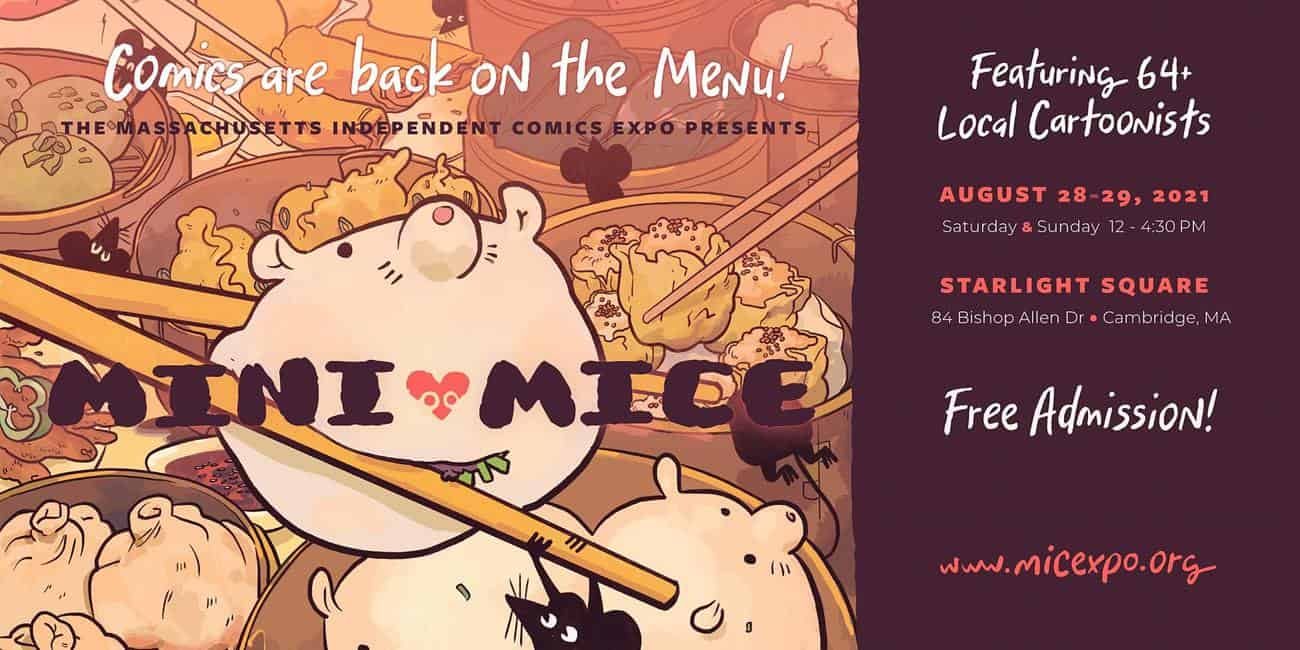 Join the Massachusetts Independent Comics Expo in celebrating the return of independent comics to Cambridge! After a quiet year, MICE is serving up a host of creative delights that will make a big impact for comic creators and fans alike. Admission is FREE.
Mini-MICE: Outdoors and in-person!
The Massachusetts Independent Comics Expo is heading outside for Mini-MICE on August 28 – 29, 2021 from 12 – 4:30PM at Starlight Square in Cambridge. The open-air summer market will feature 64 local creators with a different exhibitor roster on Saturday and Sunday.
Mini-MICE will exclusively highlight creators that live and work in Massachusetts, with several graphic novels released during the pandemic making their in-person festival debut.
Katie the Catsitter from Colleen AF Venable and Stephanie Yue is an all ages adventure full of cats and capes
Dracula Motherf**ker illustrated by Erica Henderson drenches the Dracula myth in grindhouse fashion
Fights by Joel Christian Gill explores one boy's triumph over trauma in this Eisner nominated memoir
We hope you come hungry for unique stories and styles because there will be a fine array of mini-comics for sampling, including MICE Mini-Grant awardees Dave Ortega, Cathy G. Johnson, Liz Bolduc, and Ingrid Pierre whose Do Not Resuscitate took the Grand Prize in 2020!
We can't wait to see you again! Find out more about Mini-MICE: micexpo.org/mini-mice
MICE Presents: A Mini-Grant Showcase
The Massachusetts Independent Comics Expo is looking for the latest, greatest mini-comics. MICE Mini-Grants are $100 cash awards offered each year to outstanding new mini-comics in order to directly support creators and offset print production costs. This year we are awarding 30 Mini-Grants thanks to matched support from PrintNinja and partnering with Radiator Comics, which offers winning entries an open opportunity for retail and online distribution. Award winners will also be highlighted in the MICE Mini-Grant Showcase and provided with focused marketing and promotional support.
Mini-comic creators worldwide are eligible and the submission period closes September 1, 2021. Winners will be announced November 1, 2021.
Find out more about Mini-MICE: micexpo.org/grants-2021
Visit www.micexpo.org