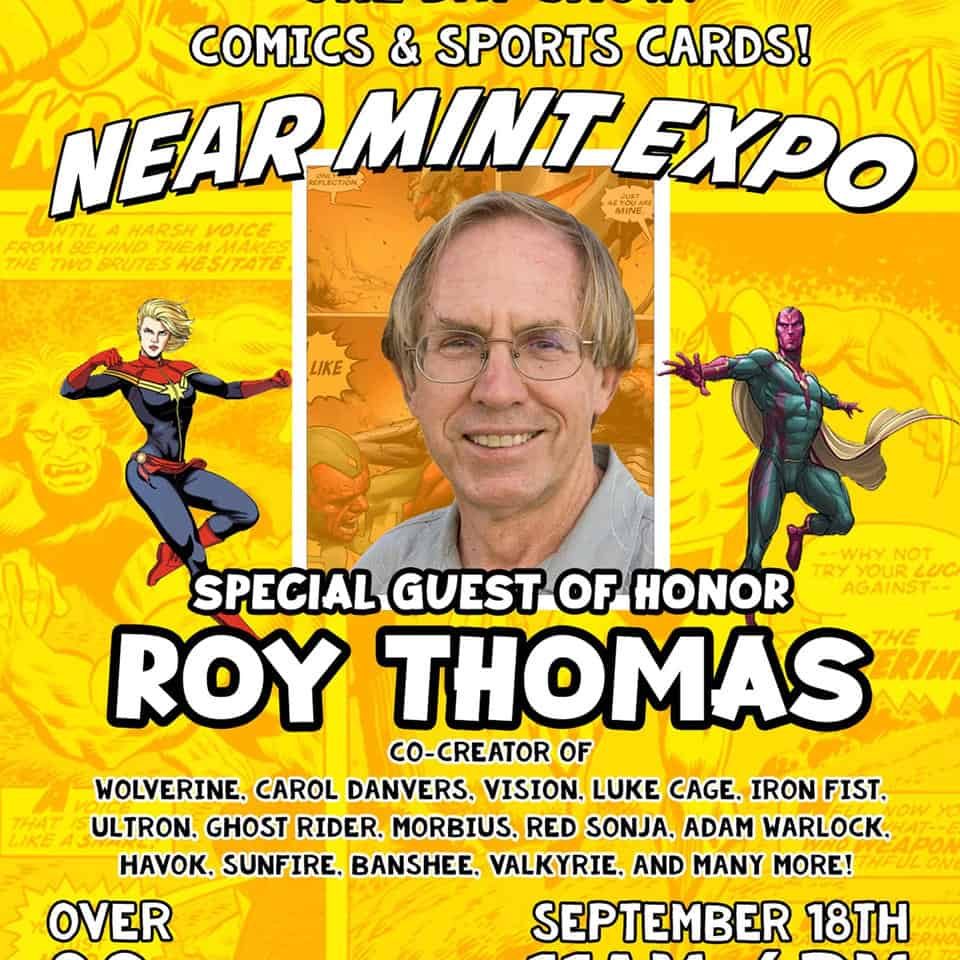 Join us at the WaterFire Arts Center, located at 475 Valley Street in Providence, Rhode Island to experience the best of the best in sports cards, comics, and related collectibles.
This 15,000 square foot venue will feature 80+ vendors, food trucks, bar, dj, and free parking!
with super special guest ROY THOMAS, former Editor in Chief of Marvel Comics.
Saturday September 18, 2021, from 11:00am-6:00pm.
VIP early entry is available at 10:00 am!
TICKET INFORMATION
EARLY BIRD general admission tickets are on sale $10. Door tickets are $15.
VIP EARLY 10am ENTRY tickets are very limited and are available now. These tickets are $25 and are an advance purchase only – they are not available on the day-of. Get here early and get the good stuff!
VIP DINNER WITH ROY THOMAS! There are a VERY limited number of tickets available for a small group dinner at Black Sheep (7:00 – 9:00pm), immediately following NEAR MINT EXPO. This event is $125, and includes your choice of entree from a special dinner menu, a limited edition poster signed by Roy Thomas, a special Q&A, and the opportunity to have two items of your choice signed. There will be no CGC verification for comics at this dinner.
Visit our website for more information: www.thenearmintexpo.com
ABOUT ROY THOMAS
Roy Thomas has been a writer and editor, primarily for Marvel or DC Comics, since being hired by Stan Lee in 1965. Among the many comics series he has written are The Avengers, The X-Men, Amazing Spider-Man, Fantastic Four, Conan the Barbarian, Star Wars, et al. He worked exclusively for Marvel from 1965-80 and served as editor-in-chief from 1972-74. At Marvel he co-created Wolverine, Carol Danvers, Vision, Ultron, Luke Cage, Iron Fist, The Defenders, Havok, Valkyrie, Red Guardian, Adam Warlock, Morbius, the "What If?" series, Werewolf by Night, and numerous other characters. In the 1980s he co-wrote screenplays for the films Fire and Ice and Conan the Destroyer and a bit of live and animated TV including The New Fantastic Four and Thundarr the Barbarian.
He currently edits the award-winning comics-history magazine Alter Ego, writes online Tarzan adventure comic strips for Edgar Rice Burroughs, Inc., and from 2000-2019 ghost-wrote the Spider-Man newspaper comic strip for Stan Lee. For the German publisher Taschen he authored the books 75 Years of Marvel: From the Golden Age to the Silver Screen (2014) and The Stan Lee Story (2018), and has written and/or selected material for numerous other comics-related volumes, including for PS Artbooks, Titan Books, Chartwell Books, DK Publishing, Abrams, and the Folio Society. Besides receiving numerous fan and pro awards over the years in the U.S. and abroad, he was elected in 2011 to the Will Eisner Hall of Fame. He can be followed on the Roy Thomas Appreciation Board on Facebook, managed by John Cimino.
Click here to see more of Roy's incredible contributions to the comics industry.