EARLYBIRD DISCOUNTED DAILY & WEEKEND ADMISSIONS ENDS JUNE 16
GUARANTEED NOT BORING
– FREE PARKING – 
Concerts included with NorthEast ComicCon Admission

FREE Weekend Pass with Hotel Room Reservation
Book Hotel by Calling 978-263-8701 using code ComicCon
SUNDAY JULY 4TH – INDEPENDENCE DAY
OUTDOORS – IN CONCERT – STARTS AT NOON
Standing and Dancing Room for Concert
Included in ComicCon Admission
LIMITED # OF RESERVED SEATS ON SALE NOW 















Casual Quick Serve Food & Drink
Tables and Chairs
Entertainment  –  BEER

Boxboro Regency Hotel
May be SOLD OUT
Call the Hotel – 978-263-8701

If the Boxboro Hotel is sold out, they have a
hotel in Westford MA about 8 minutes away.

FREE Weekend Pass for each
room night booked directly thru
the Hotel using our code ComicCon
at either Regency Hotel
Friday, July 2nd

Concert AfterParty
WALTER ALICE SICKERT
BUNKER BUDS – LIVE !

"Imagine if Svenghoulie and Pee Wee Herman confabbed a kids show
for immaturely deep adults, it would be Bunker Buds." – Gary Sohmers
– PLUS –
Celebrity FAN-Tasy Karaoke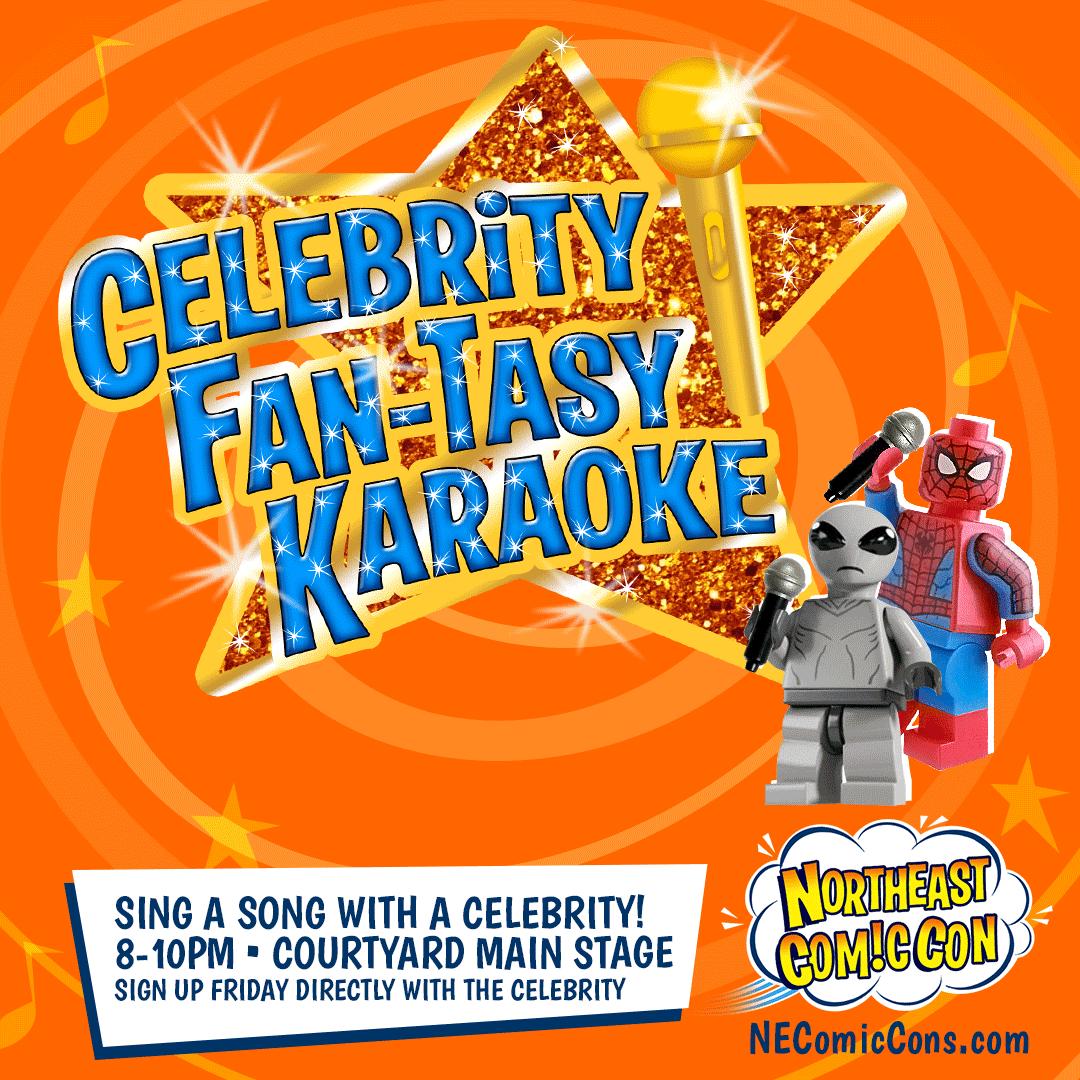 on the Courtyard Main Stage

9:00 – 11:00 pm 
Sing a Song with a Celebrity
NICHOLAS BRENDON
VINCENT MARTELLA
ALICYN PACKARD
COWBOY MACH BELL
More to be announced

Sign Up Friday directly with the Celebrity 
Exhibitors at July 2-4, 2021 
This is a List of Artists and Exhibitors
JIM SHOOTER – Marvel, DC, Valiant
KEITH CHAMPAGNE – DC Comics, Stranger Things
PHILO BARNHART – Disney's "The Little Mermaid," "Beauty & The Beast"
KEITH WILLIAMS – The Phantom, Original Romita Raider,
DAN PARENT – Archie, Betty & Veronica, Die Kitty Die
WILL MURRAY – SQUIRREL GIRL Co-Creator, Author of Tarzan, Doc Savage
BOB EGGLETON – GODZILLA, Monsters, Science Fiction
MARIANNE PLUMRIDGE – Science Fiction & Fantasy
RICHARD MAURIZIO – Looney Tunes, Animaniacs, Space Jam
KEN WHEATON – The Simpsons
BARBARA FRIEDLANDER – DC COMICS
PAUL PELLETIER – MARVEL
ARTHUR SUYDAM – Marvel, Zombie King
RENEE WITTERSTAETER – Marvel, DC
CHARLES D. MOISANT – Whispers from the Void, History of Police in America
JEFF KLINE – Darby Pop Publishing, Bruce Lee Comic author, Cartoon TV Series Producer of Transformers, GI JOE, DragonTales and many more
ERIC BORNSTEIN – Behind The Mask Studios
TIM JONES – Sour Grapes Comic Strip
JOE A. SOUZA III – I THINK I'VE CREATED A MONSTAH! STUDIOS
PROFESSOR DAVE'S COMICS 
REEL IMPORTS
ALEXANDRA'S STEAMPUNK EMPORIUM
KILLER COMICS
UNLIMITED COMICS & COLLECTIBLES
CH COLLECTIBLES
GARY HENDERSON PYRAMID COMICS
WILLIAM BUTLER TOYS & COLLECTIBLES
LUCAS ADOMAITIS TOYS & COLLECTIBLES
BRET HERHOLZ – HASSENPATT PRESS 
GRIDIRON PUBLISHING
CLUBHOUSE COMICS
ENTERPRIZE COMICS
JON'S COMICS
JADE FOREST ARMOURY 
CAFE PLASTIC
BUZZ COMICS 
JONATHAN RIDDICK TOYBOX-DX  
AUTHOR SYDNEY ASHCROFT 
MAGENTA FANTASIES ART 
COMIC CONNECTION
PYRAMID COMICS 
SILVER WHISTLE COMICS & COLLECTIBLES 
NORTH READING SCI-FI     
QUIBX  
LUMINOUS OBSCURITY
GIVE A BEAR A BONG – SAM MISERENDI
SCOTT BAKER
JAY & SILENT BOB'S TOYS
JOE'S BIG LITTLE BOOKS
SCATTERBRAIN HANDMADE
PARTYTIME CARICATURES
SPLASHPAGE COMICS
MARIE BRONSON
MIKE FRAWLEY
JAMES' COMIC STACHE
LINKS CHAINMAILLE
UNDISPUTED COMICS KING
RUNEWORX
JOE PATENAUDE
TYLER SOUSA 
M-JAYS VIDEO GAMES
KODIAK JESTER
GRIM REAPER FAN SHIRTS 
DISA PARKER
SMITH HOUSE ANTIQUE TOYS
TONY KO! KORDOS INKING
BEN GOLDSMITH
BLADE DADDY
JONATHAN HALLETT STITCHTOONS
MATTHEW CHONG
J & D COLLECTIBLES
WHITE RABBIT COMICS
MICKEY'S TRAVELS
KITCHY-STITCHY-KYLIE
NEON PRINCESS ART
TNT WATCH COMPANY
MAXIMUM COMICS
MEGAPRIME COLLECTIBLES
WANTZ
NEEMO LIKES ART
CRAFTIES CRAFTS
KUDOZED
CHRISTINA SIRAVO
BARBARA'S BROWNIES
ZOMBIE LEADER for Leukemia and Lymphoma Society

Admissions have been carried from 2020
to the July 2021 show
unless you requested a refund.
If you are a vendor contact GarySohmers@gmail.com
If you purchased admission for 2020 and have questions,
please contact Rob at ConStuff3@gmail.com
Info available on our
Follow our
Join our
Subscribe to our