This weekend – MAY 22-23, 2021 – Comic Art Fans will host the third Comic Art LIVE, virtual Comic Art Convention. Comic Art Live is FREE TO ATTEND and will open to online visitors at 1pm EST on Saturday, May 22nd, and close at 6PM EST on Sunday, May 23rd. More than 50,000 comic art collectors attended the May and November 2020 shows and we expect even better crowds this time. CLICK HERE to read all the details.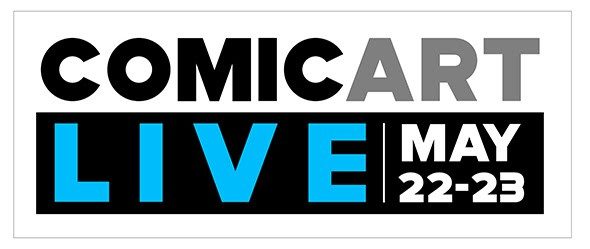 PREMIUM MEMBERS GET EARLY ACCESS
Premium Members of CAF will have 2 hours early access to Comic Art Live beginning at 11AM EST on Saturday, May 22nd, allowing them to purchase artwork or get on commission/sketch lists 2 hours prior to the general public. Premium Memberships on Comic Art Fans cost $75 and start on the date of purchase and last for 12 months. For those wishing to Exhibit at Comic Art Live and/or get into the Hall 2 hours early on Saturday, May 22nd, we are offering a 3-Month Premium Membership for $35. You'll not only be able to have a Booth at Comic Art Live and get the jump on other Collectors to buy new art for sale at the show, but you'll also get to demo all the Premium site features such as listing your art for sale in the CAF Classifieds, having larger scans of the artwork in your CAF Gallery, and get keyword-based email alerts for art you're looking to buy or that have been added to CAF Galleries. Click the Pay Now button to purchase a 3 Month Premium Membership to CAF for $35 or consider purchasing an annual Premium Membership. Contact Us with any questions.
Premium Members also are allowed to have a booth during Comic Art LIVE and exhibit their art for sale! So if you're looking to move some art, now is the best time to become a Premium Member of ComicArtFans.com and support our work!
TALENT TALK TEAMS UP WITH COMIC ART LIVE
TalentTalk is teaming up with Comic Art Live to bring collectors of comic book art eight unique opportunities to virtually meet and greet some of the top names in the art community and get an exclusive sketchcard or sketchcoaster chosen by and created just for you by the artists.
Artists participating include…
And MORE to come! CLICK HERE to View All Opportunities!
DRINK & DRAW ON FRIDAY NIGHT
Friday evening we'll be hosting a special Drink & Draw with several artists including Walt Simonson, Dan Brereton, Christian Gossett, Tony Parker, Jules Rivera, Mike McKone,  Jim Calafiore, Tom Raney and others. The show starts at 9:30pm
PANEL SCHEDULE
Friday May 21



9:30pm EST Hero Initiative Drink & Draw 
Saturday May 22
2pm EST – Phil Hester Original Art Tour
3pm EST – John Paul Leon Tribute
4pm EST – Mike Perkins
5pm EST – Jimmy Palmiotti and Amanda Conner
6pm EST – James Harren / Felix Comic Art
7pm EST – NextComicArt.com Claim SALE
SUNDAY May 23
12pm EST – Anthony Snyder
1pm EST – Hilary Barta
2pm EST – Tony Parker
3pm EST – Katie Cook
3pm EST – Kirby's Comic Art Team