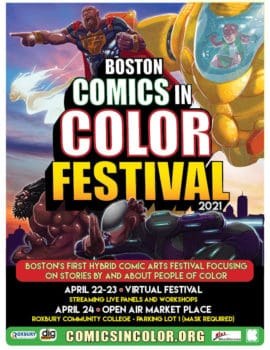 Boston Comics in Color Festival (BCICF) is New England's first comic arts festival focusing on stories by and about people of color. This three-day event is a convening of artists from Boston and beyond, who represent a broad spectrum of disciplines and backgrounds, and share creative work and thinking about the world of comics and comics-related culture. BCICF 2021 features artists ranging from award-winning comic creators already established on the national stage — most notably Keith Knight, considered the world's foremost gentleman cartoonist — to up-and-coming talents emerging in the local and regional arena.
BCICF will incorporate two days of online panels and an open air marketplace at Roxbury Community College (advance registration required for all events)
Thursday, April 22 | Virtual BCICF Day One
• Writers Panel
• Crowdfund Your Story
• Cartoonarium with live drawing demonstrations by working artists, hosted by Rixy Fz
• Meet-the-Makers panel
Friday, April 23 | Virtual BCICF Day Two
• Comics Connectivity
• Moving Comics
• Women Make Comics
• One-on-One with Keith Knight
• Special event: Music and Poetry
Saturday, April 24, 2021 | BCICF Open-Air Marketplace
Reggie Lewis Center at Roxbury Community College,
1234 Columbus Ave, Roxbury MA 02119
Further information and registration for FREE tickets is available on the website: comicsincolor.org
BCICF 2021 featured Artists:
John Jennings is an interdisciplinary scholar who examines the visual culture of race in various media forms, ranging from film, to illustrated fiction, to and comic arts. He also is a curator, graphic novelist, editor, and design theorist whose research interests include the visual culture of Hip Hop, Afrofuturism, EthnoGothics, and Speculative Design. Jennings is co-editor of the Eisner Award-winning collection The Blacker the Ink: Constructions of Black Identity in Comics and Sequential Art and co-founder/organizer of such major comics events as The Schomburg Center's Black Comic Book Festival in Harlem and NorCal's Black Comix Arts Festival in San Francisco.
Keith Knight is a multiple award-winning artist, rapper, social activist, and educator. He is one of the funniest and most highly regarded cartoonists working in America today, and creator of three popular comic strips: the Knight Life, (th)ink, and the K Chronicles. His work is infused with urgency, edge, humor, satire, and politics, and his comic musings on race have garnered accolades and stirred controversies. The NAACP recognized Knight as a History Maker and nominated him for an Image Award, and CNN tapped him to grade America on its progress concerning issues of race. His life and cartoons are the inspiration for the TV series "Woke", currently streaming on Hulu.
Rob Stull is a Boston-born illustrator, curator, designer and creator of comic books. In addition to working through his own studio, Ink on Paper, his more than two decades of experience with major publishers includes Marvel and DC Comics, with such projects as Spider-Man Adventures, Iron Man, X-Force, Wolverine, Nightwing, and more. He also creates art for musicians, radio, television and magazines, and is featured in the ground-breaking book, Black Comix: African American Independent Comics, Art and Culture, and in The History of American Graffiti.
Stacey Robinson, part of the collaborative artist duo "Black Kirby" alongside John
Jennings, creates comic books, gallery exhibitions, and lectures that deconstruct the work of artist Jack Kirby and re-imagine Black resistance spaces inspired by Hip Hop, religion, the arts, and sciences. As an educator and artist, his work explores the ideas of futures where Black people are free from the harmful impacts of colonialism and considers Black protest movements, past and present, as well as artist movements that document them. His work can be seen around the world at Modern Graphics in Berlin, Bucknell University, and the Schomburg Center for Research in Black Culture in New York.