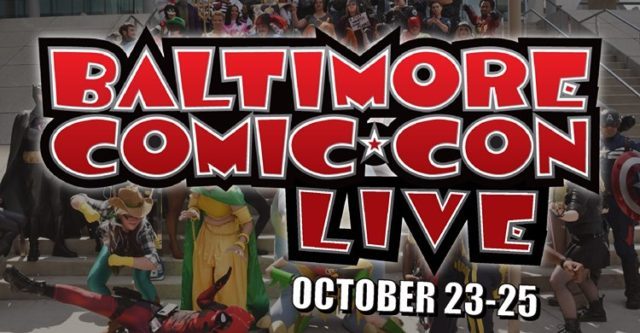 Join us for the 1st annual Baltimore Comic-Con Live this October 23-25, 2020! This will serve as the first of many announcements about our featured programming for our 2020 event.
Comics Time Machine: 1985
From American Flagg! to Hey Kids! Comics!. The Mighty Thor to Ragnarok. The New Mutants the comic book series to The New Mutants the movie. The Vigilante to Milestone. Grab a front-row seat to a historical and hysterical comix clatch 35 years in the making between legendary upstarts Howard Chaykin, Denys Cowan, Bill Sienkiewicz, and Walter Simonson — moderated by their former 17-year-old assistant, award-winning cartoonist and creator of The Red Hook, Dean Haspiel.
Garth Ennis Spotlight
Joe Ryband interviews Garth Ennis about many of his triumphant stories. The Boys, Punisher, Nick Fury, War Stories, and more.
Dave Gibbons Spotlight
An intimate look at award-winning writer/artist Dave Gibbons' career. From his 2000AD work on Rogue Trooper and DC work on Superman and Green Lantern to his Marvel runs on Captain America, and his creation The Originals for Vertigo, plus co-creations with Mark Millar (The Secret Service), Frank Miller (Give Me Liberty) and, of course, his iconic work co-creating Watchmen with Alan Moore.
"This is going to be very different this year, obviously," said Marc Nathan, show promoter for the Baltimore Comic-Con. "We are getting some REALLY exciting programming together. This first announcement is just skimming the surface of some amazing talents in the industry talking about some amazing topics. This is free to everyone, and we want our fans, guests, retailers, and exhibitors to have an amazing weekend, so mark your calendars for October 23rd through the 25th and keep your eyes on baltimorecomicconlive.com for details as they emerge!"
In the coming weeks, look for more announcements from the Baltimore Comic-Con. We are looking forward to highlighting our guests, the Ringo Awards, programming, and more. The latest developments can always be found on our website, Twitter, Instagram, and Facebook pages, and follow us on YouTube and Snapchat.