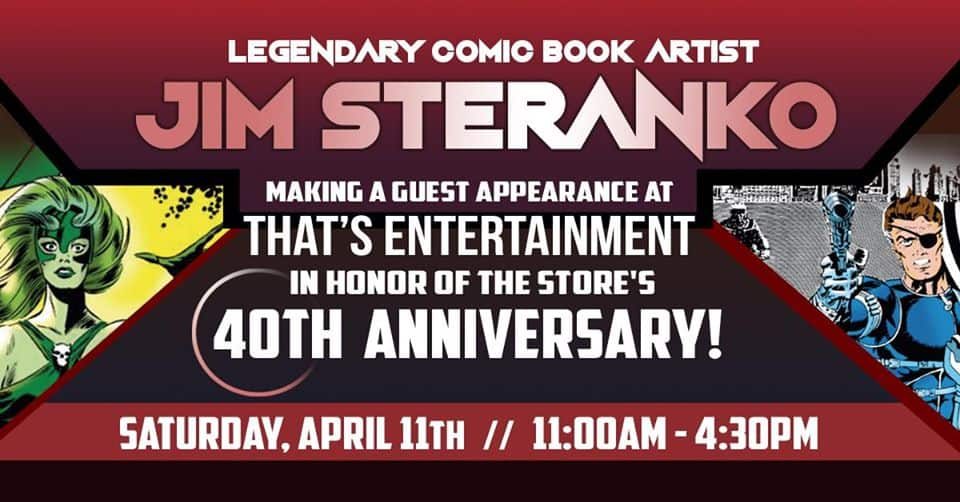 **CANCELLED**
Press Release:
Legendary Comic Book Creator Jim Steranko appears at That's Entertainment in Honor of Store's 40th Anniversary!
In honor of their 40th anniversary, That's Entertainment of Worcester, Massachusetts invites everyone to a very special signing event with legendary comic book artist Jim Steranko. The event will be held on Saturday, April 11th, 2020, from 11:00 a.m. to 4:30 p.m. Admission will be free. Attendees may request signatures from Steranko for $20.00 each. Attendees may purchase up to ten signatures per trip through the line.
Additionally, collectors over 13 years old who attend will each receive a FREE commemorative print featuring Steranko artwork, courtesy of That's Entertainment (1 per person while supplies last).
Steranko kindly asks attendees to refrain from taking photos during the event. However, a photographer on site will be taking photos intermittently of both attendees and the guest artist, which will later be shared on That's Entertainment's social media web pages.
JIM STERANKO has cut a ferocious path through the entertainment arts, with a dozen successful careers to his credit: author, magician, illustrator, escape artist, historian. He is cited as one of the prime architects of Marvel Comics and the co-creator of NICK FURY, AGENT OF S.H.I.E.L.D. He also wrote and drew CAPTAIN AMERICA, THE HULK, SUPERMAN, and THE X-MEN (for which he designed the classic title logo);
As a musician, he gigged with Bill Haley in the early days of rock 'n' roll; as a pop-culture icon, he has appeared at more than 400 international events and exhibited his work worldwide, including at the Smithsonian Institute in Washington, DC and the Louvre in Paris; and his two volumes of THE HISTORY OF COMICS have sold more than 100,000 copies each. As an escape artist, his death-defying performances inspired the character Mister Miracle and, according to Pulitzer Prize-winning novelist Michael Chabon, he was the man upon which the protagonist of THE AMAZING ADVENTURES OF KAVALIER & KLAY was based; and more—photographer, ad agency art director, sideshow fire-eater, male model, typographer, designer…the list goes on.
As a filmmaker, he collaborated with Steven Spielberg, George Lucas—for whom he created the look of Indiana Jones—and Francis Ford Coppola on some of their most popular films. He served as Creative Consultant for the History Channel's two-hour documentary COMIC-BOOK SUPERHEROES—UNMASKED; shook up Twitter with his innovative TNT technique (visit his live Sunday-night sessions by typing in iamsteranko); and is currently prepping AN EVENING WITH STERANKO for theatrical venues across the country.
His dozen CAPTAIN AMERICA variants topped Marvel sales charts; the IDW SHIELD ARTIST'S EDITION sold out before publication (and won an Eisner Award); and his 2017 OVERSTREET PRICE GUIDE—with his Batman cover—had record-breaking sales. His covers for ACTION 1000, CAPTAIN AMERICA 700, and DETECTIVE 1000 set high sales records. Recent polls cite Steranko as the 5th Most Influential Comics Artist in the history of the form. Over the past several decades, he has amassed more than 100 highly-commercial Intellectual Properties—his Theatre of Concepts—which range from children's interactive-learning entertainments to high-action adult digital gaming, from science fiction to superheroes. His vision is to shape, structure, and synthesize character-driven projects with state-of-the-art technology for the World of Tomorrow. And he's still the best-dressed man in comics.
That's Entertainment Manager Ken Carson says, "The Steranko History of Comics, which I read as a teen back in the 1970s remains my very favorite book about comics. He brought the early Golden Age of the comic book industry to life for me, very vividly. Steranko is so well-known for his ground-breaking artwork at Marvel Comics, but I would add that he's an exceptional author, too."
Also, pop-culture fans are invited to join That's Entertainment on the actual date of their 40th anniversary on Wednesday, April 15th for a meet and greet with store owner Paul Howley from 12:00 p.m. to 7:00 p.m. Enjoy snacks, cake and coffee with Paul from 12:00 p.m. to 2:00 p.m. in our Red Room, followed by a live musical performance in the store by folk singer Cara Brindisi from 3:00 p.m. to 5:00 p.m.
In the old days, Paul was at the counter almost every day, but in recent years it's been hard to catch up with him. Whether you'll be renewing your acquaintance or meeting Paul for the first time, don't miss out on this opportunity to share your memories, and discuss the past, present, and future of pop-culture.
That's Entertainment
56 John Fitch Hwy, Fitchburg, MA 01420
978-342-8607