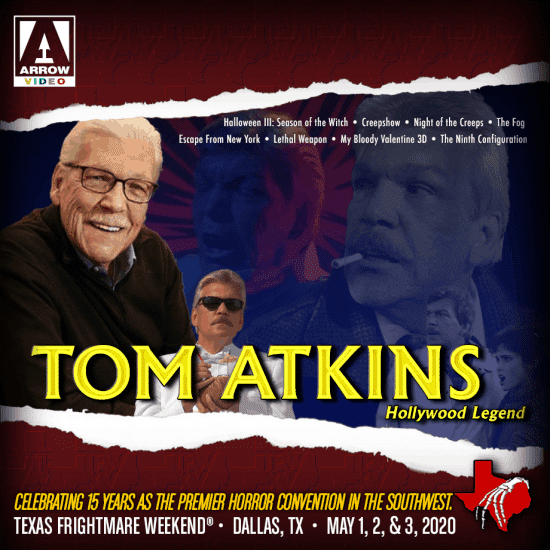 Get ready to be THRILLED Tom Atkins is coming to Texas Frightmare Weekend this May 1-3, 2020!
Atkins began his career in stage plays both on-and-off Broadway, before moving to Los Angeles to pursue a career in film and television. His first movie role was in The Detective, which starred Frank Sinatra.
Tom starred in two films directed by John Carpenter: The Fog and Escape from New York. He then had a leading role in Halloween III: Season of the Witch. He worked with George A. Romero on Creepshow, Two Evil Eyes, and Bruiser. He also portrayed Detective Ray Cameron in the 1986 cult horror film Night of the Creeps, a role Atkins calls his very favorite.
He is well known to movie goers for his role in the hit film Lethal Weapon. He also took a role in the action-thriller, Striking Distance, alongside Bruce Willis. Atkins played Lt. Alex Diehl in the 1970s television series The Rockford Files with James Garner.
He had a supporting role as a retired sheriff in the remake My Bloody Valentine 3D and co-starred with Nicolas Cage in Todd Farmer's Drive Angry. He will also be seen in the third film in the Collector franchise titled The Collected.
Texas Frightmare Weekend 2020 will be held on on May 1st – 3rd. For further information please go to the website: www.texasfrightmareweekend.com