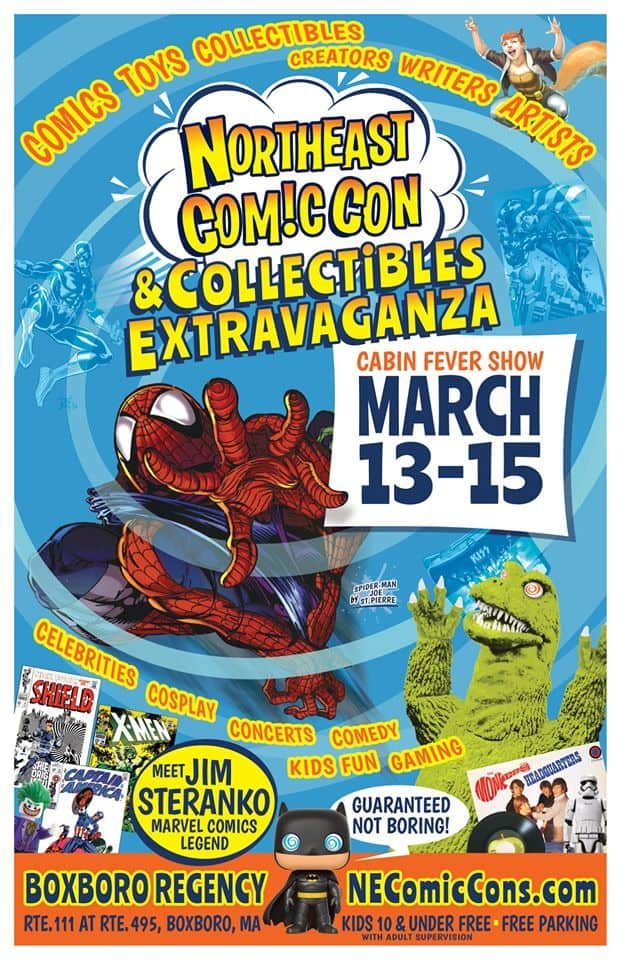 NorthEast ComicCon & Collectibles Extravaganza is pleased to announce the appearance of Marvel Comics legend, artist and creator Jim Steranko at the Cabin Fever edition of the show March 13-15, 2020 at the Boxboro Regency Hotel. Jim will be meeting fans, telling stories and signing autographs, along with offering posters, prints and original art for sale.
Mr. Steranko has cut a ferocious path through the entertainment arts, with a dozen successful careers to his credit: author, magician, illustrator, escape artist, historian. He is cited as one of the prime architects of Marvel Comics and the co-creator of NICK FURY, AGENT OF S.H.I.E.L.D. He also wrote and drew CAPTAIN AMERICA, THE HULK, SUPERMAN, and THE X-MEN (for which he designed the classic title logo).
Keeping the price reasonable and cost effective for fans and collectors, Jim will be signing attendees books and prints for only $20, although it will be $30 to have him sign for a CGC or CBCS Verified Signatures services witness which are be managed by a third party vendor and costs an added fee.
Joining him will be comic artsts Keith Williams, Joe St. Pierre,  and Tim Jones.
Keith Williams studied under Will Eisner, the creator of the Spirit comic strip. With the help of Marvel comic book artist and mentor Don Perlin, Keith started working for Marvel Comics in 1982 as a background inker. He worked for inkers including Joe Sinnott and Mike Esposito. At Marvel, he became the first John Romita Raider, an art correction group. Keith later became an assistant editor under Jim Owlsley (Christopher Priest) on the Spider-Man group of books. The two became the first all black editorial team in Marvel's history. He later became John Byrne's background artist on Alpha Flight and The Hulk for Marvel before moving to DC Comics to work on Superman and Action Comics. Keith began inking regularly with the Web of Spider-Man, which lasted for four years. In between that time and after he worked on many other books at Marvel. Some of which were The Silver Surfer, She-Hulk with John Byrne, Warlock, Quasar with Greg Capullo, Star Trek and the X-men. At Dark Horse Comics, The Mask and Walter with artist Doug Manke and Star Wars Droids. At DC Comics, Superman, and the Lobo/ Mask graphic novel with Doug Manke. For Valiant, he worked on Quantum and Woody and the covers of X-O Manowar. At Moonstone Comics, The Kolchak Night Stalker Chronicles, Buckaroo Banzai and Domino Lady. For ten years he had worked on The Phantom for King Features Syndicate. And at Avatar Press he inked Lady Death and Crossed covers. A Crossed webisode comic, "Wish You Were Here" and the cover and interiors of the comic book Uber. He has also inked Avatar Press' recently published graphic novel Max Brook's Harlem Hellfighters.
Joe St. Pierre is well known as the artist who has pencilled the most #1 issues of the Spider-Man family covers. Joe also is co-creator and artist on "Fabien Cousteau's Expeditions" series including the recently released Great White Shark Comic. Joe began his comic book career at Valiant Comics, as penciler of RAI, and co-creator of SECRET WEAPONS. He has sold over 2 million comic books, as a writer and artist for Marvel, DC (Aquaman, Green Lantern), Image (Megahurtz), IDW (Transformers), Boom (Power Rangers) and Dynamite. Joe also works in the fields of commercial illustration, intellectual property design and storyboards for Animation and Video Games. Clients have included MTV, Capstone, Discovery Channel, Nickelodeon, Warner Bros. Animation, Cartoon Network, the New York Times, the Wall Street Journal, Sony, PBS, The Amazing Kreskin and Activision. Joe's publishing company, Astronaut Ink, highlights his own creator-owned properties BOLD BLOOD, MEGAHURTZ® and most recently his own comic book series NEW ZODIAX.
Comic Strip artists, author and creator, Tim Jones' SOUR GRAPES is in 29 newspapers coast to coast and online. Tim Jones is a self-syndicated comic strip artist from Rhode Island where he lives with his wife and two daughters. Cartooning for over 20 years, he created his comic strip, Sour Grapes, in 2013, which is currently published in multiple newspapers throughout Rhode Island, Southern Massachusetts and California. Tim is a member of ARIA (Association of Rhode Island Authors) and a member of The National Cartoonists Society. Sour Grapes is about Aesop, a miserable, flying dog living in a problematic and troubled world with his odd friends.
Check out the website for information NEComicCons.com and follow us on Facebook, Twitter, and Instagram.