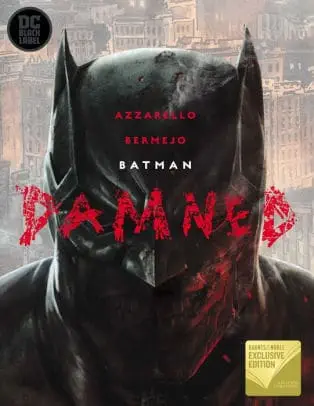 Brian Azzarello, Eisner Award-winning writer of 100 Bullets, Batman, Superman, Wonder Woman, and many more, appears for a fan signing event at Barnes & Noble at Old Orchard Center in Skokie, IL on Tuesday, September 10, 2019 at 7:00 PM.
Featuring breathtaking artwork from Eisner Award winning artist Lee Bermejo, BATMAN: DAMNED is available as a collected edition from booksellers everywhere the day of the signing.
ABOUT THE BOOK:
The Joker has been murdered. His killer is a mystery. Batman is the World's Greatest Detective. But what happens when the person he is searching for is the man staring back at him in the mirror?
With no memory of the events of the previous night, Batman is going to need some help. So who better to set him straight than John Constantine? The problem with that is as much as John loves a good mystery, he loves messing with people's heads even more. So with John's "help," the pair will delve into the sordid underbelly of Gotham as they race toward the mind-blowing truth of who murdered The Joker.

BATMAN: DAMNED is a visceral thrill-ride and supernatural horror story told by two of comics' greatest modern creators.
The Barnes & Noble Exclusive Edition of BATMAN: DAMNED includes an exclusive lithograph and 8 bonus pages that include additional character designs and pages filled out from black & white artwork from the book.
Barnes & Noble | Old Orchard
55 Old Orchard Center, Skokie, IL 60077
847-676-2230