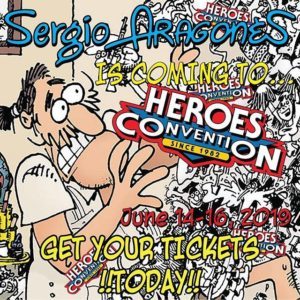 HeroesCon has announced even more guests for their 2019 show including Sergio Aragones, Neal Adams, Steve Bird, Clayton Crain, Ray Fawkes, John Hartness, Gregory LaRocque, Andy MacDonald, Robbie Thompson, Rob Ullman, Wayne Vansant, and more! HeroesCon 2019 takes place on June 14-16, 2019 at the Charlotte Convention Center.
NEAL ADAMS | AA-TBA
Coming of the Supermen, Batman: Odyssey, Green Lantern, X-Men
SERGIO ARAGONES | AA-TBA
Groo the Wanderer, MAD Magazine
STEVE BIRD | AA-TBA
Robin, Detective Comics, The Crow
CLAYTON CRAIN |BOOTH-2022
Punisher, Spider-Man, Carnage, X-Force 
RAY FAWKES | AA-TBA
Batman: Eternal, Gotham by Midnight, Constantine, Black Hammer '45
JOHN HARTNESS | AA-TBA
Black Knight Chronicles, Quincy Harker
GREGORY LAROCQUE | AA-TBA
Marvel Team-Up, Power Man and Iron Fist, Web of Spider-Man
ANDY MACDONALD | AA-TBA
Multiple Man, Wolverine: Infinity Watch
ROBBIE THOMPSON | AA-TBA
Meet the Skrulls, Spider-Man/Deadpool, Silk, Supernatural
ROB ULLMAN | AA-TBA
Atom-Bomb Bikini, Old-Timey Hockey Tales, Traffic & Weather
WAYNE VANSANT | AA-TBA
Katusha: Girl Soldier of the Great Patriotic War
Cancellations: Allen Bellman, John McCrea, Joe Pekar, Ramon Perez, Zack Soto, Chip Zdarsky 
For the most up-to-date information, check our blog, or sign up for the weekly Heroes Hotline newsletter. You can also follow us on Twitter and Facebook!
BUYING AN ADVANCE PASS MEANS YOU'LL GET ANY ADVANCE INCENTIVES WE OFFER, FREE!
ENTRY WILL BE $25: FRI $25: SAT $20: SUN / AT THE SHOW ITSELF, SO YOU SAVE AS MUCH AS $20 BY PURCHASING ADVANCE PASSES TODAY! TICKETS ARE NOT REFUNDABLE, UNDER CERTAIN CIRCUMSTANCES WE MAY CREDIT AN UNUSABLE TICKET TOWARD FUTURE TICKET PURCHASES.
HEROES CONVENTION was founded in 1982 by Shelton Drum, owner of Charlotte's Heroes Aren't Hard To Find comics shop. Since then the convention has become famous for its comics-first and family-friendly atmosphere, where fans can mingle directly with professionals and exhibitors. Boasting an incredible guest list built mainly on reputation and goodwill, HeroesCon is known nationwide as a "must" on the summer schedule, drawing fans, exhibitors, and creators from all over the world to the Charlotte Convention Center.