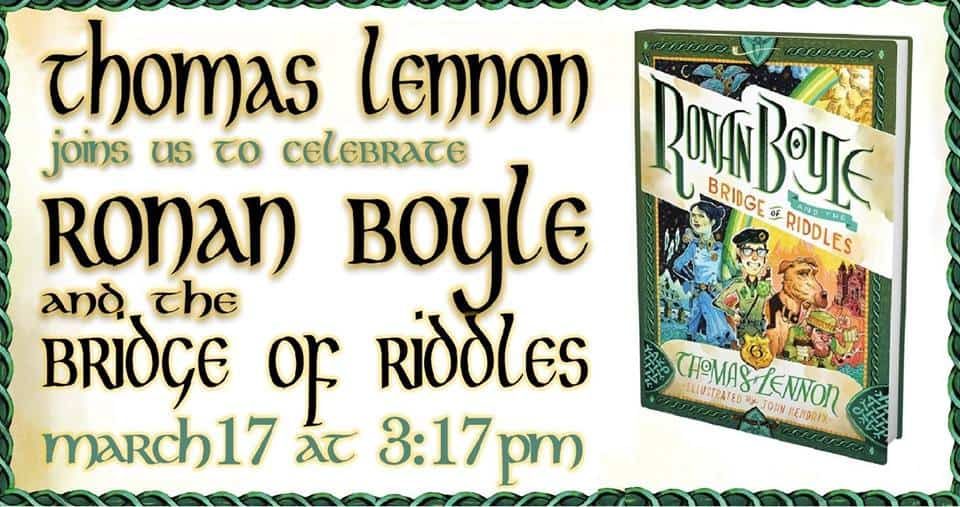 Meet writer, comedian, and actor Thomas Lennon when he appear at the Grove's Barnes & Noble on Sunday, March 17, 2019 at 3:00 PM to celebrate his exciting new middle-grade series "Ronan Boyle and the Bridge of Riddles (Ronan Boyle Series #1)".
Thomas Lennon has worked on a number of things you probably love, including Reno 911!! and Night At The Museum, and now he brings you Ronan Boyle! 14-year-old Ronan Boyle is the youngest and lowliest recruit to the secret Garda, an Irish police force that handles the misdeeds of numerous magical creatures. Ronan's parents are in jail, but Ronan is convinced that they were framed by the wee people. So, despite his small size, poor eyesight, and social awkwardness, he's determined to learn all he can in the Garda in order to prove his parents' innocence. To show he's got what it takes, he'll have to confront a fiery leprechaun, a sinister harpy, and a whole world of monsters hidden in plain sight next to real-life Ireland.
This is going to be a very special event…. the likes of only what Thomas Lennon could dream up so be sure to mark your calendars NOW!
This is a wristbanded event.
Books must be purchased from this location to receive a wristband. A wristband will be issued on a first come, first serve basis to customers who purchase Ronan Boyle and the Bridge of Riddles from Barnes & Noble in The Grove beginning March 17th
• Limit 1 wristband per book
• Check Back for more Details as they Become Available
Barnes & Noble – The Grove
189 The Grove Dr, Ste K 30, Los Angeles, CA 90036
(323) 525-0270