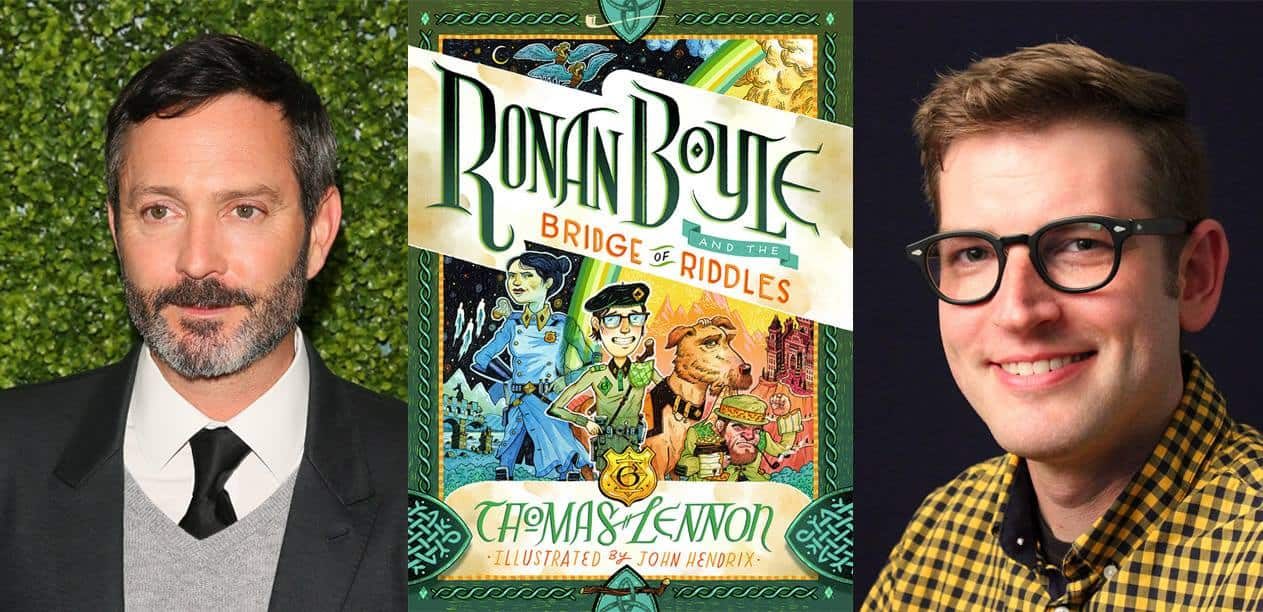 Left Bank Books welcomes writer, comedian, and actor Thomas Lennon and St. Louis illustrator John Hendrix, who will sign and discuss the first book in their new middle-grade series, Ronan Boyle and the Bridge of Riddles, on Friday, March 8, 2019 at 7 PM! Get tickets here…
Fourteen-year-old Ronan Boyle is the youngest and lowliest recruit to the secret Garda, an Irish police force that handles the misdeeds of numerous magical creatures. Ronan's parents are in jail, but Ronan is convinced that they were framed by the wee people. So, despite his small size, poor eyesight, and social awkwardness, he's determined to learn all he can in order to prove his parents' innocence. To show he's got what it takes, he'll have to confront a fiery leprechaun, a sinister harpy, and a whole world of monsters hidden in plain sight next to real-life Ireland in this fast paced, action packed, and completely hilarious new series.
Thomas Lennon is a writer, comedian, and actor who has worked on a number of things you probably love, including Reno 911!, Night at the Museum, and I Love You, Man. In addition to writing and acting, Lennon co-authored Writing Movies for Fun and Profit with Robert Ben Garant, which Anna Kendrick called, "Hilarious and insanely accurate." Lennon lives in Los Angeles with his wife, the actress Jenny Robertson, and their son, Oliver.
John Hendrix is the author and/or illustrator of many critically acclaimed books including The Faithful Spy, Shooting at the Stars, and Nurse, Soldier, Spy among many others. His illustrations have won several awards, including two Society of Illustrator's Silver Medals, the 3×3 Gold Medal in sequential illustration, and the SILA Silver Best of Show Award. He lives in St Louis, MO.
Mad Art Gallery
2727 S 12th St, St. Louis, MO 63118
(314) 771-8230