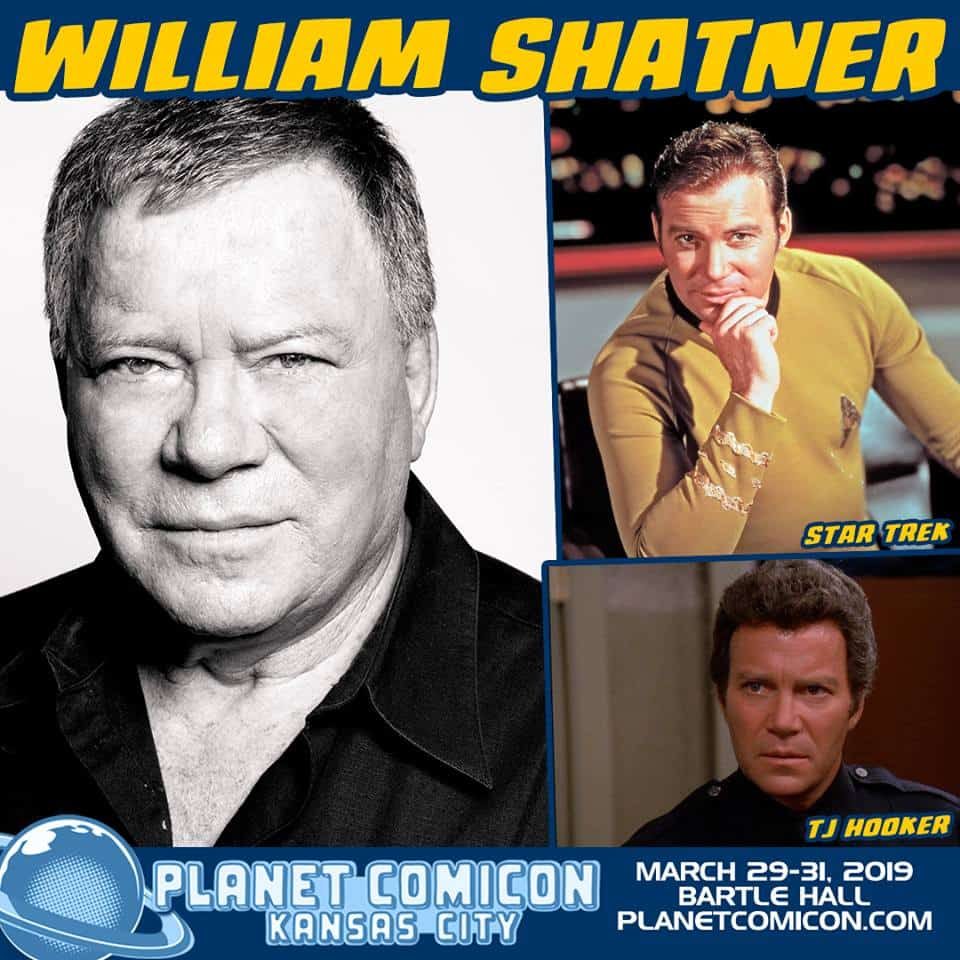 Press Release:
Planet Comicon KC is excited to welcome William Shatner to our 20th anniversary event. He became a cultural icon for his portrayal of James T. Kirk in the Star Trek franchise. He will be attending Friday and Saturday only!
William Shatner has cultivated a career spanning over 50 years as an award-winning actor, director, producer, writer, recording artist, and horseman. He is one of Hollywood's most recognizable figures and a major philanthropist.
His accomplishments in television, film, and stage would take a great deal of time and more space than allotted here.
In 1966, Shatner originated the role of "Captain James T. Kirk" in the television series Star Trek. The series spawned a feature film franchise where Shatner returned as Captain Kirk in seven of the Star Trek movies, one of which he directed.
Shatner played the title role in the hit television series T.J. Hooker before hosting television's first reality-based series, Rescue 911.
He won Emmys and his first Golden Globe for his portrayal of eccentric lawyer "Denny Crane" on both The Practice and Boston Legal. He received four more Emmy nominations as well as other Golden Globe and SAG Award nods.
Shatner's Raw Nerve, which aired on Bio, was his own edgy, celebrity interview series. Each episode showcased Shatner getting to know his guest on an intensely personal level, touching upon subjects not normally visited on other talk shows. Guests have discussed topics such as addiction, grief, childhood, marriage, combat and parenthood.
Off the screen and broadcast waves, Shatner has authored nearly 30 best-sellers in both the fiction and non-fiction genres. His autobiography, Up Till Now, was a New York Times best-seller and was followed by Shatner Rules which was released in October 2011. William Shatner's new book, Hire Yourself, was released in May 2015.
In April 2011, Shatner launched his hugely popular one-man show, Shatner's World in Australia and New Zealand, followed by tours in Canada and over 50 cities in the United States. The show is currently touring again in the United States and abroad.
A comic book series – William Shatner Presents – debuted in summer 2009. The series is based on three novels of Shatner's: Tek War, Man O' War, and Quest for Tomorrow, along with a brand new title: Chimera.
Shatner continues to act, write, produce and direct while still making time to work with charities and further his passion in equestrian sports. He and his wife, Elizabeth and three married children live in Los Angeles.
Celebrity Guests
Dean Cain (Lois & Clark: The New Adventures of Superman) – Fri./Sat. only
Tom Welling (Smallville, Lucifer)
Michael Rosenbaum (Smallville, Justice League Unlimited, Guardians of the Galaxy Vol. 2) – Sat./Sun. only
James and Oliver Phelps (Harry Potter Series)
Katee Sackhoff (Battlestar Galactica, Longmire)
Bonnie Wright (Harry Potter Series)
Tara Strong (Teen Titans Go!, Powerpuff Girls)
John Wesley Shipp (The Flash)
Cary Elwes (The Princess Bride, Stranger Things)
Chris Sarandon (The Princess Bride, The Nightmare Before Christmas)
Mark Pellegrino (Supernatural, Being Human, Lost)
Lori Petty (Tank Girl, A League of Their Own, Orange is the New Black)
Joonas Suotamo (The Last Jedi, Solo)
Justin Briner (My Hero Academia, Heavy Object, Seraph of the End)
Chris Sabat (Dragon Ball Z, My Hero Academia)
Jamie Marchi (High School DxD, My Hero Academia)
Monica Rial (Dragon Ball Z, My Hero Academia, Soul Eater)
Steve Blum (Cowboy Bebep, Toonami, X-Men)
Creator Guests
Kevin Eastman (Teenage Mutant Ninja Turtles)
Doug Mahnke (Detective Comics, Superman, Justice League)
Jason Aaron (Star Wars, Thor)
Chris Claremont (Uncanny X-Men)
Bob McLeod (The New Mutants)
Amanda Conner (Harley Quinn, Justice League of America)
Jimmy Palmiotti (Harley Quinn, Painkiller Jane)
Denys Cowan (Black Panther, Black Lightning/Hong Kong Phooey)
Brandon Sanderson (Mistborn, The Stormlight Archive)
Mark Texeira (Ghost Rider, Black Panther, Jonah Hex)
Patricia Briggs (Mercy Thompson novels)
Jose Luis Garcia-Lopez (Superman, Batman, Jonah Hex) 

Phil Hester (Batman Beyond, Shipwreck)
Megan Levens (Buffy the Vampire Slayer, Star Trek)
Ant Lucia (DC Bombshells)
Ande Parks (Batman Beyond, Daredevil, Ant-Man)
Skottie Young (Spider-Man, Avengers, Deadpool, Guardians of the Galaxy)
Steve McNiven (Wolverine, Old Man Logan, Civil War)
Afua Richardson (Black Panther, Batman, X-Men)
Fabian Nicieza (Cable and Deadpool, X-Men, X-Force)
Cosplayer Guests
Kamui Cosplay (Internationally acclaimed costume designer and author) – Sat./Sun. only
For more information about the 2019 show, event photos, interviews and more, "Like" Planet Comicon on Facebook and follow @PlanetComicon on Twitter. Planet Comicon Kansas City is always available online at www.planetcomicon.com.