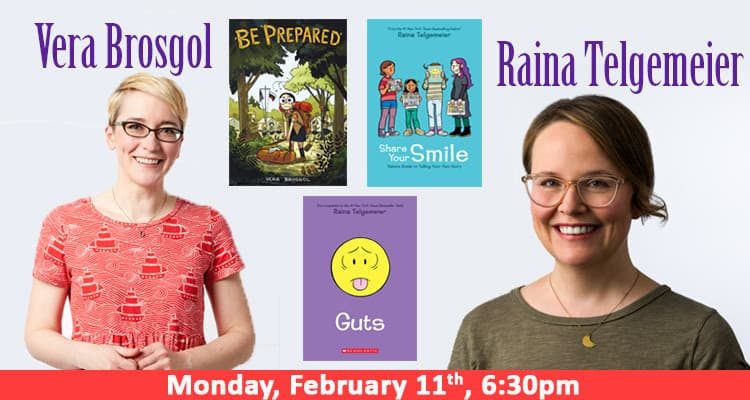 Cartoonists Raina Telgemeier and Vera Brosgol appear at An Unlikely Story on Monday, February 11, 2019 at 6:30 PM. They'll discuss their work, do some drawing, host a Q&A, and sign books!
**SOLD OUT** 
Tickets will go on sale, Monday, January 28th at 6:30 pm. Tickets are $15, admit two people, and include a coupon for the purchase of any of Raina or Vera's books the day of the event. Overflow tickets will go on sale at 7pm Monday the 28th.
Raina and Vera are rock stars in the literary world; so these tickets are going to hot tickets! We've found that Eventbrite is our most democratic sales channel. It acts as a lottery of sorts, similar to calls to Ticketmaster. Please note that we do not sell tickets in advance of the on sale date and time.
ABOUT THE AUTHORS:
Raina Telgemeier is the #1 New York Times bestselling, multiple Eisner Award-winning creator of Smile and Sisters, which are both graphic memoirs based on her childhood. She is also the creator of Drama and Ghosts, and is the adapter and illustrator of four Baby-sitters Club graphic novels. Raina lives in the San Francisco Bay Area. To learn more, visit her online at goRaina.com.
Vera Brosgol was born in Moscow, Russia, in 1984 and moved to the United States when she was five. Her first graphic novel Anya's Ghost was published in 2011 by First Second and won Eisner, Cybils, and Harvey awards. Her picture book LEAVE ME ALONE! was a 2017 Caldecott Honor book. She was a storyboard artist at Laika for ten years, working on animated films including Coraline and Kubo and the Two Strings. She lives in Portland, Oregon, and actually really likes camping now.
An Unlikely Story
111 South St, Plainville, MA 02762
(508) 699-0244