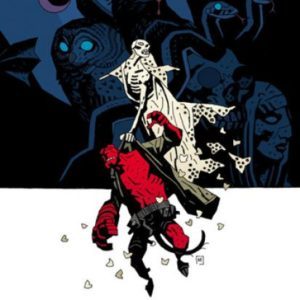 Mike Mignola, comic artist and writer behind the award-winning Dark Horse Comics series Hellboy, appears at the Society of Illustrators on Wednesday, February 6, 2019 at 6:30 PM for an evening conversation. Mignola will discuss some of his favorite pieces, providing viewers a look into his dark, spectral perspective.
This event will be an informal Q & A with the audience and Mignola. Audience members are invited to steer the conversation by asking your most relevant questions!
Tickets:
About Mike Mignola:
Mike Mignola is best known for his collection of titles created for Dark Horse Comics, including 13 graphic novels collecting his signature Hellboy series, and spin-off titles B.P.R.D., and Lobster Johnson, Abe Sapien, and Witchfinder. His comic book The Amazing Screw-On Head, also published by Dark Horse, received an Eisner Award for Best Humor Publication in 2003. Mignola has co-authored two projects with best selling author Christopher Golden: Baltimore, or, The Steadfast Tin Soldier and the Vampire (Bantam Spectra) and Joe Golem and the Drowning City (Dark Horse Comics). In addition, Mignola has worked on numerous film and television projects, and is currently co-writing the script for Hellboy: Rise of the Blood Queen.
Society of Illustrators
128 East 63rd Street, New York, NY 10065
212-838-2560