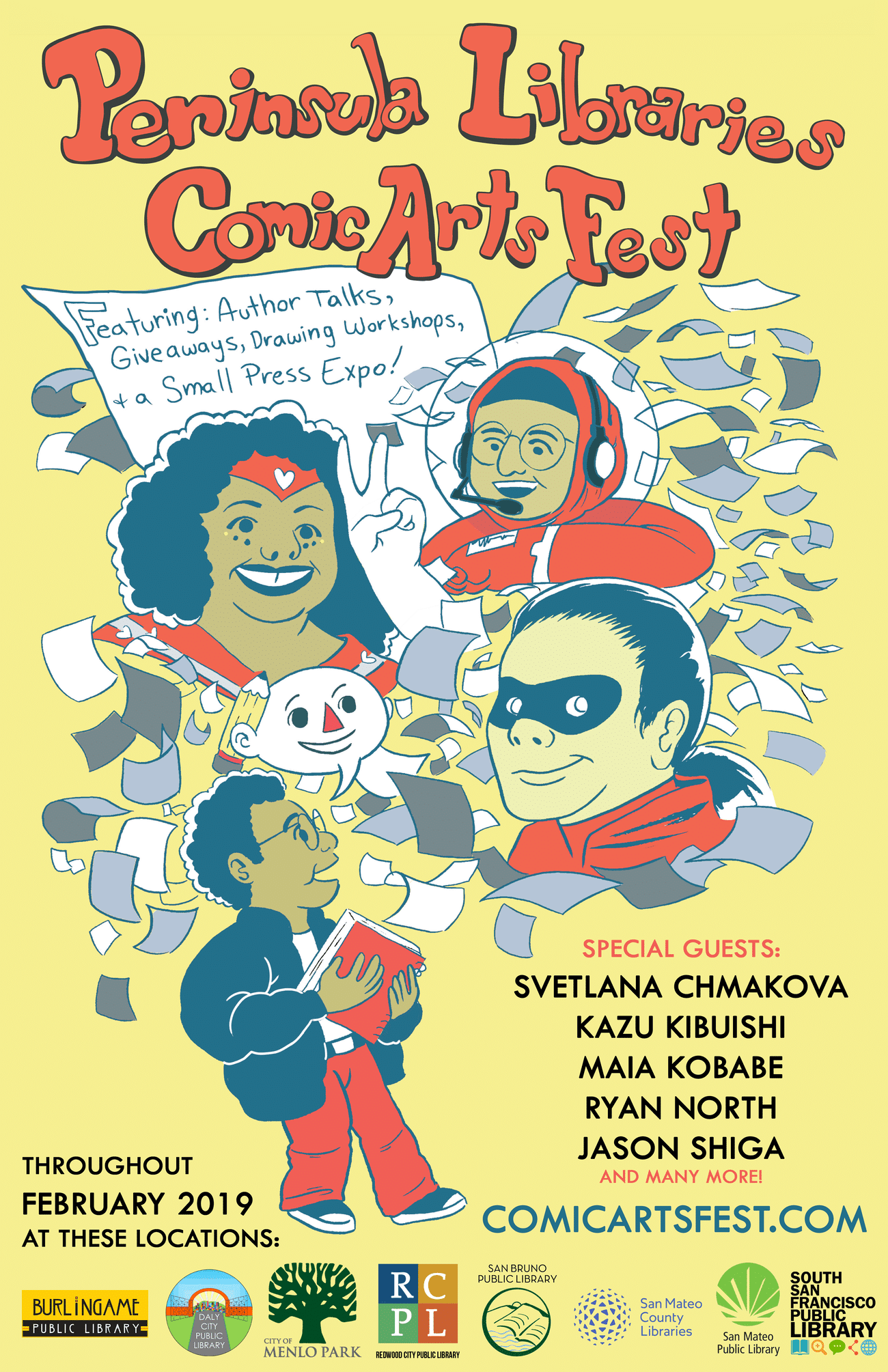 Press Release:
The Peninsula Libraries Comic Arts Fest presents the Small Press Comics Expo, a chance to support small press comics by buying work directly from the creators. Over forty-five comics creators will be in attendance selling comics, books, and prints. Special guest Kazu Kibuishi, author of the Amulet series, will give an author talk and will sign his books.
Please reserve your free ticket, for this event.
Schedule:
10:00 AM – 4:00 PM: Exhibitor rooms open
10:00 AM – 4:00 PM: Cartooner Gaming Tournament and Comic Crafts in the Starboard Room
1:00 PM: Kazu Kibuishi Author Talk (Inside the Library)
Kazu Kibuishi is the author of the #1 New York Times bestselling Amulet graphic novel series for children, the webcomic Copper, and the action-packed series Daisy Kutter. Kazu is also the founder and editor of the Flight Anthologies. Amulet is a layered fantasy adventure with a legion of characters, an epic fantasy and science fiction quest, and gorgeously elaborate and detailed worlds. A book selling and signing opportunity will follow Kazu's author talk.
Tabling Artists:
8-Rock Press – Ancestors' Jubilee
Acardellart – A Pup That Grew Up
Artist Gunja
Artwork by Nan Hockin
Asterisk Press – Kitty Marmalade/Grumpy Bun
Avy Jetter – Nuthin Good Ever Happens at 4 a.m.
Ben Costa & James Parks – Rickety Stitch and the Gelatinous Goo
Breena Nuñez – Dear Sentida, Crocodile Girl
Cartooner
Chuck Whelon – Where's the Mermaid?
Comix Experience
Drawing Meats
Elaine Nguyen
Ellis Kim – Time Fiddler
Emeric L. Kennard – Three, Constructing A Sheep
Fracture Comics – Hellfire, ARK, Godhand
Gazbot
GhostThunder Collective – GhostThunder Presents, Sleep Tight
HAETAE – MAGICAL GIRLfriend, SUPA Guitar Guardian
In Hiatus Studios – Shards, Rise, Place of Honor
Jarred Russell – St. Steve, Cold Feet
Jason Martin – Black Tea
Jimmie Robinson – Five Weapons
Joolie Comix – Sports!
Karen Luk – King of the Shell, Adventure Awaits
Kids Comics Club
Kwento by Nica
Latino Comics Expo
Lawrence Lindell – Couldn't Afford Therapy So I Made this
Leah Yael Levy
Maia Kobabe – Things that Encouraged me to Keep Making Art, Gender Queer
Melissa Pagluica – Above the Clouds
Neighborhood Comix
Noah Oliver Hayes – Goldie Vance
NPC Comics – Dark Labyrinth, BlackJacks
Rina Ayuyang – Blame This on the Boogie
Sean Seamus McWhinny – Bunny Man, Your Moment of Duck
Shingworks – The Meek, Electrum
Southbay Comickers
Stephanie Hovden – Under the Earth, Endangered Alphabet
Tyler Cohen – Primahood: Magenta
Wow Cool Alternative Comics
Wrought Comics – Asylum
Please visit www.comicartsfest.com to view all upcoming Peninsula Libraries Comic Arts Fest events!