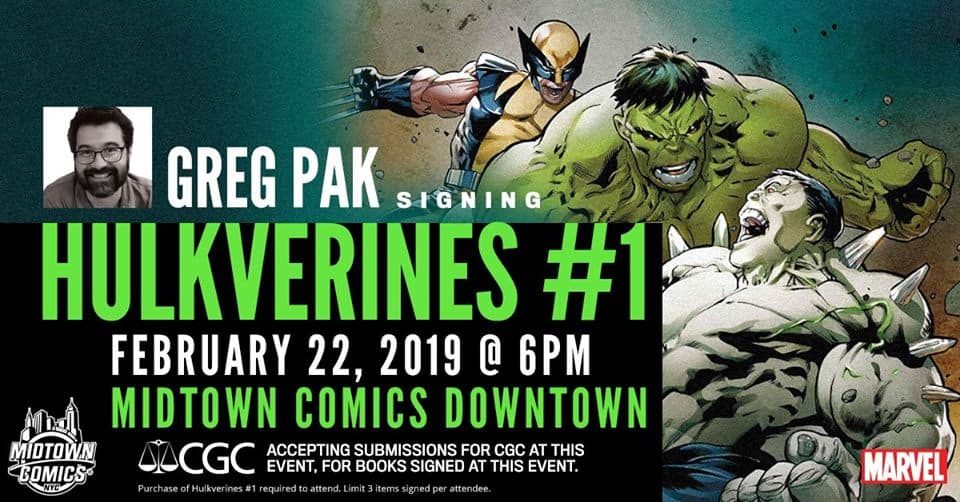 Writer Greg Pak (Weapon H, Weapon X, Incredible Hulk) joins us from Midtown Comics Downtown on Friday, February 22nd at 6:00 PM to celebrate the release of Hulkverines #1! This is an open signing and we recommend showing up early, just to be safe. Purchase of Hulkverines #1 required. Limit 3 items signed per attendee. See you there!
At last! It's Weapon H versus his predecessors-Wolverine and the Hulk! Once, the Weapon X program sought to recreate the world's two greatest hunters. They ended up with Weapon H, a man of Adamantium claws and gamma-juiced blood. Now, Wolverine and the Hulk are back in action – and coming after the dangerous creation made in their name! Writer Greg Pak and artist Ario Anindito present Hulkverines!
There will be a CGC representative to grade books signed at this event. Any previously signed books are not eligible for this service.
Cost of CGC is the CGC grading fee (This does not include the cost of purchasing the books)
CGC books will be shipped to CGC offices for grading and will take 17-35 days for them to return, in the CGC protective slab. This is determined based on which options are chosen for CGC grading and shipping.
Midtown Comics Downtown
64 Fulton Street, New York, New York 10038
(212) 302-8192