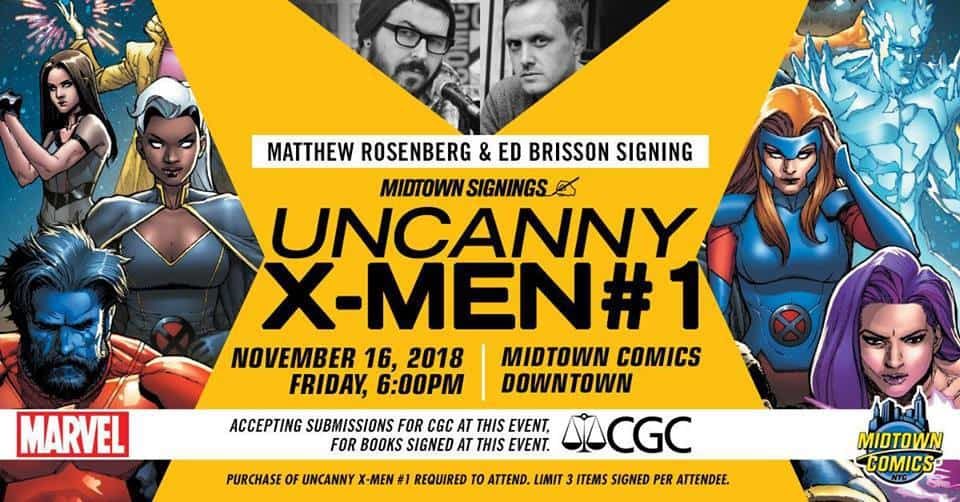 Writers Matthew Rosenberg and Ed Brisson join us from Midtown Comics Downtown on Friday, November 16th to celebrate the release of Uncanny X-Men #1! This is an open signing and we recommend showing up early, just to be safe. Purchase of Uncanny X-Men #1 required. Limit 3 items signed per attendee.
There will be a CGC representative to grade books signed at this event. Any previously signed books are not eligible for this service.
Cost of CGC is $10.00 + CGC grading fee (This does not include the cost of purchasing the books)
CGC books will be shipped to CGC offices for grading and will take 17-35 days for them to return, in the CGC protective slab. This is determined based on which options are chosen for CGC grading and shipping.
The Children of the Atom are back in the pages of their flagship title! Every mutant left on Earth is under attack and a new team will have to unite in order to handle the upcoming crisis! Kicking off with a 10-part weekly epic, the X-Men are entering a new age. But after a mysterious and tragic disappearance, the X-Men will be DISASSEMBLED! Writers Matthew Rosenberg, Ed Brisson, and Kelly Thompson launch this huge new series with artists Mahmud Asrar, R.B. Silva, Pere Pérez, and Yildiray Cinar in Uncanny X-Men! When the dust settles, will the X-Men's next adventure be their last?
Midtown Comics Downtown
64 Fulton Street, New York, New York 10038
(212) 302-8192