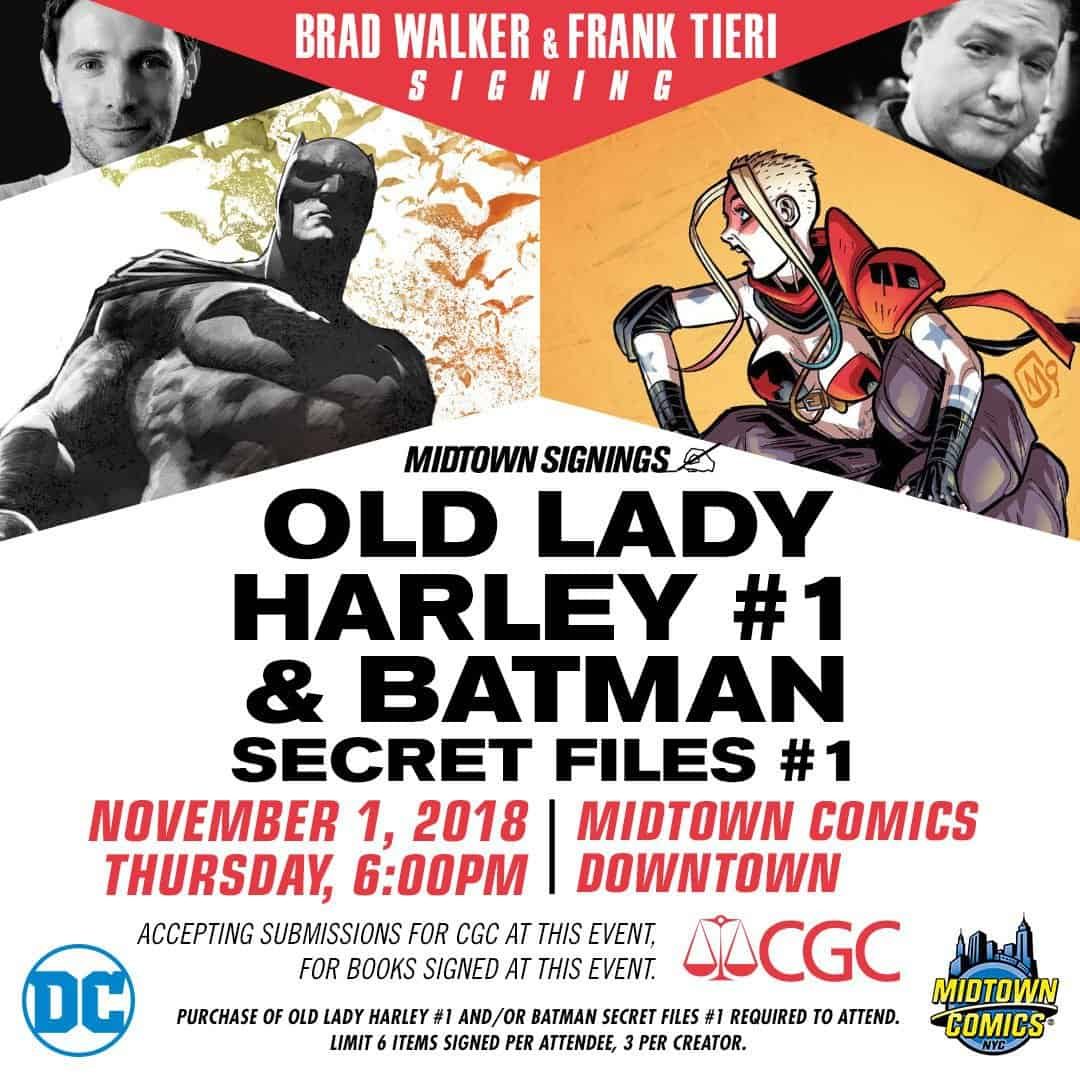 Writer Frank Tieri and artist Brad Walker appear at Midtown Comics Downtown on Thursday, November 1st to celebrate the release Old Lady Harley #1 and Batman Secret Files #1! This is an open signing and we recommend showing up early, just to be safe. Purchase of Batman Secret Files #1 and/or Old Lady Harley #1 required. Limit 6 items signed per attendee, 3 per creator.
You either die a hero, or you live long enough to see yourself become a crazy old dystopian vigilante! Harley Quinn has lived a long and dangerous life, and she wants nothing more than to slip back into retirement in her coastal paradise. But the Laughing Boys Gang has another idea, and they're willing to follow her to the ends of the Earth to see it through! But what kind of maniac would be so diligently dedicated to ruining Harley's fun in the sun? It couldn't possibly be an old flame, right?! It's a mad, mad world and Harley's living it up under the care of writer Frank Tieri and artist Mauricet in Old Lady Harley #1!
Delve into Batman's case histories and discover brand-new stories by some of comics' most exciting talents. Featuring a bevy of Batman villains, including a look at how the Scarecrow's fear toxin affects the common man, and a special story written by Tom Taylor with art by Brad Walker that teams the Dark Knight Detective with Detective Chimp. It all unfolds in Batman Secret Files #1!
There will be a CGC representative to grade books signed at this event. Any previously signed books are not eligible for this service.
Cost of CGC is $10.00 + CGC grading fee (This does not include the cost of purchasing the books)
CGC books will be shipped to CGC offices for grading and will take 17-35 days for them to return, in the CGC protective slab. This is determined based on which options are chosen for CGC grading and shipping.
Midtown Comics Downtown
64 Fulton Street, New York, New York 10038
(212) 302-8192