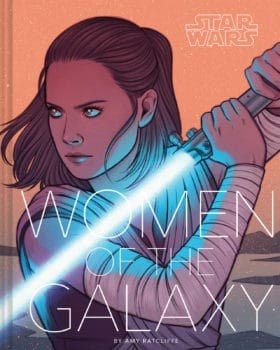 Celebrate the fierce and bold ladies of the Star Wars universe with Gallery Nucleus on Saturday, October 27, 2018 at 2 PM! Don't miss out on an exclusive early book launch of Star Wars™: Women of the Galaxy. Join us for this exciting event Saturday October 27 as writer Amy Ratcliffe, artists Sara Kipin and Annie Stoll talk about their work in a panel discussion, meet fans and sign copies of the book.
This is a premiere release of Star Wars™: Women of the Galaxy, available early only for this event!
Event Highlights:
– Raffle prize giveaway courtesy of Chronicle Books.
– Come dressed as your favorite Star Wars character for an extra raffle ticket!
Event Schedule:
1:30 – 2:00 PM Seating opens to attendees
2:00 – 3:00 PM Panel/Discussion
3:00 – 3:30 PM Q & A (moderated by Amy)
3:30 – 4:00 PM Intermission
4:00 – 5:00 PM Signing
Event Guidelines:
Due to limited quantity of copies, we will not take book orders over the phone prior to the signing. Books are available at first come first served basis. Please plan to arrive early to purchase.
Due to time constraints, each attendee is allowed only 2 signing items per person. Artists will not be doing sketches.
All sales are final.
Gallery Nucleus
210 East Main Street, Alhambra, CA 91801
626.458.7477