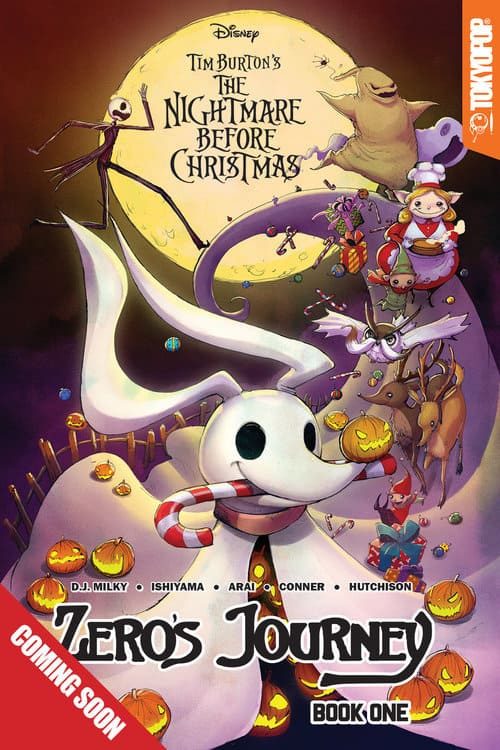 Press Release:
Join the creative team behind The Nightmare Before Christmas: Zero's Journey including D.J. Milky (writer), Camilla d'Errico (variant cover artist), and Dan Conner (colorist) at New York Comic Con on Thursday, October 4th at 7:45 PM in Room 1A24 for an evening of behind the scenes stories, discussion about how the brand new comic came to be, a chance to win a copy of the first graphic novel and a free screening of the classic Tim Burton movie that inspired it all, The Nightmare Before Christmas!
Signings will take place at the New York Public Library's pop-up library just outside the main exhibit hall (booth #1A100) on Saturday, October 6th at 11:00 AM and at FYE (booth #622) on Sunday, October 7th at 11:00 AM.
TOKYOPOP®, a POP Media Holdings company and global manga leader, is excited to promote the release of the first graphic novel in their DISNEY TIM BURTON'S THE NIGHTMARE BEFORE CHRISTMAS: ZERO'S JOURNEY comic series.
The story was introduced for Diamond Comics' 2018 Free Comic Book Day with a prequel comic counted as issue #0 in the 20 issue comic series. Distributing over 120,000 copies to comic book stores across North America, the brand new story introduces new characters alongside fan favorites, and is written and created in house by the TOKYOPOP team.
Jack Skellington is the undisputed Pumpkin King of Halloween Town and creative genius behind the most spook-tacular scares. Beside him through every great new creepy concept is his ever-faithful ghost pup, Zero. But panic descends on Halloween Town when a clumsy mistake leads to Zero going missing! Finding himself lost in a curious land of baked goods, hand-wrapped presents, decorated trees and joyful caroling, Zero must traverse the unfamiliar world of Christmas Town to find his way home! And with Halloween plans on hold while Jack mounts a search, will they be reunited in time to save both holidays?!
Set in the wonderful world of THE NIGHTMARE BEFORE CHRISTMAS as created by Tim Burton, explore the magical realms of Halloween Town and Christmas Town through the eyes of Zero as he tries to find his way home in an unfamiliar world.
"This particular project was a very special one since it started from 100% admiration, respect and enjoyment of the source material," says writer D.J. Milky (PRINCESS AI, JUROR 13). "I've been a fan of THE NIGHTMARE BEFORE CHRISTMAS (and Tim Burton in general) for many years, so when the opportunity arose through TOKYOPOP's Disney Manga publishing program, I jumped on it."
DISNEY TIM BURTON'S THE NIGHTMARE BEFORE CHRISTMAS: ZERO'S JOURNEY, GN VOL. 1 will be released on October 2, 2018 nationwide, and with a variant cover by artist Camilla d'Errico (TANPOPO) available exclusively from FYE. The graphic novel collects issues #0 through #4 of the single issue comics, and includes a cover art gallery, rough sketches and character and location concept art.