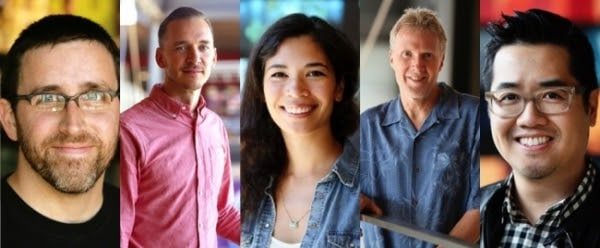 Press Release:
Since 2014, Walt Disney Animation Studios and Pixar Animations Studios have partnered with Disney Worldwide Publishing for their Pixar Artist Showcase, in which talented animators and storytellers create unique and beautiful children's books. In this special program, five illustrators will discuss their most recent children's book creations. Join artists Aaron Hartline, Noah Klocek, Steve Pilcher, Rosana Sullivan, and Mike Wu at the Walt Disney Family Museum on Saturday, September 22nd at 1:00 PM to discover their processes for creating books and how working at Pixar has influenced their creative work outside the studio. Enjoy snippets of each of the stories read aloud by the illustrator.
Autograph Session
Immediately following the program, the speakers will be present in the theater for an autograph session. The autograph session is only available for ticket holders to this program. In respect to the schedules of our special guest and audience members, we will strictly enforce an autograph limit: no more than one signature per ticket holder. Get tickets at the link…
About the Speakers
Aaron Hartline is an animator at Pixar Animation Studios and has worked on such films as Up (2009), Toy Story 3 (2010), and Inside Out (2015), as well as the illustrator and author of children's book Box and Circle. He loves to sit and draw as the stories of Box and Circle jump around in his head. He lives in Berkeley, California with his family.
Noah Klocek is an art director at Pixar Animation Studios where he has worked on such films as Brave (2012), Up (2009), WALL•E (2008), and Inside Out (2015). He has illustrated the children's books Cloud Country, Great Big Things, and Dreamland.
In 1995, Steve Pilcher began working in feature film animation at Warner Bros. He spent eight years there, then worked freelance for Walt Disney Feature Animation, followed by four years in the art department at DreamWorks, where he contributed to Shrek 2 (2004) and Shrek the Third (2007). He was the Production Designer on Brave (2012) and Finding Dory (2016) and is currently working as the Production Designer on an upcoming Pixar Animation Studios feature. He is the illustrator and author of the children's book Over There.
Rosana Sullivan is a storyboard artist with Pixar Animation Studios where she has worked on films such as Monsters University (2013) and the Disney-Pixar Academy Award®-winning short, Piper (2016). Sullivan lives in San Francisco with her family.
Mike Wu is the author and illustrator of Ellie, which was selected as NPR's best of 2015, and the follow-up, Ellie in Concert. He is also the illustrator of The Oodlethunks series. When he's not making books, he animates at Pixar Animation Studios, where he has worked on Toy Story 3 (2010), the Cars franchise, Coco (2017), and The Incredibles films (2004 & 2018), among other movies. He attended the California Institute of the Arts and is the creator of children's clothing and gift line Tiny Teru. Wu lives in the Bay Area with his family. Visit him online at theartofmikewu.com.
Walt Disney Family Museum
104 Montgomery Street, San Francisco, CA 94129
415.345.6800