Press Release:
Flame Con is proud to announce our newest guests Noelle Stevenson & Molly Knox Ostertag plus cosplayer Dax ExclamationPoint on August 18 – 19, 2018 at the Sheraton New York Times Square Hotel!
Noelle Stevenson is the showrunner of She-Ra and the Princesses of Power and a New York Times bestselling writer and cartoonist. She is the author if National Book Award-nominated graphic novel Nimona, currently in production as a feature at Fox Animation and slated for release in February of 2020. She is also the co-creator of the GLAAD-award winning comic series Lumberjanes, and has written and illustrated for Marvel and DC Comics. In animation, she has written for animated series including Wander Over Yonder, Bravest Warriors, DuckTales, and Big Hero Six. She lives in Los Angeles with her partner Molly Ostertag.
Molly Knox Ostertag is the creator of THE WITCH BOY, a middle-grade graphic novel from Scholastic, with a sequel coming out in October 2018. She's the artist behind the long-running webcomic STRONG FEMALE PROTAGONIST and the YA book SHATTERED WARRIOR from First Second. She's also worked as a designer at Disney and a writer for children's animation in Los Angeles, where she lives with her girlfriend and too many pets.

Dax ExclamationPoint is a cosplaying drag performer that has taken the world by storm…literally. Ever since walking onto the set of Rupaul's Drag Race season 8, bearing a striking resemblance to the mistress of the elements, fans have been cheering her onward and upward! Dax has toured along side the other stars of Rupaul's Drag Race sharing her love of comic books, science fiction, anime, and gaming with people across the world through performance, art, and costume. As an Illustrator, graphic designer, costume designer, make-up artist, and wig stylist Dax loves to share knowledge with fans and performers whenever she can. Dax regularly participates in panels and discussions at conventions around the country with no plans of stopping anytime soon! The "Queen of All Nerds" is paving the way for LGBTQ+ nerds to make their way into the forefront of popular culture!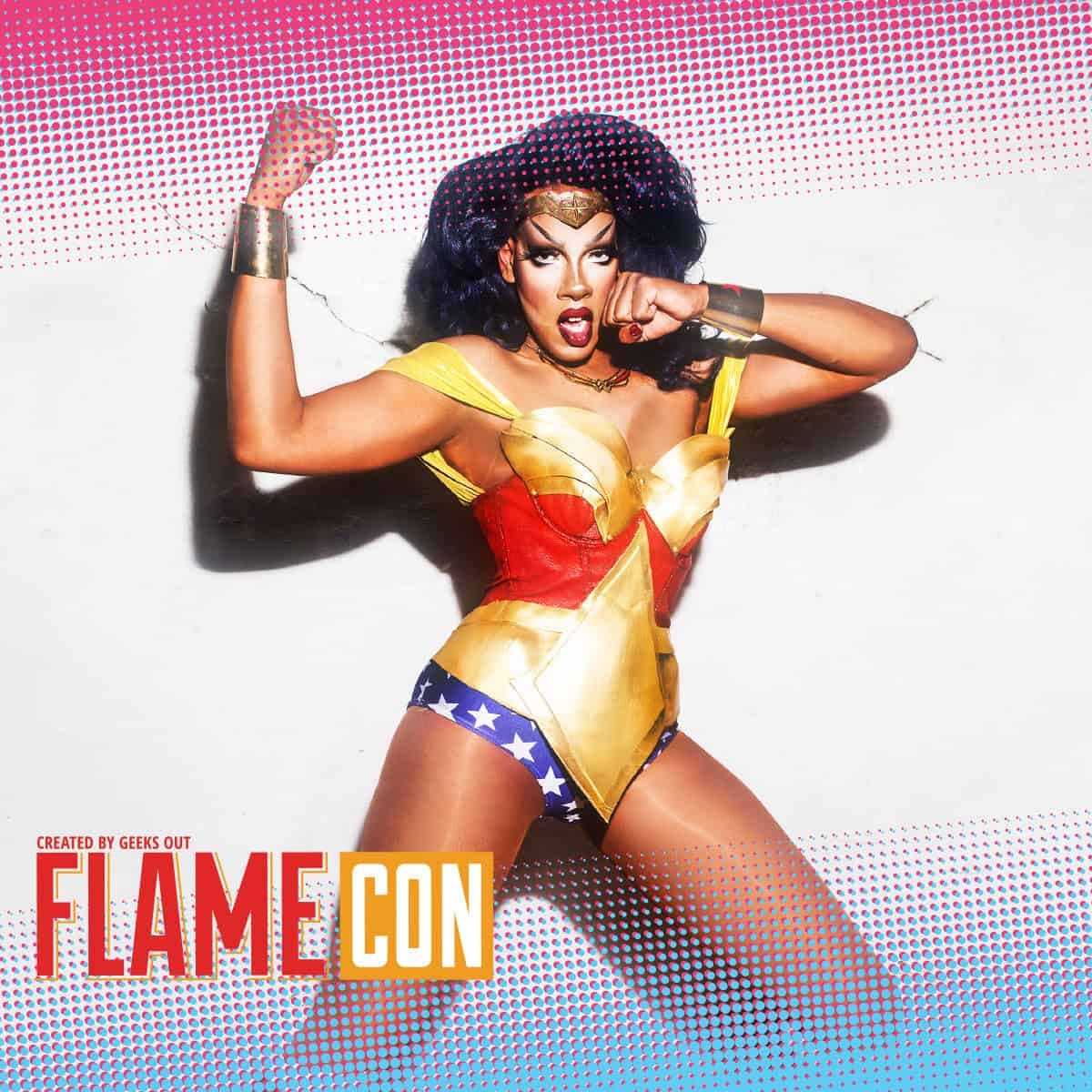 Check out the complete (and always growing) line-up of FLAME CON's scheduled special guests here, and follow us on social media for even more announcements and updates!
Tickets to Flame Con are available through Eventbrite and will feature Daily, Weekend and Weekend VIP passes which includes access to the official 2018 Flame Con party. Tickets can be purchased at www.flamecon.eventbrite.com.
Registration for vendors and exhibitors is also open and can register at www.flamecontables.eventbrite.com.
For more information on Flame Con, please visit www.flamecon.org and for more information on Geeks OUT, please visit www.geeksout.org.