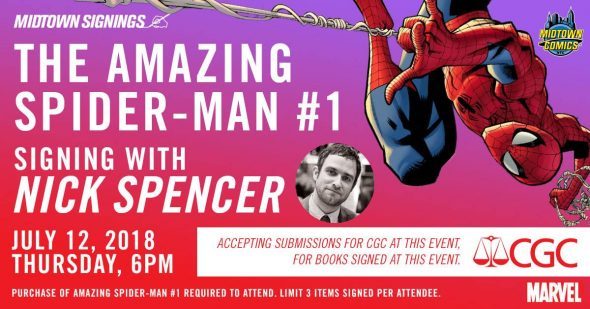 Writer Nick Spencer joins us from Midtown Comics Downtown on Thursday, July 12th to celebrate the release of Amazing Spider-Man #1! This is an open signing and we recommend showing up early, just to be safe. Purchase of Amazing Spider-Man #1 required. Limit 3 items signed per attendee (Limit subject to change). Signing runs from 6 PM – 8 PM. See you there!
There will be a CGC representative to grade books signed at this event. Any previously signed books are not eligible for this service.
Cost of CGC is $15.00 + CGC grading fee (This does not include the cost of purchasing the books)
CGC books will be shipped to CGC offices for grading and will take 17-35 days for them to return, in the CGC protective slab. This is determined based on which options are chosen for CGC grading and shipping.
A new era for Spider-Man begins! When there's trouble in New York City, Spider-Man is on the scene! And trouble has definitely arrived! An alien armada hits New York City and Spidey is left swingin' and slingin' webs in the face of an invasion! But the biggest danger of them all might prove to be Peter's past, as a new revelation puts Peter Parker's job, relationships, and whole life in jeopardy! But that's nothing compared to the dangers of a shocking new villain! Writer Nick Spencer takes over the tales of the friendly-neighborhood Spider-Man with fan-favorite artist Ryan Ottley for the next stage of Spidey's superhero career in the pages of Amazing Spider-Man!
Midtown Comics Downtown
64 Fulton Street, New York, New York 10038
(212) 302-8192