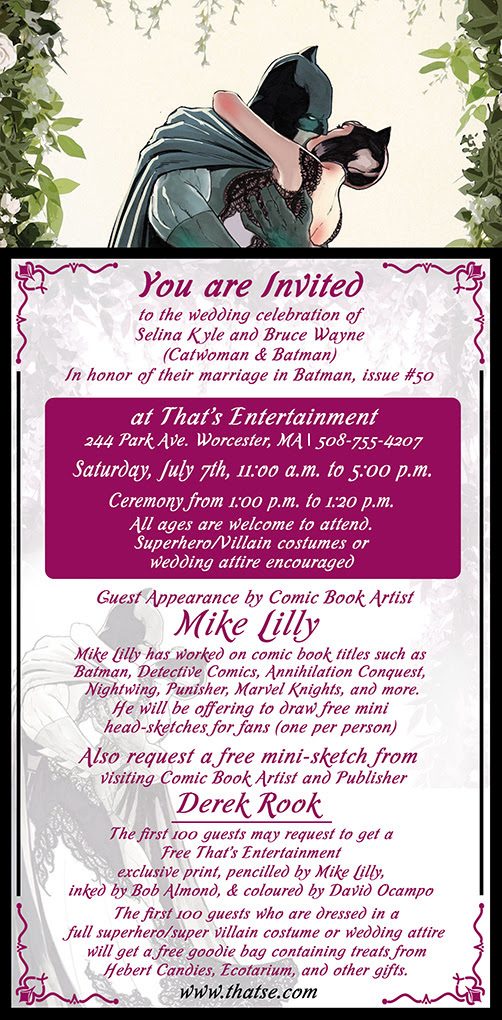 Artists Mike Lilly and Derek Rook appear at That's Entertainment on Saturday July 7th at 11:00 AM as part of their Bat-Wedding festivities.
Mike Lilly has worked on comic book titles such as Batman, Catwoman, Nightwing, Detective Comics, Annihilation Conquest, Punisher, Marvel Knights, The  Tick, Grimm Fairy Tales, Vampirella, Black Terror, and more.
Derek Rook has provided artwork for such notable works as Lucio Fulci's "Gates of Hell" and "Zombie", "The Dead", "Deadworld", and "Gore Shriek". According to Rook, He was "born and raised on comic books, 70's exploitation films and rock n' roll." Under his comic book company label, Rough House Publishing, Rook plans to release his creator-owned titles, "Beautiful Worcester" and "Angelduster". He continues to distribute vigilante justice in Worcester, Massachusetts.
That's Entertainment
244 Park Ave, Worcester, MA 01609
(508) 755-4207