Cincinnati Comic Expo has announced several new additions to their 2018 guest list including Ed McGuinness, Kevin Maguire, Darryl Banks, Mark Kidwell, Johnny Desjardins, and more for their convention on September 14-16th!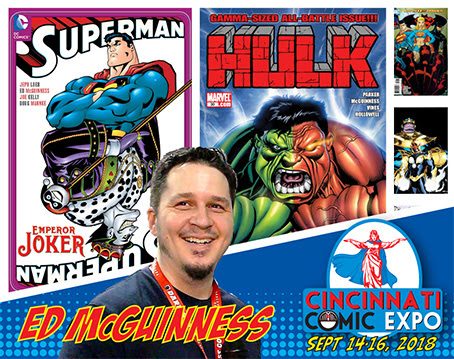 Artist Ed McGuinness will make his first visit to the Queen City! Ed's work has appeared in multiple titles for DC and Marvel Comics. At DC, Ed's projects included Superman/Batman, Batman, and JLA: Classified. While at Marvel, Ed's work is recognized for his runs on Deadpool and Hulk. Other works at Marvel include Fallen Son: The Death of Captain America, Civil War, Guardians of the Galaxy, Nova, Wolverine, and The Amazing Spider-Man!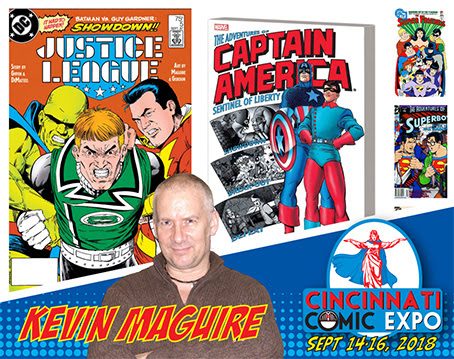 Artist and writer Kevin Maguire to join Cincinnati Comic Expo 2018. Kevin has numerous credits with DC, Marvel, IDW, and others. He has worked with 2018 Cincinnati Comic Expo guest J.M. DeMatteis on Justice League, Formerly Known as Justice League, and The Defenders. He has also completed projects with Team Titans, X-Men, Guardians of the Galaxy, Captain America, JLA, Spider-Man, and Superman.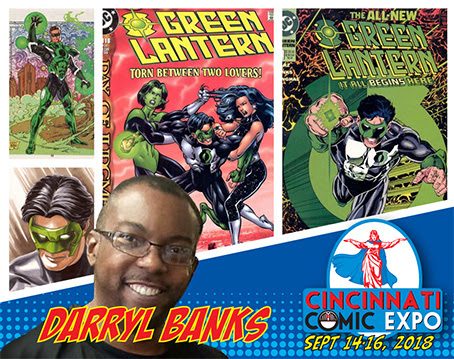 Creator, artist and writer Darryl Banks returns to the Queen City. After his start on Cyberpunk and Justice Machine, Darryl has been at Marvel and DC. The numerous titles with his work include X-Men, Doc Savage, Superman, Tomb Raider, JLA, and Captain America. Most notably, Darryl is recognized for his work on Green Lantern. He co-created Kyle Rayner and is credited with the designs of costumes for many characters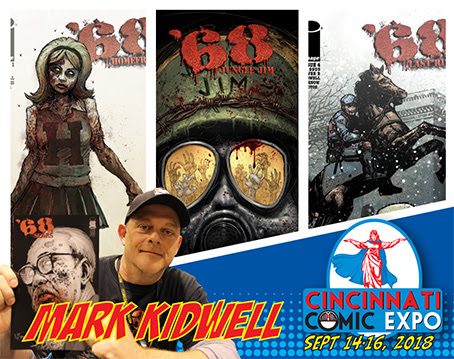 Artist, writer and comic creator Mark Kidwell returns! Mark is best recognized for the '68 comic series including '68, '68 Jungle Jim, and '68 Bad Sign. In addition to his work for Image Comics, IDW, and BUMP Mark is credited for his numerous other projects including Fangoria Comics, Battle Pope, and Hack/Slash. His work can currently be seen in the horror comic series, Rising Rebels.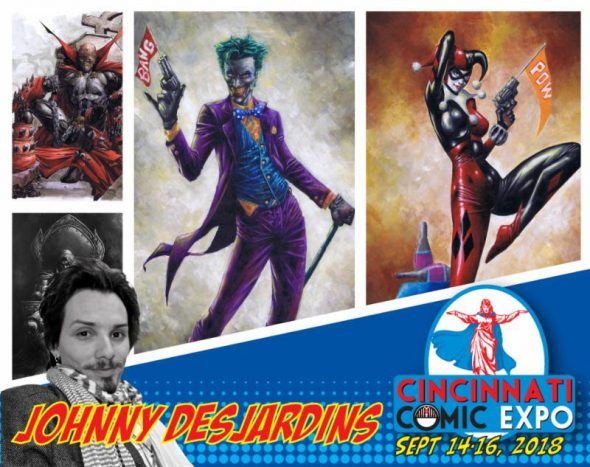 Artist Johnny Desjardins will grace the halls of the DECC for the 2018 Expo! Following his work with artist David Finch on Marvel's Ultimatum, Johnny went to Dynamite Entertainment to work on various publications. His work has included Red Sonja, Robocop, Kato and the Green Hornet: Blood Ties with Dynamite, as well as Grimm Fairy Tales, Vampirella, and Wonder Woman.
Established in 2010, the Cincinnati Comic Expo is an annual event celebrating the best in comic books, fantasy, gaming, collectibles, cosplay, steampunk and pop culture in the heart of downtown Cincinnati. Now in it's 9th year, The Cincinnati Comic Expo, has grown to become the Queen City's premier comic convention, bringing together great artists, publishers, actors, writers, cosplayers, and fans from across the world.
Follow us on social media so you can be one of the first to hear the fresh line up of close to 20 NEW comic artists to Cincinnati Comic Expo and other guest film and TV stars that will join us in 2018.
For further information please go to the website: cincinnaticomicexpo.com