"I'm so happy they have those."
"Artist alley?"
"No, those microphones."
Standing in Dante Basco's autograph line, I had just heard one of the staff members use a headset mic to announce that artist alley was opening. This was my seventh Ichibancon (my third one, which you can read about here, was my first article for Convention Scene), and I knew this volunteer. She does a good job. Takes nobody's crap. But in a hallway teeming with convention goers–largely teenage convention goers–there was little chance of her being heard. I wouldn't have heard her due to the person behind me playing a pan flute. I have never liked the flute. Too shrill. So I was glad for the innovation of the mics.
Ichibancon had its usual assortment of excellent guests. No doubt Vic Mignogna was around here somewhere, writing songs or hugging people or having a word with religious zealots. The person I wanted most to see was Dante Basco. Dante is a versatile guy. His big acting break came when he was cast as Ruffio, the leader of the Lost Boys, in the Robin Williams movie Hook. His best-known recent role was Prince Zuko, dauphin of the Fire Nation, in Avatar: The Last Airbender. He is also an accomplished spoken word poet. I got a chance to catch up with Dante on Friday afternoon.
I just caught the last fifteen minutes of your poetry slam. Have you always done poetry?
Yeah, I've been doing poetry for over twenty years. I started it in my living room in the nineties which was originally DPL, "Dante's Poetry Lounge," which is now called "Da Poetry Lounge," which is the largest weekly open mic venue in the world. So yeah, I've been a part of the poetry scene for a few decades now.
Do you write as well, or is it mostly performing?
I both write and perform. I have a published book out there now. I'm always writing and doing stuff online and being a part of the community. I've gotten to see some of the most amazing poets in the country come through our venue. I have a play that I wrote. All of the monologues are spoken word pieces. It's called "Midnight Makeout Session".
You are well known for Hook, of course. How did you come by that role?
I was fifteen at that time, but I started acting when I was ten. I was doing well, but obviously when you do a film with Spielberg it propels you into a different place. I'm a professional actor, so part of it is auditioning. When this role was available, I was the perfect age for Rufio. When they were creating the character they had no real vision of what he was going to be ethnically. It was pretty open. Steven told me later on that I booked that job after one audition.
Wow, that's probably not common!
No, it's not. He also said that out of all of the kids he auditioned, I'm the only one that scared him. And that character has followed me around for decades.
I'm sure people ask you this all of the time, but what was it like working with Robin Williams?
I think it's an important question because there was no other actor like Robin Williams. For a lot of us that grew up with him figuratively and literally, he was just that funny uncle. He was everybody's crazy, funny uncle. Everything that you'd want from Robin Williams, he'd deliver in spades. He was the funniest, wittiest, fastest person in the room. I mean he literally was the Genie from Aladdin. When he's around, magic is possible.
I've heard other comedians say that they're not funny in their normal lives, but he probably was all of the time.
Not all of the time, but a lot of the time. I've been a fan of his since Mork & Mindy, but I am also a fan of his film work. Including my all-time favorite movie Dead Poets Society.
I love that one too.
So a lot of the stuff I did in the poetry scene, when I break it down to some degree, I can credit it to my relationship with Robin because he really supported me as a poet. When you're fifteen and sixteen, that's the time when the creative juices are flowing. One present I got from Robin was a leather bound version of Walt Whitman's Leaves of Grass. We would talk about poetry all the time. Robin's very special to me in my mind and heart.
When I was in your autograph line earlier, we were talking about Avatar: The Last Airbender, which is how I got into anime. Do you think that's a good gateway for getting into anime?
I think it's great. I do anime conventions all over the world now and it's funny because I'm not really in anime. I'm in an American cartoon that's anime inspired. Brilliantly inspired. I'm watching it right now for the first time.
You mean, for the first time the whole way through.
Yeah, in continuous order. And I'm watching it on my Twitch channel. I'm in the middle of Book Two and I'm watching it with sometimes hundreds of fans live. Thousands of fans will watch the uploads of the stream later on. It's gotten really popular in the Twitch scene. I've been able to get other actors like Grey Delisle who plays Azula came and watched an episode with me, and Jack De Sena who plays Sokka watched an episode with me. It's really fun because we're all actors and we've all moved on to other things in our careers and lives. But it's kind of fun to get together and experience this almost for the first time because it's like "Oh mah gawd we haven't seen this episode in so long!" We're revisiting such a fun time in our lives. And it's a great gateway because I think anime is really important. It's so influential right now. You can tell in the last Star Wars movie. Watch The Last Jedi, it's so anime inspired. From the jokes and commenting on itself. You know how anime has a certain humor about themselves. It wasn't for everyone, but I enjoyed it. The anime scene enjoyed it. Star Wars is such a big deal, you can't really take yourself that seriously and they don't. It's also the shipping. There were these things going on in the original Star Wars, but now they have it set up like an anime. Love triangles, shipping triangles. It's very apparent that the new director is an anime fan.
So do you like The Legend of Korra?
I do like The Legend of Korra. I loved being a part of it. I think I was the first actor from the OG crew to be in the new series. I got to play my grandson. It's an experience. Janet Varney is a good friend of mine. David Faustino I've known since the nineties. We were teenage actors in LA and ran in the same circles. So it's cool to reconnect with those cats  and work with them. I think it's different from the original, but it's really good. And I'm fascinated because I haven't watched all of Korra either. But we're going to watch it on the stream after Avatar.
Which one do you prefer?
I have a preference for the OG, the original, just because I'm a part of the original gang. It's a very tight group. I'm very impressed with what Mike [Michael Dante DiMartino] and Bryan [Bryan Konietzko] did with Korra. The female Avatar, the relationships they took to another level, plot twists, commenting on dictatorships, and sexual stuff. They were bold in how they took a phenomenal series and went way out with it. I'm really impressed by that, but the simplicity of the first one is what I love.
What about the M. Night Shyamalan movie, The Last Airbender?
I never saw it. Did you see it?
Oh yes. A lot of people don't like it. It has none of the spirit, none of the humor of the regular series.
I'm going to watch it on the stream too, just to watch it. I'm an M. Night fan. I like Unbreakable, and of course everyone likes The Sixth Sense. But he's had a few that aren't as good including Airbender. I try to remind people that making a great movie is not as easy as everyone thinks.
How did you get started doing conventions?
The convention scene, man, I kinda tripped into it. Years ago, they would fly me out every so often to Australia to do a con called Armageddon [Armaggedon Expo in Wellington]. I always went because it's a free trip, but I wasn't really part of the community, and I never did anything in America. I did San Diego Comic-Con a few times when Avatar: The Last Airbender first came out, and it was way smaller than it is now. It was still pretty big, but it wasn't like what it is now. I think I did it with American Dragon: Jake Long on year. I'd say two years ago, I kind of got into the scene. Actually Grey Delisle got me into the scene with her booking agent. I thought it was really weird because I didn't grow up in the nerd scene, but the irony is that I became a celebrity in the nerd scene. And so this whole experience for me has been a learning process. Which is fine. Which is great. I've been around a long time, right? And I appreciate my career. You appreciate people who appreciate things you've done. And now in my forties I can appreciate my career through the eyes of others. It's humbling and it's cool. I talk about this a lot in cons, it's a great community of artists and people who feel like they're outcasts and marginalized. And we all feel that way. But there's a place that we go where we can find our kinships. We can kind of get each other for a weekend and talk the same language. The irony of the whole nerd scene is that I have followers. You think you're following me, but I'm actually following you. You're the ones that are telling me what to watch. And there are things that I can connect to from my nostalgia. Like Thundercats, Robotech, and Transformers. But there's also all of this new stuff and I'm following you guys. We're older generation, but we didn't create this, you guys created this whole world. I may be a celebrity in this world but I'm like following you guys down this path.
That reminds me of your Homestuck video, which I watched last night.
Crazy! And I get to do fun stuff like that. I just want to stay creative. There's a lot of inspiration in this whole world. Again, I have become a celebrity in this world and it's a trip. Nobody would have planned that. Nobody.
Last question. What's coming up for you in the future? What are you working on next?
A lot of stuff is coming up. I'm always working as an actor. I just finished a film called The Trade. I'm doing a movie right now based on a video game called Dota 2 coming out of China. There's another film I just finished called The Creatress. There is always stuff I'm auditioning for. There's an animated series that I just finished the first season of that's coming out. It'll probably be announced by San Diego Comic Con.  It's not just a cool cartoon, it's a cool cast. I had so much fun working with these cats. I just closed a book deal not too long ago about my life.
Tell me a little more about that.
I mean I'm working on it, I've never written a book in my life. I write screenplays, plays, and poems. They're all short. A screenplay is ninety to a hundred pages long. A book is a little deeper dive-in. At forty-two, I still feel too young to write a book about my life, but it's a good exercise in appreciating this first part of life. A way to kind of document my experience. Everyone who has been in LA for any amount of time, we all have our own E! True Hollywood. It's a crazy life in LA, ya know? If you've been able to survive for decades then you have a story to tell. We've all been through ups and downs, had close calls. I've seen people have the highest of successes and I've seen people die. I come from a blue collar neighborhood. I'm a blue collar actor, very fortunate to be working in one of the hardest industries in the country for decades now. I guess I got a story to tell, we all know the superstars, the 0.1%. But there's a group of us who've been working for years and there's a story about us too.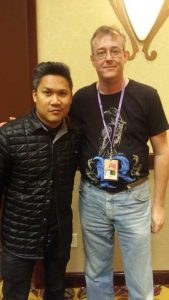 I don't have the numbers on this, but there seemed to be fewer attendees than in years past. Saturdays are usually jam-packed, but at 11:00am, a respectable hour even by barfly and lazy teen standards, this is what I saw.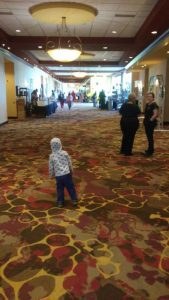 Bueller? Bueller?
Maybe the problem was the different weekend. Usually held on or near New Year's Eve, the convention this year was in the middle of January. Kids are back in school by then. Also the after-Christmas dunning has begun, with credit card bills piling up like snow drifts. And this year there had been actual snow drifts: Winter Storm Grayson, which thrashed North Carolina the week before. (If you didn't know that we're naming blizzards now, update yourself here.)  Or maybe people were home with the flu. By "people," I mean the entire country.
Whatever the reason, those who weren't there missed an excellent convention. In its ninth iteration, Ichibancon is a great way to kick off each year. They are always innovating and improving without changing the core of who they are. Their staff and volunteers have been with them for years; such continuity is priceless. Concord, NC is a good host city. Scores of restaurants are near the convention center, as is Concord Mills, the state's largest outlet mall.
Next year is the tenth year for Ichibancon, and I want them to take that next step. Raleigh-based Animazement, with over 10,000 attendees, is within their grasp. That would require a larger venue, which may not be feasible. If it is, they should give it a shot. And move the show back to New Year's Eve, where it's like a late Christmas gift.
In the meantime, check out these other pics from Ichibancon 2018!