Press Release: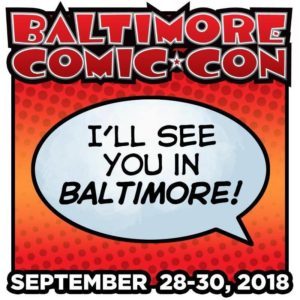 Come to the Baltimore Convention Center in Baltimore's Inner Harbor this September 28-30 for the 2018 Baltimore Comic-Con! Purchase your tickets now and avoid lines at the ticket counter. The Baltimore Comic-Con will feature some of the industry's most impactful talent, including Batman's Harvey Bullock creator Howard Chaykin, Blue Devil creator Paris Cullins, Preacher creator Garth Ennis, Black Lightning creator Tony Isabella, New Mutants creator Bob McLeod, Power Pack creator Louise Simonson, Beta Ray Bill creator Walter Simonson, Thanos creator Jim Starlin, Big Hero 6 creator Gus Vazquez, and John Constantine creator Rick Veitch, just to name a few.
Howard Victor Chaykin is a longtime veteran of the comic book business. As a cartoonist — both writing and drawing — he has been a major influence on the direction of comics, referred to frequently as one of the principle architects of the modern comic book. His signature creation, American Flagg!, introduced a new level of narrative complexity, depth of character, and point of view in its text, not to mention a previously unseen level of design and craft to the visual nature of an all-too-frequently staid and timid medium. Chaykin continues to produce work that pushes the envelope of concept, context, and content in comics. Last year's The Divided States of Hysteria, thanks to social media, enraged an entirely new generation of the willfully ignorant who might have had a better case if they'd actually read the damned book. Chaykin's new series, Hey Kids! Comics!, is a fictionalized history of the comic book business, a love letter written with just a frisson of acid in the ink, to the field he's loved and called home for over four decades.
Paris Cullins landed in DC Comics' intern program after repeatedly bringing in samples of his work in the 1970s. His first work was featured in Secrets of Haunted House #42, and he went onto work on other DC horror titles like Ghosts, The Unexpected, and Weird War Tales. Cullins transitioned to super-hero titles, doing back-up or assistant work on Green Lantern, Justice League of America, The Daring New Adventures of Supergirl, and The Fury of Firestorm before taking on his first work on a title for his co-creation, Blue Devil. While he spent much of his career working at DC on titles such as Batman, The Forever People, and The New Gods, Cullins has drawn Richie Rich and Hot Stuff at Harvey Comics, Hyperkind for Marvel's Razorline imprint, and Shi for Crusade Comics. In addition to his work in comics, Cullins has spent time at advertisement agencies doing storyboards for TV commercials, and has provided full-color storyboards and designs for video games.
Garth Ennis broke into the American Comic scene in 1991, taking over the writing reins on Hellblazer. After a successful four-year run, Ennis moved on to create Preacher, a 66-issue epic that ran from 1995 -2000, which has now been adopted to a hit television series on AMC. In addition to these two ground-breaking series, he also had lengthy runs on DC's The Demon and Hitman. More recently, Ennis wrapped up The Boys, a 72-issue story which began at DC's Wildstorm imprint before moving to Dynamite Entertainment with issue #7. He has had numerous stints on Marvel's The Punisher for Marvel Knights and MAX, as well as Fury for Marvel MAX. His recent work includes Dastardly and Muttley for DC Comics and Jimmy's Bastards for AfterShock Comics.
Tony Isabella is creator/writer of Black Lightning, co-creator of Misty Knight and Tigra, and writer of Captain America, Daredevil, Ghost Rider, Iron Fist, Luke Cage, Spider-Man, Star Trek, and many more. He was an editor and writer at Marvel Comics. At DC, he created Black Lightning, the company's first prominent African-American super-hero. He co-wrote the prose novels Captain America: Liberty's Torch and Star Trek: The Case of the Colonist's Corpse. He's the author of 1000 Comic Books You Must Read and the odd-but-wondrous July 1963: A Pivotal Month in the Comic-Book Life of Tony Isabella. He's received an Inkpot Award from Comic-Con International in San Diego and a Pioneer Lifetime Achievement Award from ECBACC. Cleveland Magazine named him one of that city's most interesting people of 2018. His most recent comics work is the six-issue Black Lightning: Cold Dead Hands, marking his return to his creation. He writes the daily "Tony Isabella's Bloggy Thing" and the weekly "Tony's Tips" review column. He lectures on comics history, comics writing, and diversity in comics.
Beginning his career in Marvel Comics' production department, Bob McLeod got his early credits penciling and inking for Crazy magazine. He was a member of The Crusty Bunkers inkers while working at Adams' Continuity Studios, became a top inker on titles like Marvel's Amazing Spider-Man, Incredible Hulk, Conan the Barbarian, and Star Wars, and DC Comics' Detective Comics, Legion of Super-Heroes, Wonder Woman, and The New Titans. He also drew the graphic novel and the first three issues of Marvel's New Mutants, as well as inking a number of subsequent issues, and helped launch DC's Superman: The Man of Steel. He also wrote and illustrated Superhero ABC from HarperCollins, and edited Rough Stuff magazine for TwoMorrows Publishing. McLeod currently teaches part-time at the Pennsylvania College of Art and Design.
Louise Simonson has, like her husband Walter, contributed significantly to the comic book industry. "Weezie", as she is known, began her comics career as an editor at Warren Publishing before leaving for Marvel to edit titles including X-Men, New Mutants, and Star Wars. Departing the editorial role in favor of writing, Weezie has contributed to storylines in Marvel's Marvel Team-Up, Web of Spider-Man, and Red Sonja, and was responsible for the introduction of Apocalypse in X-Factor as well as the launch of Power Pack. At DC Comics, she worked on Superman: The Man of Steel and The Adventures of Superman.
Walter Simonson has made vast contributions to comics publishing, as a writer, an artist, and even in founding publishing imprints. He was recognized in 2012 at the Harvey Awards in Special Award for Excellence in Production/Presentation and Best Domestic Reprint Project for Walt Simonson's The Mighty Thor, Artist's Edition from IDW, and in 2013 for Alien: The Illustrated Story from Titan Books for Best Graphic Album of Previously Published Work. He also received the Hero Initiative Lifetime Achievement Award in 2010 at the Harvey Awards. Walt's career began in the 1970s at DC Comics, where he worked on titles such as Weird War Tales, Manhunter, Metal Men, Orion, Wonder Woman, Hawkgirl, Vigilante, and Hercules Unbound. Over at Marvel Comics, Simonson has had numerous noteworthy runs, including The Rampaging Hulk magazine, X-Factor, Fantastic Four, and Thor, on which he was responsible for the introduction of Beta Ray Bill and Thor as a frog.
The multi-talented Jim Starlin has worked on both writing and creating art for some of the most noteworthy creations since his entry into the field of comics in the 1970s. The mind behind the Marvel character Shang-Chi, Master of Kung Fu, he is also responsible for a number of noteworthy cosmic characters in the Marvel Universe, including Gamora, Drax the Destroyer, and the villainous Thanos, all of whom are featured in this year's major motion picture, Avengers: Infinity War.He developed noteworthy runs on Marvel's Captain Marvel, Warlock, and Silver Surfer, Marvel mini-series Infinity Gauntlet, Infinity War, and Infinity Crusade, and DC Comics' Batman, The Weird, and Cosmic Odyssey. His Death of Captain Marvel was the first Marvel graphic novel to be published. More recently, he has provided writing and art for DC's Stormwatch and writing on Green Lantern: Mongul #23.2, and he returned to his classic villain in April 2014 with Marvel's Thanos: The Infinity Revelation and 2018's Thanos: The Infinity Siblings.
Gus Vazquez is an illustrator who has worked in nearly every field, including comic books, trading cards, storyboarding for music videos, commercials, animation and film, logo design, character and toy design, and more. He started his career in comic books working as an assistant to comic book artists Adam Pollina on X-Force, and Kevin McGuire on Trinity Angels. He got his first solo gig at Marvel Comics drawing the covers and interiors for Sunfire and Big Hero 6, the series that introduced the characters featured in Disney's Oscar winning Big Hero 6. He has worked on such Marvel titles as Deadpool, X-Force, Spider-Man, What If? Civil War, What If? Back in Black, The Official Handbook of the Marvel Universe, and more. For DC, he has worked on such titles as Green Lantern, JLA, Blue Beetle, and most recently on The Flash, Suicide Squad, and Green Arrow. Gus was the artist on several issues of Claudio Sanchez's (of rock music group Coheed and Cambria) The Amory Wars, and was instrumental in helping bring together the creative team of his friends, David Atchison (writer) and Tony Shasteen (illustrator), and his niece, film and TV actress Rosario Dawson on 12 Gauge's The O.C.T. Currently, Gus has been working for DC Comics on The Sasquatch Detective, a backup story which can be found in the pages of Exit Stage Left: The Snagglepuss Chronicles, as well as DMC (Daryl Makes Comics) and on La Borinqueña. He is also working on his creator-owned book, Fang.
A member of The Kubert School's first graduating class, Rick Veitch made a name early in his career as a fantasy artist and writer for Marvel's Epic line of titles, where he worked on Epic Illustrated, Heartburst, and The One. He went on to work on the critically acclaimed Swamp Thing from DC Comics, as well as Miracleman from Eclipse Comics, for which he both wrote and provided art. Veitch then moved into the indie comics scene, working initially on Teenage Mutant Ninja Turtles from Mirage Studios and then launching his own King Hell publishing house, with titles like Bratpack and The Maximortal. Returning to larger publishers, Veitch has worked on Image's 1963 and Supreme, and DC's Tomorrow Stories, America's Best Comics, The Question, and Aquaman. More recently, he wrote the Vertigo title Army@Love and The Big Lie from Image. You can find his Miracleman work reprinted these days from Marvel Comics and Rick Veitch's The One from IDW Publishing.
"We were looking through our guest list and came to the realization that a tremendous amount of significant comics characters were created by guests in the room this year," said Marc Nathan, show promoter for the Baltimore Comic-Con. "Without the contributions of these guests, the comics tapestry would be far less ornate in each publisher's respective universe. We know our fans are going to be excited to pull out issues of their favorite or first appearances of these characters to get signed by these great guests!"
The Baltimore Comic-Con is celebrating its 19th year of bringing the comic book industry to the mid-Atlantic area. For more information, please visit www.baltimorecomiccon.com.