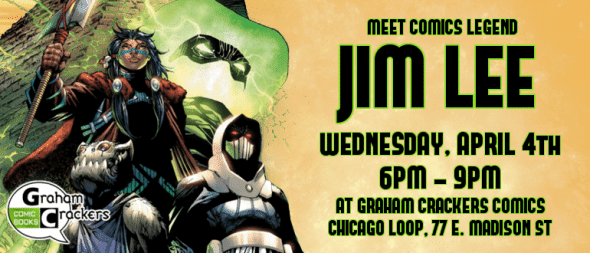 Jim Lee, comics superstar and DC Comics co-Publisher, makes a rare Chicago appearance at Graham Crackers Comics on Wednesday April 4, 2018!
Press Release:
It's true!  The busiest man in comics is taking some time out to meet his fans at Graham Crackers Comics of Chicago!  Jim Lee will be appearing for one evening only at our Chicago LOOP location (77 E. Madison) – in fact he will be visiting on NEW COMICS DAY (Wednesday April 4th 2018) from 6pm – 9pm to help promote DC COMICS NEW AGE OF HEROES line!
Wednesday April 11th is the day the IMMORTAL MEN #1 from the new age of heroes line premieres with artwork by Jim Lee (of course)!  We will have the book on hand so you can get yours signed!  Due to the overwhelming demand and how rare it is for Jim to be able to step away from his already hectic schedule helping run DC COMICS – we are selling tickets to make sure that the people that want to meet Jim get a chance to, here's how it works:
To get a TICKET to meet JIM LEE you pre-purchase a pass at any of the 11 Graham Crackers Comics locations, or even off our website – HERE!
The tickets cost $10.98 and gets you
Immortal Men #1 ($2.99 cover price – due out 4/11/18) – signed by Jim Lee in front of you!
Action Comics #1000 ($7.99 cover price – due out 4/18/18) – featuring cover by Jim Lee and interior artwork by Jim Lee with Brian Michael Bendis 1st new DC Comics work!
Ticket guarantees you a spot at the signing, a chance to meet Jim, get your signed Immortal Men plus any other item you want to have signed by Mr. Lee (total of 2 signed items per person)
Tickets are NOT required for meeting Jim Lee or getting an autograph, but anyone that shows up for the signing with a ticket will be placed before people without tickets.  Due to the overwhelming demand to meet Mr. Lee the ticket purchasing is the only way we can keep count on how many people are coming and being able to make sure that the person that drove for 4 hours gets their autographed items and a chance to meet Jim.  The tickets retail price simply covers the cover price of the two new Jim Lee DC comics.
Graham Crackers Comics – CHICAGO LOOP
77 E. Madison Street, Chicago, IL 60602
312-629-1810