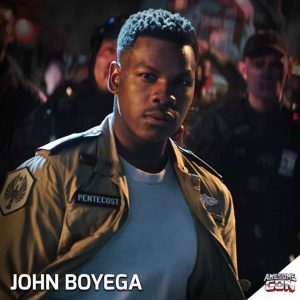 John Boyega from Pacific Rim, Attack the Block, Detroit, and Star Wars is coming to Awesome Con 2018! He will be at the show Saturday March 31st and Sunday April 1st.
Buy your tickets now to Awesome Con 2018!
***Please note: John Boyega VIPs are different than our other guest specific VIPs in that they are for specific sessions of autographs and photo ops. This is to reduce the amount of time you spend in lines.
John Boyega will be doing a special ticketed panel at 6:00 PM Saturday that is not included in the VIP, but VIPs will have the first chance to purchase those tickets when they go on sale.
John Boyega VIPs include a special badge that gets you into all three days of Awesome Con, a ticket for (1) autograph and (1) photo op with John Boyega, and the other benefits of the Geekend VIP.
John Boyega's individual autographs and photo ops will be on sale Wednesday with everyone else, with a VIP presale on Monday.
About Awesome Con
Awesome Con is the biggest annual comic and pop culture convention in Washington, D.C., having welcomed over 71,000 attendees in 2017. Awesome Con celebrates all aspects of geekdom and pop culture, with a wide assortment of engaging events, comic books, collectibles, toys, games, original art, cosplay and more. Awesome Con is presented in partnership with LeftField Media, an event organization company developed by the founder of New York Comic Con. Learn more at www.awesomecon.com.