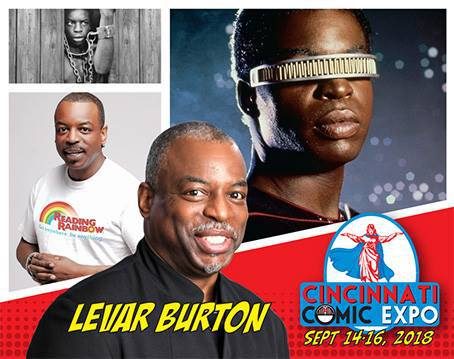 Press Release:
Our guest lineup hits warp speed with LeVar Burton joining us for the upcoming Cincinnati Comic Expo! Meet LeVar on September 15th and 16th by getting your tickets to the 2018 Cincinnati Comic Expo.
After making his acting debut in the miniseries drama Roots, LeVar has entertained fans with his Emmy award winning work for decades on PBS' Reading Rainbow, and has been widely recognized as Geordi La Forge on Star Trek: The Next Generation and following film franchise. LeVar has done voice work on numerous animated programs such as Captain Planet and the Planeteers, Superman/Batman: Public Enemies, and Transformers: Rescue Bots. The television icon has also appeared as himself with numerous guest appearances and cameos on Community and The Big Bang Theory.
Follow us on social media so you can be one of the first to hear the fresh line up of close to 20 NEW comic artists to Cincinnati Comic Expo and other guest film and TV stars that will join us in 2018.
For further information please go to the website: cincinnaticomicexpo.com