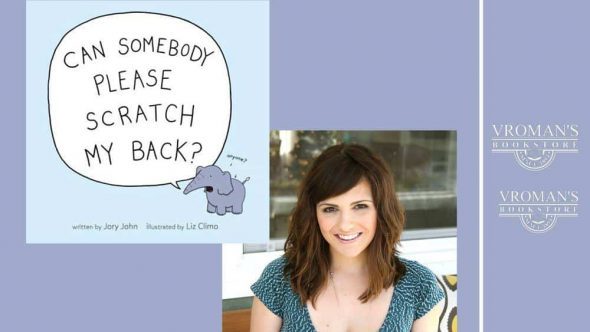 Cartoonist Liz Climo appears at Vroman's Bookstore on Saturday, March 24, 2018 at 1:00 PM to sign her latest book CAN SOMEBODY PLEASE SCRATCH MY BACK?
Persnickety Elephant has an itch–a big one–and he can't reach it! While he isn't above asking for a little help, no one is up to the task. Turtle is too lazy, Snail is too slimy, and Alligator… well, Elephant isn't sure he wants his assistance. Does Elephant have to do everything himself?
Jory John's signature deadpan humor pairs perfectly with Liz Climo's oh-so-innocent-looking animals to create a slyly ironic read-aloud that will leave kids and parents in stitches.
Liz Climo grew up in the San Francisco Bay Area and moved to Los Angeles after college to work as a character artist on The Simpsons. She is the author of Rory the Dinosaur, The Little World of Liz Climo, and Lobster is the Best Medicine.
Those wishing to get books signed will be asked to purchase at least one copy of the author's most recent title from Vroman's. For each purchased copy of the newest title, customers may bring up to three copies from home to be signed. This policy applies to all Vroman's Bookstore events unless otherwise noted. Save your Vroman's receipt; it will be checked when you enter the signing line.
Vroman's Bookstore
695 E. Colorado Blvd Pasadena, CA 91101
(626) 449-5320