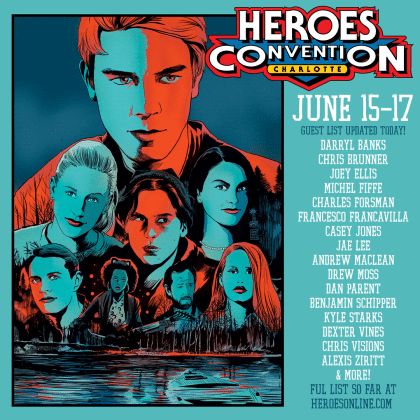 HeroesCon has announced more new guests for their 2018 show including Jae Lee, Darryl Banks, Chris Brunner, Francesco Francavilla,  Michel Fiffe, Andrew MacLean, Dan Parent, Dexter Vines, Chris Visions and more! HeroesCon 2018 takes place June 15-17, 2018 at the Charlotte Convention Center.
GUEST ADDITIONS:
BOB ALMOND | Stan Lee's Guardian Project, Black Panther, Heroes For Hire, Warlock
ROGÊ ANTONIO | Batman & Robin Eternal, Grayson
DARRYL BANKS | Green Lantern, Legion of Super Heroes, JLA
THOMAS BOATWRIGHT | Zeke Deadwood, The Halloween Legion, Cemetery Blues
CHRIS BRUNNER | Loose Ends, Southern Bastards, Batman: LOTD
JOEY ELLIS | Leaky Timbers
MARIE ENGER | Fhtagn and Loathing, Regression
MICHEL FIFFE | Copra, Zegas, Bloodstrike
CHARLES FORSMAN | Slasher, Revenger, TEOTFW, Celebrated Summer
FRANCESCO FRANCAVILLA | Afterlife with Archie, The Black Beetle, Detective Comics
CASEY JONES | Nightwing, Fantastic Four, Exiles, Excalibur, New Warriors
JAE LEE | Batman/Superman, Inhumans, Dark Tower, Fantastic Four
NATE LOVETT | Champions of Odd Lake, Kyraa: Alien Jungle Girl, Paw Patrol, Rusty Rivets
ANDREW MACLEAN | Head Lopper, Apocalyptigirl, Laser Wolf Attack
DREW MOSS | Copperhead, Terrible Lizard, The Colonized, The Crow: Pestilence, In the Dark
DAN PARENT | Archie, Die Kitty Die, Betty & Veronica, Kevin Keller, Life with Kevin
BENJAMIN SCHIPPER | Jim Henson's The Storyteller: Fairies, Joe Death and the Graven Image
KYLE STARKS | Rock Candy Mountain, Rick and Morty, Sexcastle, Legend of Ricky Thunder
BRENO TAMURA | Pigs, 12 reasons to die, Cupid, Doctor Fate
JEREMY TREECE | Fearsome as the Night, the Misadventures of Clawberry & Friends, I'm So Goth!
DEXTER VINES | X-Men, Nova, Avengers: X- Sanction, Buffy, Hulk
CHRIS VISIONS | Dead Letters, Spider-Gwen, Scarlet Witch, Devils on the Levee
ALEXIS ZIRITT | Space Riders, Tarantula, The Package

For the most up-to-date information, check our blog, or sign up for the weekly Heroes Hotline newsletter. You can also follow us on Twitter and Facebook!
BUYING AN ADVANCE PASS MEANS YOU'LL GET ANY ADVANCE INCENTIVES WE OFFER, FREE!
ENTRY WILL BE $25: FRI $25: SAT $20: SUN / AT THE SHOW ITSELF, SO YOU SAVE AS MUCH AS $20 BY PURCHASING ADVANCE PASSES TODAY! TICKETS ARE NOT REFUNDABLE, UNDER CERTAIN CIRCUMSTANCES WE MAY CREDIT AN UNUSABLE TICKET TOWARD FUTURE TICKET PURCHASES.
HEROES CONVENTION was founded in 1982 by Shelton Drum, owner of Charlotte's Heroes Aren't Hard To Find comics shop. Since then the convention has become famous for its comics-first and family-friendly atmosphere, where fans can mingle directly with professionals and exhibitors. Boasting an incredible guest list built mainly on reputation and goodwill, HeroesCon is known nationwide as a "must" on the summer schedule, drawing fans, exhibitors, and creators from all over the world to the Charlotte Convention Center.