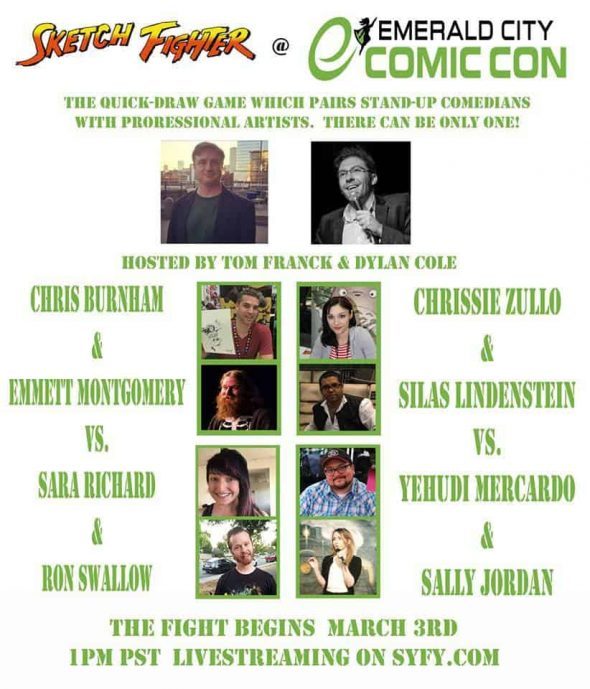 Press Release:
The quick-draw game that pairs comic book artists with stand-up comedians returns to the Emerald City Comic Con. On March 3rd at 1PM PST, four teams will compete on the floor of ECCC, with only one emerging victorious.
Match 1 will feature CHRIS BURNHAM (Nameless, Batman Inc.) and EMMETT MONTGOMERY taking on SARA RICHARD (My Little Pony, Jem and the Holograms) and RON SWALLOW. Match 2 will see CHRISSIE ZULLO (Fables, Madame Xanadu) and SILAS LINDENSTEIN vs. YEHUDI MERCADO (Rick and Morty, Sci-Fu) and SALLY JORDAN. The teams that do not advance out of the first round will face each other for the bronze medal. The semi-final winners will then square off to determine which team is sketch-fighting-champion!
The event will be hosted by TOM FRANCK and DYLAN COLE. All of the action can be watched by those not attending ECCC as the match will be streamed live on SyFy.com. Viewers – both in-person and watching the stream – can offer clues for the players to draw throughout the game on the Sketch Fighter Twitter Page: @sketch_fighter.