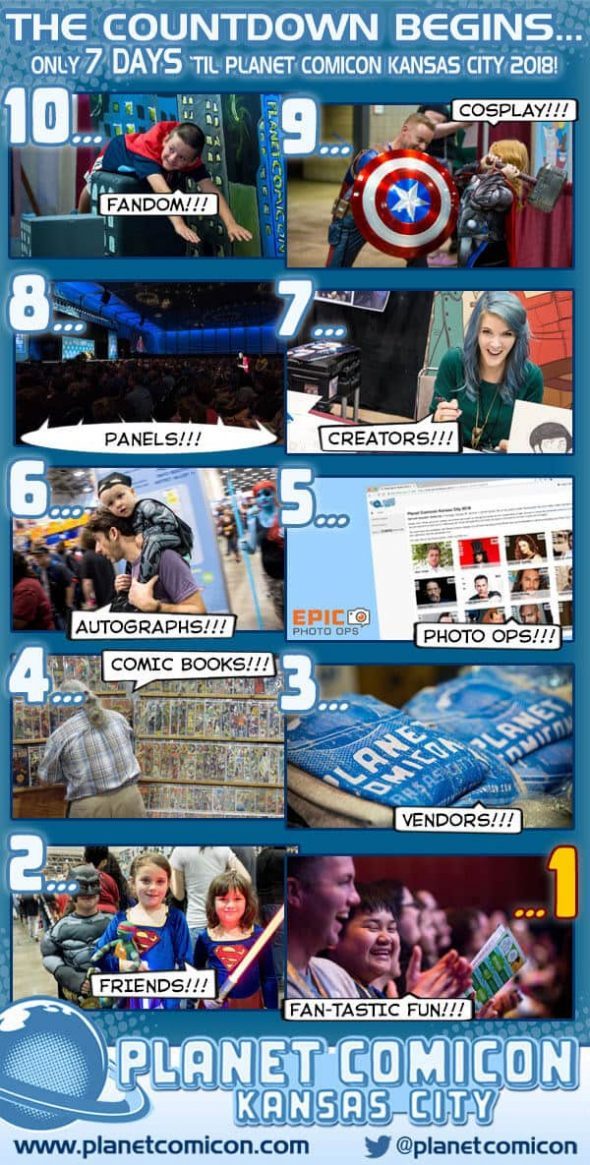 Press Release:
The final details are beginning to lock into place at Planet Comicon Kansas City and you're going to hear from us more frequently as we get closer and closer to next week's comic and pop culture party, one of the largest in the nation!
As many of you veterans and superfans know, our guests make extraordinary sacrifices to carve out time from their busy shooting and appearance schedules to join us at Planet Comicon, and sometimes changes are unavoidable. However, we have good news! A number of our guests have actually extended the time they'll be spending with us next weekend. Here are the details…
Sonequa Martin-Green (Star Trek: Discovery, The Walking Dead) will now be appearing on Friday and Saturday, a slight change from her previous Saturday/Sunday schedule.
Trish Stratus and Amy "Lita" Dumas, two dynamite divas of the ring and WWE Hall of Famers were set to appear to only appear on Saturday and Sunday. They will now be at the show for ALL THREE DAYS!
John Cusack (High Fidelity, Say Anything) was previously scheduled for only Saturday afternoon and early Sunday but now will be appearing for the majority of both Saturday and Sunday!
Pom Klementieff (Guardians of the Galaxy, Avengers: Infinity War) has now confirmed that she will be at the show all day on Saturday and Sunday.
Remember: we have special admission prices and membership discounts for active military, teachers, and librarians…and children ages 7 and under are FREE!
Have App, Will Travel: Download the Official 2018 Planet Comicon Kansas City Mobile App!

The Planet Comicon Kansas City app is your ultimate guide to Kansas City's fantastic, fun-filled festival for fans of all ages and it's back for 2018.
This carefully crafted pocket pal includes a list of all schedules as well as details on celebrities, comics creators, cosplayers, and more. Create your own schedule, get the latest news and updates during Planet Comicon, and check out all the necessary show details to make your visit to our world as perfect as possible. Get it in the App Store or on Google Play.
A Planet-sized Deal for our GoComics Fans!

All Planet Comicon Kansas City attendees can save 25% off any item in the GoComics Store! Find your happy place with icons like Foxtrot, Calvin and Hobbes, Garfield and Peanuts, as well as modern classics like Fowl Language, Sarah's Scribbles, The Awkward Yeti, and many more.
Use code PCC25 at store.gocomics.com to save 25% off the entire store!
Planet Comicon Kansas City Pro Tip No. 42
Don't get left out in the cold: So you've got your admission wristband, now it's time to get in line. Planet Comicon Kansas City is all about making the fan experience a positive one and in 2018 that includes queuing for the show indoors. The line will form in the 2200 Lobby and be extended through the Convention Center and Municipal Auditorium for all waiting guests. Don't worry about the weather and please know we'll do our absolute best to get you into Planet Comicon Kansas City in a timely and efficient manner!
For more information about the 2018 show, event photos, interviews and more, "Like" Planet Comicon on Facebook and follow @PlanetComicon on Twitter. Planet Comicon Kansas City is always available online at www.planetcomicon.com.