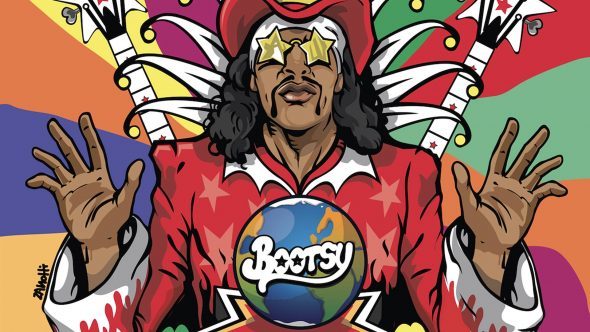 Press Release:
Otherworldly bassist and iconic funk prophet Bootsy Collins visits Amoeba Hollywood to sign copies of his new album, "World Wide Funk," on Wednesday, January 31st at 6pm!
To attend this event and meet Bootsy, purchase "World Wide Funk" on CD or vinyl in-store only at Amoeba Hollywood on January 31st. Space is limited! He will sign copies of "World Wide Funk" purchased at Amoeba only.
"World Wide Funk" is the latest chapter in Bootsy's lifelong dedication to "the One." The ineffable thing that makes the funk funky emerged from the primordial ooze during teenaged William "Bootsy" Collins' watershed year (1970-71) with James Brown. Bootsy subsequently took the One to George Clinton's P-Funk crew – in what Brown biographer RJ Smith has called "one of history's biggest cases of industrial espionage" – where he adapted Brown's precision and rigor to ringleader Clinton's ecstatic, chaotic, and prolific musical playpen. Bootsy went on to establish himself as a premier bassist, a leader of the soul-expanding mind-bending funk movement, and was inducted into the Rock and Roll Hall of Fame.
Collaborations on this project run the gamut from Victor Wooten and Stanley Clarke to Nashville slide-guitarist Justin Johnson to Buckethead to the late, great Bernie Worrell. Bootsy and Kali Uchis join their soulful forces on the sultry "Worth My While" and will again later this year on "When the Flowers Bloom" from Kali Uchis' upcoming debut LP. Don't skip the intro to the title track by Iggy Pop!
Unsurprisingly, the majority of the songs on this album are danceable but the title track "World Wide Funk" is the ultimate party-starter. "Ladies' Night" and "Hot Saucer" keep the party going while "Come Back Bootsy" provides an outlet when you inevitably need to play some air guitar. As we probably don't need to remind you, Boosty's aim is to provide you with a funky space to enjoy life! He says it best, "…as long as it made you feel good & sexy, like them old house parties, sharing a coke and a smile while doing a bump and grind."
Amoeba Music
6400 Sunset Blvd, Los Angeles, CA 90028
(323) 245-6400