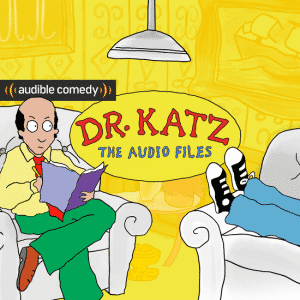 Jonathan Katz, Paul Feig, Kate Micucci, Scott Thompson, Baron Vaughn, and Fred Willard appear at the Marines Memorial Theatre on Friday January 19, 2018 at 7:30 PM.
Dr. Katz: The Audio Files launched on Audible this year as the audio-only reboot to the popular animated series from the 1990s. The audio show features guests like Ted Danson, Sarah Silverman, Ray Romano and "Weird Al" Yankovic. Audible is bringing back the series for a second season in 2018, featuring Jonathan Katz, his assistant, Laura (played by Laura Silverman), and new guest patients every episode.
Jonathan Katz is an Emmy-award winning comedian, writer and actor best known for the sitcom he created, wrote and voiced, "Dr. Katz, Professional Therapist". The animated show aired on Comedy Central from 1995 to 2002. Over the course of its six seasons, the show was critically acclaimed, winning an Emmy, a Peabody and a slew of other awards. Katz is currently collaborating with the playwright, David Mamet.
Presented as part of SF Sketchfest! It's the city's greatest comedy festival, with a variety of sketch and improv, film and television tributes and reunions, solo performers, podcasts and stand-up comedy performers. See the greatest names live and in person!
Marines Memorial Theatre (MMT)
609 Sutter Street, San Francisco, CA 94102