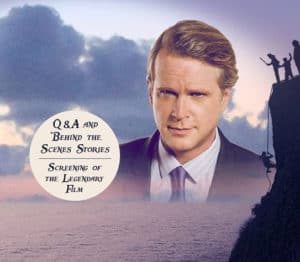 Actor Cary Elwes appears at the Hanover Theatre on Saturday, October 14, 2017 at 7:30 PM for a screening of The Princess Bride followed by a Q&A. Tickets available here…
In this highly-anticipated event, fans of The Princess Bride will join the heroic Westley (actor Cary Elwes) in a behind-the-scenes look at life on and off the set of the classic film. After a screening of the iconic film, Elwes will engage in a moderated discussion on classic scenes, revealing never before shared secrets and tales of inconceivable antics! Journey back to the lands of Florin and Guilder; filled with adventure, romance and intrigue (and let's not forget Rodents of Unusual Size!).
Cary Elwes has been seen in a multitude of films, including Robin Hood: Men in Tights, Bram Stoker's Dracula, Lady Jane, The Crush, Twister, Liar, Liar and many more. Cary is hitting the road to give fans the once-in-a-lifetime chance to capture this piece of cinematic history.

Don't be a Humperdinck, make haste to see The Princess Bride: An Inconceivable Evening with Cary Elwes for a night you will always tweasure.

Tickets are $29-39 depending on seat location. A limited number of $95 VIP packages are available and include a meet and greet with Cary Elwes. Discounts are available for members and groups of 10+. Please contact the box office at 877.571.SHOW (7469) for more information.

Evening will last approx. 175 minutes – 98 minutes for film, 75 minutes for talkback and Q&A.
The Hanover Theatre and Conservatory for the Performing Arts
2 Southbridge Street, Worcester, MA 01608
(877) 571-7469