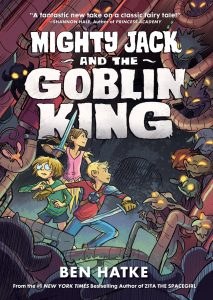 Graphic novelists Ben Hatke and Kazu Kibuishi appear at University Book Store on Tuesday, September 26, 2017 at 7:00 PM! Ben Hatke discusses the fantastic conclusion to his Mighty Jack graphic novels, Mighty Jack and the Goblin King with Kazu Kibuishi—the writer and artist of the thrilling Amulet graphic novel series—at this awesome author-illustrator event.
Ben Hatke is the author and illustrator of the New York Times bestselling Zita the Spacegirl trilogy, the picture books Julia's House for Lost Creatures and Nobody Likes a Goblin, and the graphic novels Little Robot and Mighty Jack. He lives and works in the Shenandoah Valley with his wife and their boisterous pack of daughters.
Kazu Kibuishi is the writer/illustrator of the Amulet graphic novel series for Scholastic Graphix, the editor of the Explorer comics anthology for Abrams ComicArts, and the creator of the Copper webcomic at his website, boltcity.com. He also illustrated the covers for the Scholastic 15th Anniversary Edition paperbacks of Harry Potter.
University Book Store
4326 University Way NE, Seattle, Washington 98105
(206) 634-3400